Aabnoos Couture by Sabina Rehman Khan is a fashion house recognised for its unparallel elegance, cheek style,  exquisite craftsmanship,  detailing and supreme quality in ethnic and fusion wear.
I happen to know Sabina and have always admired her impeccable sense of style and designing.
I 'Follow' her brand Aabnoos Couture on all social platforms, which keeps me updated of her latest creations.
One thing about her Facebook page, which has always intrigued me the most, is the way she defines and describes embroidery, textiles and even the origin of a certain artistry while posting pictures of her garments.
This lady's effort to preserve art forms and traditional values is clearly evident.
And so, one day, I decided to do a quick telephonic interview to understand her love for heirloom and 'all things TRADITIONAL'!
all things GUD: Sabina, most of your dresses have some sort of traditional embroidery and different forms of needle work. Tell us more about various kinds you use in your dresses.
Sabina Rehman: For me, each piece is a work of art and I want to embellish it with intricate detailing. India, being an enormously diverse and culturally rich country, offers and boasts of diverse forms of embroidery style, most of them specific to each region.
And in my constant endeavor to preserve, promote and propagate the local craftsmanship and heritage, I continually try to incorporate different forms of traditional artistry in my collection.
The best part is, this way I am able to provide employment and wages to artisans, who are otherwise giving up hand embroidery  due to lack of work or not enough compensation for their art and expertise.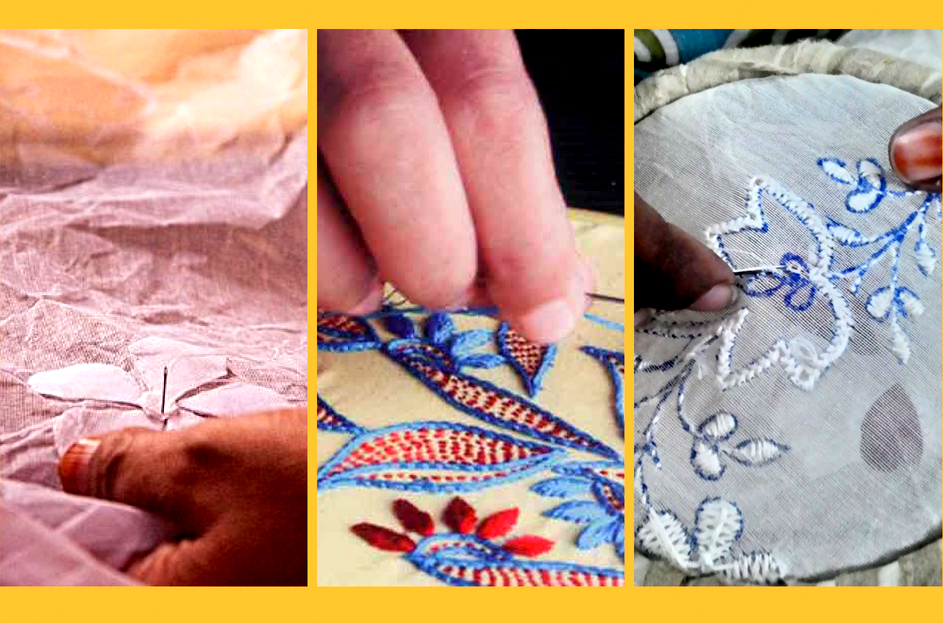 all things GUD: You make a lot of applique dresses. Where do they come from?
Sabina Rehman: Appliqué or 'patti ka kaam' is a traditional embroidery style that originated in the by-lanes of Uttar Pradesh. Aligarh and Rampur to be precise. This style dates back to the Mughal era and was typically done on extremely fine, sheer cotton fabrics to beat the scorching heat of summers in North India. The work involves cutting of small bits of fabric, deftly folding them into tiny petals, leaves or floral shapes and then stitching them back onto the fabric to create a variety of intricate patterns. The entire embroidery is done by hand including the finishing of edgings and joining of the seams.
Trust me, it is real extensive work!
all things GUD: You have completely revamped the look of chikankari work in your suits. Your lakhnavi suits are not the typical, usual, run-of-the-mill ones available in the market. How did that happen?
Sabina Rehman: The world knows that Chikankari originated and belongs to Lucknow. Traditionally, this embroidery was done with white cotton thread on fine muslin cotton fabric. Over a  period, it did change its form to some extent and use of colored thread and fabric became prevelant. But I realized that people are so-done with same old patterns and fabrics. They wanted designer pieces in silks, crepe, chanderi, organza and other fabrics with chikankari work on it. And so, I started designing kurtas and dupattas and later got the chikan work done on those pieces as per my colour combination and choice of fabric.
Alhamdullilah, chikankari pieces are my best sellers.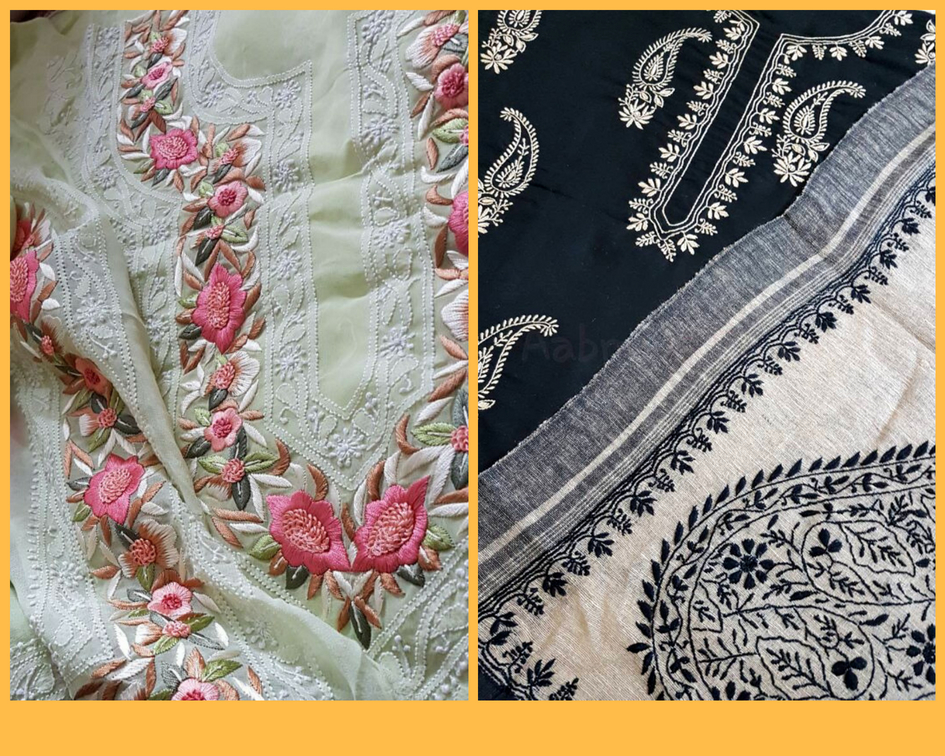 all things GUD: Recently in your wedding pictures, I noticed that you were wearing something very unique. Am sure it was a traditional piece of jewelry, which a lot of people haven't seen before. What's the story behind that?
Sabina Rehman: Oh, that is laungeen or laungni. It is a rare Pathan tribal jewelry traditionally worn by new brides to avoid evil eye. It is made of hundreds of laung (cloves), intricately woven with silver pendants along with. This beautiful piece of jewelry is the heritage of Pathans who migrated from Afghanistan and settled in and around *Barah Basti. This jewelry is often made more colourful by using silver, glass and even enamel.
You won't believe Sania, seeing my pictures, a lot of people started contacting me to get similar one made for them.
all things GUD: Oh, is it? So you mean anybody can order it now from Aabnoos?
Sabina Rehman: Again, in pursuit of preserving the cultural heritage of the family I am married in, I have decided to take up orders for people who are honestly interested in this. But, they must understand that this is not just any other regular ornament. It brings along loads of sentimental value. It should only be ordered if somebody wants to genuinely feel and experience the essence of this traditional piece.
---
Sabina Rehman is a bespoke designer who crafts exquisite dresses under her label – Aabnoos Couture. She is a trousseau expert known for her heavy suits & dress materials. She effortlessly designs casual wear and is passionate about clean cuts, crazy for finishing and fathom finesse'.
 Her talented team of embroiders and masters transform elegant and classy designs given by her into ready-to-wear stunning pieces.
Based in Noida, she can be contacted at 09718078892. She ships all over.
(*Bara basti or Barah Basti initially has a group of 12 villages but later it exceeds and now they are more than 12 lying in Bulandshahr district in the Indian state of Uttar Pradesh. These villages are located adjacent to each other within an area of seven square miles, and noted for a high population of Pathans, in addition to other Muslims and Hindus. – Wikipedia)