Few months back when I came across this designer's 'page' on Facebook, I 'liked' it instantaneously.
The clothes exuded class and opulence and were absolutely 'wearable'.
Something I would want to wear myself and so would You, She, Her….
Finesse' at its best!
Sabina Rahman, Owner of the designer studio – Aabnoos Couture is the lady behind this impressive work-of-art.
She and her clothes have a story to tell. Let's listen (read) as she digs out some splendid pieces from her closet and talks about them – passionately!
I am Sabina Rehman, based in Delhi. I have no formal degree or training in the craft of dress making. Purely due to my heightened aesthetic sense (excuse me for not being modest but that's indeed my 6th sense), understanding of cuts & fabrics and an eye for detail; I am able to come up with distinct, likable designs.
When I thought of starting up a venture, I had two passions to convert into a profession – interiors and clothesline; and the latter looked more workable.  As a start up, I got few pieces made of my size and randomly posted them on my Facebook page. And since then, there was no looking back (alhamdullilah).
My clothesline deals in heavy suits apt for wedding trousseau, light, party wear ones, indo-western tunics and trendy casual kurtas.
Then there are also designer versions of – ghararas, lucknavi chicken suits and zardosi work dresses.
Old school, yes I am!
I have always wondered why gharars have to be typically like that – garish colours and heavy zarbaft fabric or why a chicken suit must look like how it looked 50 years back?
I revisited the old, traditional cuts and fabrics of these timeless garments and gave them a contemporary look.
Infusing zari, gota and zardozi in delicate chicken suits and using light but lush fabrics for flowy ghararas in soft colours was received by my clients with lots of adulation and appreciation.
This is my love for 'all things OLD!' but in a new, appeasing flavour!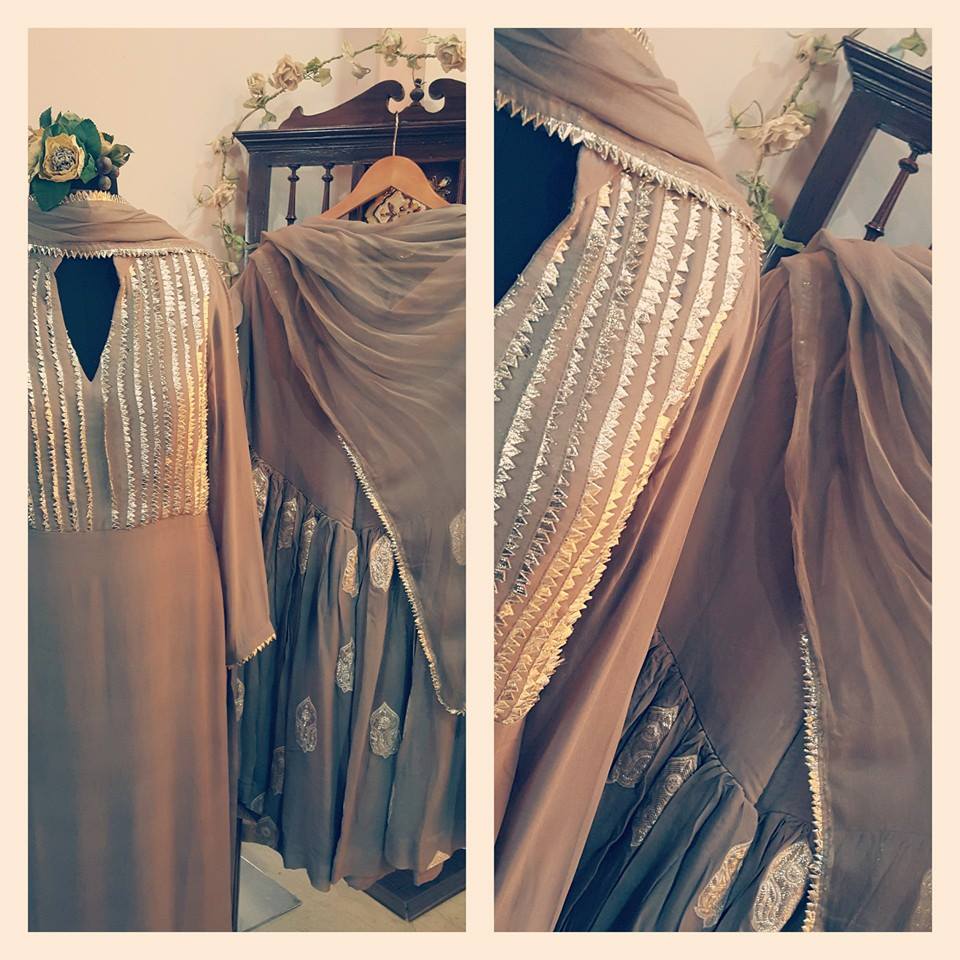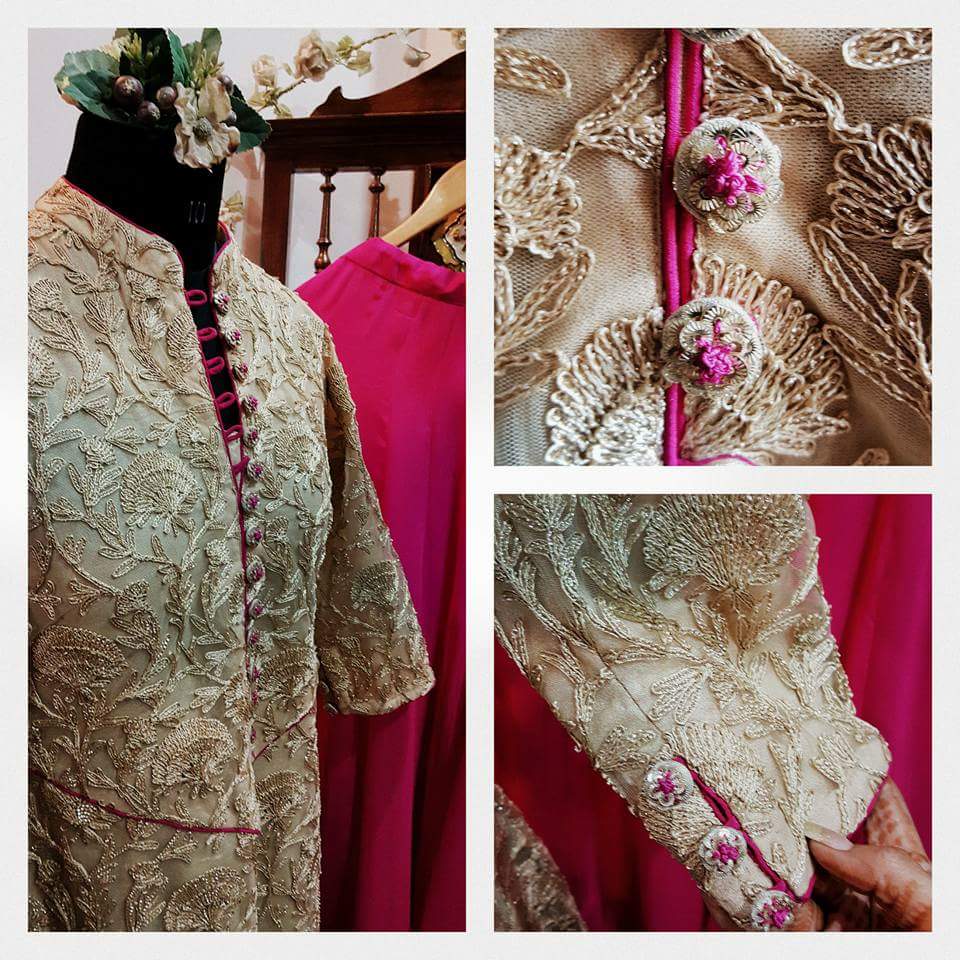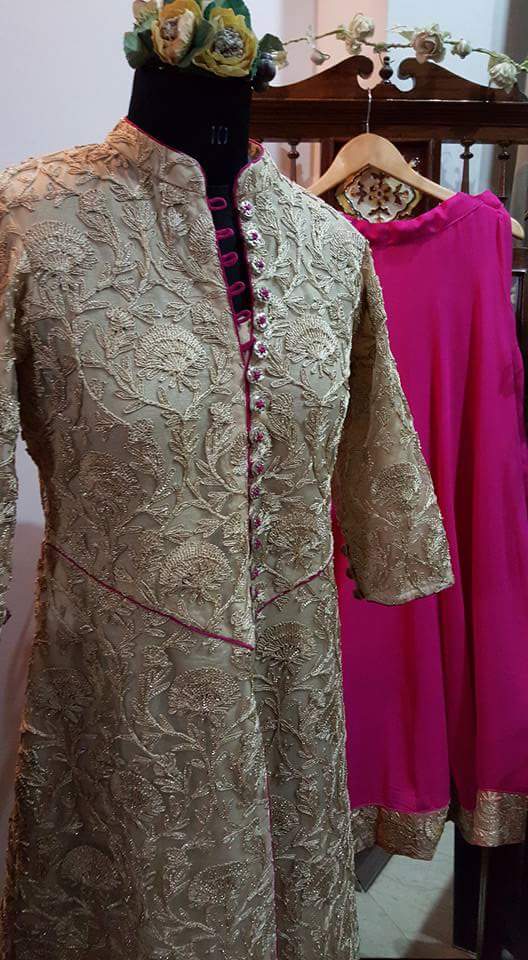 Me & my love for Mukaish (no, it's not a name of any boy, if you are thinking so!)
For the past few weeks, I am working on some fine mukaish pieces.
Mukaish is a type of embroidery intrinsically done in Lucknow which involves twisting thin metallic threads to create patterns all over the fabric. It was initially developed for the royalty as a part of their finery and precious metals like gold and silver to make threads were used.
Unfortunately it is considered a dying craft now but I am in no mood to let it go just like that…..
My new collection is heavily inspired by this work.
My designs – reflection of my own taste & personality
I like to play around with the fabrics without adding much colour and changing the look or concept of the dress drastically.
My mantra is –
Clean Cuts + Pleasing Colours + Quality Fabric = Elegant Designs
Tempted to try her creation? Reach Sabina @ 09718078892
You don't need to be staying in Delhi to wear and flaunt 'Sabina Rehman'. Connect with her, discuss your likes & requirments and get it custom made!
She ships all across the globe!
Apart from heavy clothing, she makes classy daily wear suits, chic' office wear dresses,  trendy Indo-western garments and a lot of other fun stuff!
She made this for me…..
PS – She's a complete sweetheart too!
Visit Aabnoos Couture's Facebook page here and look at her stunning designs!