Food Blogger Isha Masoodi shares her perfect Sunday brunch recipes.

(Try at you own risk of getting addicted!)
Poori, Punjabi Choley, Zeera Aloo, Onion Raita and Suji ka Halwa
POORI
Ingredients
Whole wheat flour or atta – 3 cups
2 tbsp melted ghee or oil
1/2 tsp Ajwain or carom seeds(optional)
Salt as required
Oil for deep frying
Preparation
Sieve the whole wheat flour with salt. Add melted ghee or oil and mix well.
Add little warm water at a time and knead well to form a dough. The dough should not be too soft but a little stiff and tight.
Divide the dough into small or medium sized pieces.
Roll into medium sized or slightly small balls and flat them into small circles with the help of a roller pin.
Heat oil in a deep frying pan.
When the oil is sufficiently hot then add one puri at a time and fry gently pressing down with the frying spoon or slotted spoon in a circular motion.
Turn over when puffed up and fry the puri till golden.
Spread on kitchen towel tissue to drain excess oil.
Tip: Fry puri after preparing all other dishes so can be served hot.
PUNJABI CHOLE
Ingredients

1 cup chickpeas (white chickpeas, kabuli chana or chole)
3-4 cups water for pressure cooking the chickpeas
1 black tea bag (optional)
½ tsp salt
2 black cardamoms/elaichi
1 inch cinnamon/dalchini
3 to 4 peppercorns/sabut kali mirch
2 cloves/loang
1 medium indian bay leaf/tej patta or 2 small tej patta
1 tsp cumin seeds/jeera
1 or 2 dry red chilies
2 large sized onion, finely chopped
2 medium sized tomato, finely chopped or 3 Tbsp tomato puree
1 tsp ginger-garlic paste
¼ tsp turmeric powder
½ tsp red chili powder
¼ tsp garam masala powder (optional)
¾ to 1 tsp amchur powder/dry mango powder – optional
2 to 3 green chilies, slit
3-4 tbsp oil
salt as required
Chopped cilantro (handful)
½ inch ginger/adrak, julienne
1 lime/nimbu, sliced or quartered
Preparation
Rinse and soak the chole (chickpeas) in enough water overnight. Add enough amount of water as the chole increase in size after soaking. Rinse the soaked chickpeas.
In a pressure cooker add the chole along with a tea bag. then add water season with salt and pressure cook the chana for 5-7 whistles. the chana should be cooked well an softened. If you forgot to soak chana overnight or are short of time, use canned Chickpea. They are equally good and save effort.
In a pan or kadai, add oil. when the oil is hot, add whole masalas and saute for 30 seconds. Now add add ginger-garlic paste and saute till their raw aroma goes away.Now add chopped onions and saute till the onions light brown.
add tomatoes & saute them till they soften and the oil starts to leave the sides of the masala.
then add the powdered red chili powder, turmeric powder & garam masala powder. Stir the dry masala and then add slit green chilies add the cooked chole. Stir well.
Add salt. then add about 1 to 1.25 cups of the stock in which the chana was boiled. you can also use water instead.
Stir and cover the chana. Simmer on a low to medium flame stirring occasionally. the gravy will thicken and reduce.Simmer till you get the consistency you prefer. the consistency is not thin, but medium consistency or dry.
Add amchur powder (dry mango powder) now. stir till oil starts to show on top.
Garnish chole masala with coriander leaves & ginger julienne.
Serve hot.
GUD Ideas:
if you don't have amchur then add lime or lemon juice toward the end.
Chole also tastes good with steamed rice or jeera rice.
ZEERA ALOO
Ingredients
5 medium size potatoes boiled peeled and cut into bite size pieces.
2 tablespoons oil
1 teaspoon cumin seeds (jeera)
2-3 whole dried red chilies
1-1/2 teaspoon crushed coriander seeds
1/4 teaspoon turmeric (haldi)
1/4 teaspoon red chili powder
1 teaspoon salt adjust to taste
1 teaspoon mango powder (amchoor)
2 tablespoon chopped cilantro (hara dhania) to garnish
Preparation
Heat the oil in a frying pan on medium-high heat.
Add cumin seeds and after seeds crack red chilies and stir for few seconds.
Reduce the heat to medium. Add all the remaining spices, coriander, turmeric, chili powder, mango powder, and salt. Stir for few seconds.
Add potatoes and mix well with Masala. Stir fry for 4-5 minutes. All the potatoes should be coated with spices. Sprinkle a little water mix well and cover and cook for 1 minute. Uncover and mix well.
Turn off the heat and add cilantro. Serve it hot.
ONION RAITA
Ingredients
150 gm chilled thick yogurt
1 medium sized onion chopped
few mint leaves chopped finely
2 green chilies chopped finely
few coriander leaves chopped finely
1/4 tsp roasted cumin powder
black salt or salt as required
1/4 red chilli Powder
Preparation
Whisk the yogurt until soft and smooth. It should be lump free.
Add cumin powder, red chilli powder and black salt and mix nicely. Add salt if needed.
Combine the rest of ingredients and mix all nicely.
Serve chilled.
SUJI HALWA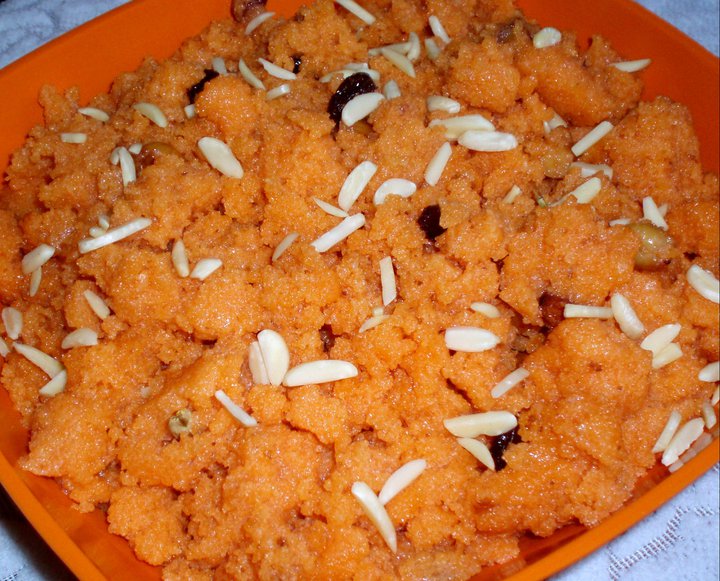 Ingredient
Semolina  1 cup
Milk 3 Cup (if you don't want to add milk, add plain water)
Sugar 1 1/2 cup
Pure Ghee 3/4 Cup (if you dont prefer desi ghee, use vegetable ghee or canola oil. Ghee is preferable).
Mixed nuts and raisins 1/2Cup (cashews,almonds, raisins, or any dry fruits of your choice. roughly crushed)
Salt 1Pinch
Saffron/Food color (optional) . If you donot have saffron, use orange/yellow food color.
Keep saffron or food color soaked in 1/4 cup of water or milk.
Melt ghee in a heavy bottomed non stick deep pan.Add nuts and then raisins and roast until very lightly colored and the raisins swell. Enjoy the aroma. Now add Samolina and roast on low flame heat until lightly colored and fragrant.Add sugar and stir will.  add color. Mix well. Add water/milk and decrease heat to medium.When most of the water/milk is absorbed, add a pinch of salt. Stir in gently and cover and let it simmer for few minutes. Uncover and check. When the ghee starts to show and it starts to leave the edges of pan, put off the flame. Let it rest for 5-7 minutes before serving. Serve Hot.
Happy cooking!!
(Banner image via Las Vegas Mela)