My daughter is 11 years old and every time I get to visit any of the Cloudnine Hospital, I always think, "Damn! Why I never thought of having another baby. Look at this place. How much fun it would be to deliver another baby in here?"
Then, recalling years of sleepless nights and extended postpartum depression after my first child (not to mentioned the ticking biological clock), I go back to my initial resolution of 'hum do, hamara ek'.
But anyone and everyone who is planning to start a family or add another member to the flock, Cloudnine Hospital is THE boutique maternity facility with finest medical services and ante/post natal care under the close supervision of skilled doctors.
On 7th December, 2017, Cloudnine Hospitals, India's leading chain of maternity, women and child care hospital marks another milestone with the launch its maternity and childcare hospital at Vashi, 3rd one in Mumbai. The new facility, inaugurated by renowned actress Shilpa Shetty Kundra and Dr. Kishore Kumar, Founder and Chairman, Cloudnine Group of Hospitals, will offer comprehensive and personalized care for expectant mother and babies.
Clodnine Hospitals is not merely a maternity center but it also provides 360 degree, all-round comprehensive birthing services and care.
There are myth busting sessions, stress reduction programs, lactation support, Lamaze classes and we even provide midwife support at home, if needed. Besides the specialized care, Cloudnine Hospitals offer opportunities of bonding with other mothers-to-be.
Speaking on the occasion, Dr. Kishore Kumar, Founder and Chairman, Cloudnine Group of Hospitals said, "With our new centre in Navi Mumbai, our endeavor is to effectively bridge the gap between Indian and international standards of maternal and neonatal care. We are currently the only chain of hospitals to have achieved infant and maternal success rates comparable to developed countries in the West and we are staunchly committed to our motto of 'Healthy mothers and happy babies'.
Finding the right platform and  opportunity, I asked Dr. Kishor, "Healthcare facilities, especially maternity ones, have always been accused of promoting and forcing C-section deliveries due to 'obvious' commercial reasons. Since your's is a high-end one, doesn't people come with a pre-conceived notion of the same?"
To this, Dr. Kishor's reply was convincing and cleared the looming doubt to a large extent, "Since the very beginning we knew we will be judged and questioned on this aspect. And hence we have a straightforward, streamlined and transparent policy to deal with it. In all our facilities, there is no difference in charges for normal and cesarean deliveries. The package cost does not depend on the 'type of delivery' but is reliant on the 'kind of room' you chose. Only the anaesthesiologist fee is additional for a C-section. So there is no question of needless surgical intervention from the commercial prospective. Additionally, all cesarean section deliveries are reported and assessed for the 'cause of surgery' by a separate team of doctors."
(Watch a video snapshot of Cloudnine Hospital Vashi here. You will be in awe to see how stunning the rooms and interiors look!)
Cloudnine Hospitals stands strong with 20 centres in 6 cities currently. Beyond regular maternity services, it offers pregnancy care, infertility care, gynaecology care, neonatal care, pediatric care, new born intensive care and high-risk pregnancy care.
What's so GUD about Cloudnine Hospitals?
Cloudnine aims to create a happy place for all mothers to be, taking care of all their apprehensions a
nd worries, educating and training them to deal with their present situation and the new life that lies ahead of them with the help of physiotherapy, posture assessments, antenatal workshops, stress management, myth-busting sessions, and nutrition services.
As new mothers you will experience a 360 degree care at Cloudnine, the labour recovery rooms are designed to provide a homely atmosphere with all the special care that a newborn and a new mom would need and deserve. They have advanced surgical ICU and NICU and a panel of experts to deal with any high-risk care required by the mothers or infants.
Visit the newly launched Navi Mumbai facility here –
Cloudnine Hospital  Vashi
Check out all Locations of Cloudnine Hospitals here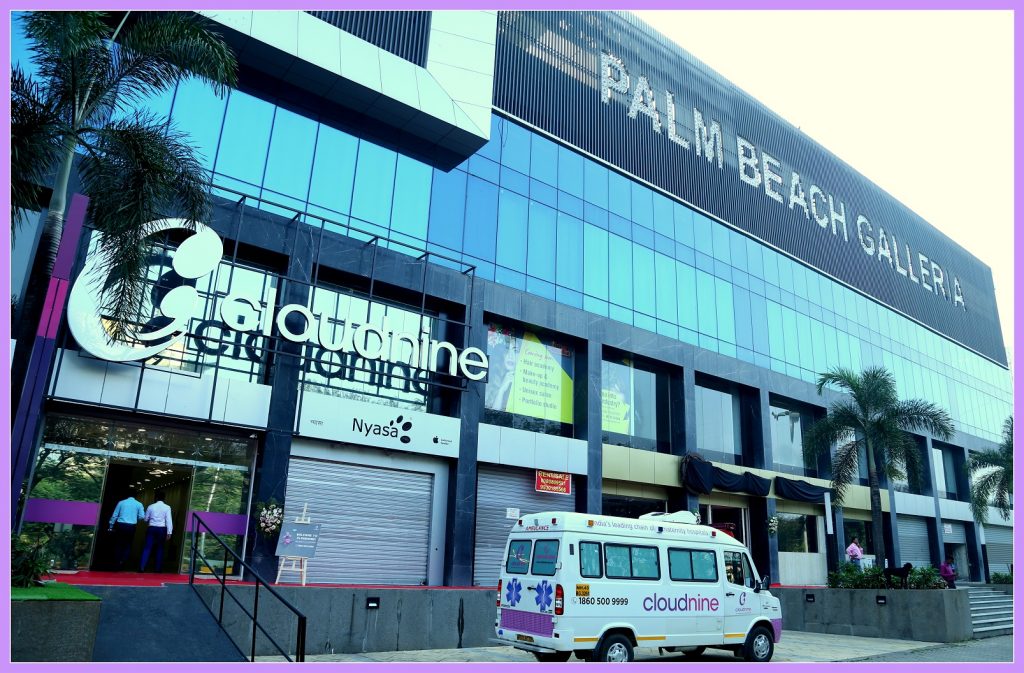 Read my event reveiw of Cloudnine Kalyani Nagar, Pune launch here