Few days back, I met this lady on airport. Our flight was delayed and we were doing TP (time pass yaar) on our phones – Whatsapping, Facebooking , Emailing!
Once my social media started showing 'No New Feeds', I HAD to drift my attention around.
I noticed the female sitting next to me was a smartly dressed, very pretty and a pleasing lady (am sure her social media too must be all 'updated' by now). We exchanged smiles.
As we get talking, I came to know she runs a swanky boutique in Karnal, Haryana (ah… so that says it all about her chic' style).
Listening to the success story of this mom-preneur, I thought of putting it up on the blog.
Reason being – her story and my ideology ran along the same wavelength – Don't let your educational qualification limit or bind your passion.
– DO What You LOVE To Do! – 
Here is the 'long and short' of our conversation –
Nilofer Khan, Owner – Niloufer Studio
Niloufer Khan is a Trousseau Expert and works with a talented team of masters and embroiders to create handcrafted fashionable dresses. Her boutique Niloufer Studio is in Karnal, Haryana.
Tell me all about your background and brought up.
My father was a civil engineer in BHEL. I was born and brought up in Haridwar. I completed my MBA and set out in life for a regular career in the corporate world.  But I guess my calling was not there.
From deriving business plans to designing dresses – how did that happened?
I have been a creative person ever since my childhood and had always been fascinated with colours. (I have this 'thing' for colours and it play an intrinsic role in all my designs).
I remember making dresses for my dolls even when I was a kid. So I guess it all started with that and has always stayed there with me.
Once I realized am not a typical 'office kind' of a person, I decided to follow my passion instead of sticking to the work which my professional degree is going to fetch me.
That's it! One fine day I just quit 'cold turkey' and since then, there is no looking back.
…and thanks to God, I never regretted doing it even once in my life.
So, for how long have you been in this line?
Inadvertently from childhood and professionally for GUD 18 years now!
Touchwood (she didn't miss on touching her head. Sweet.).
What all you deal in and what's that which will make me reach YOU and ditch other BIG names of online stores?
My USPs are 'fabrics' that I handpick for each customer and 'concepts' I come up with, keeping in my mind for whom I am designing. Indian, Indo-western, western, exclusive party wear, wedding, working, maternity – you name it and I have it for everyone.
The moment I see a person, understand her body type and pain areas, I make a mental note of the cut, fall and drape that would go best on her body. So my dresses and designs are not 'run-of-the-mill'.
Each piece is crafted intricately for that particular individual.
Your store is in Karnal (Haryana). How do you cater to customers based in other cities?
I ship across India and even offshore.
Everything is meticulous and professionally done. For my outstationed clients, we use a 'Measurement Form'. Once I receive the required measurements, it is passed on to the customization team to get the proper fittings to the client.
People get in touch through phone call/ Skype or any other communication method based on their comfort and availability. During the communication we understand the requirements of the client and get it made accordingly.
Once the piece is ready and has gone through all quality check measures, we ship it to the client. Shipping charges are of course not inclusive in the price of the dress as it depend on the weight of the parcel and the location of the client.
Payments can be conveniently made online.
Finally, our tete-a-tete had to be cut short as  the announcements for the flight's boarding started and we bid each other GUD bye!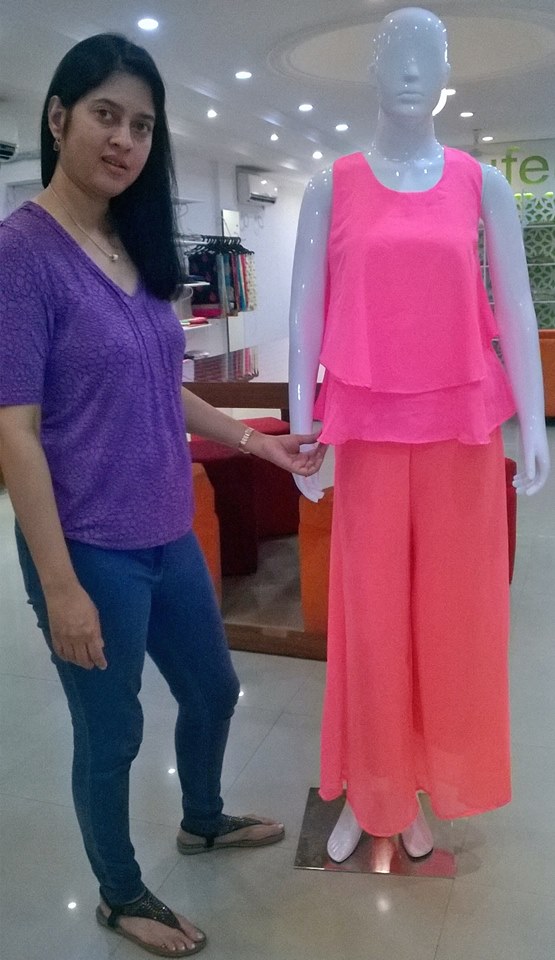 Contact Niloufer Khan, if you wish to get some real nice stuff delivered at your door stop, custom made – Especially for YOU!
Reach her at +91-7027010709
Visit her Facebook page to see some stunning designs.