Guest post by Hobby Ideas
That is what scrapbooking is all about!
It keeps all those precious moments spent with the loved ones intact. I have been collecting memorabilia since ages. Looking at these small snippets of good times makes me mighty nostalgic.
So, when I couldn't find a postcard sent to me by my grandpa from Niagara Falls when he was still with us, I became distraught. My son gave me an idea of collating these memories in a book form, "make a scrapbook mamma", he said.
Thus began the research and I found that scrapbooking has become a rage, so much so that it is a semi art form.
There are some impressive scrapbook ideas and taking inspiration from them I thus began my journey. A couple of years now and I still can't say I am done.
One can make a scrapbook on almost any subject; movies, visit to a hometown, growing up years, first year of marriage to losing weight and getting a makeover. It is like a visual diary. I did quite a lot of DIY projects and here is one of my favourite one for you'll.
Travel Diaries 
Travel is the time we connect with the world at large. Travel is the time we realise that there is so much more to see and experience. Travel with family and friends bring us closer to them. And then there are so many memories and souvenirs, a perfect theme to start scrapbooking.
What we need to start a scrapbook is a plain album or papers, memorabilia (in this case a lot of stamps, envelopes, coins, train tickets, maps,  flowers, pebbles etc.), chipboard, stickers, stamps, Fevicryl Neon acrylic colours, paint brush, felt pens, embellishments, Fevicol, distress inks and scissors.
I started with a plain album. The size and the feel of the base should match your requirement.
Gather all the material together and plan the layout. The material should be appropriate to the theme. Magazines cuttings can help in a big way and so can the stickers. As this album is about travelling I wanted a map to be the first layer and then kept on arranging subsequent layers on it.
To match the verve during our expeditions I painted the corners of the stamps and paper cutting with fresh neon acrylic colours. Ensure that the paint I neither too thick nor too watery. Let it dry thoroughly, and then as per the layout stick them.
Then comes the inside pages. Each page is dedicated to a destination traveled.
For my Maldives one, I collected the material which connotes sun, sea and beauty for the page.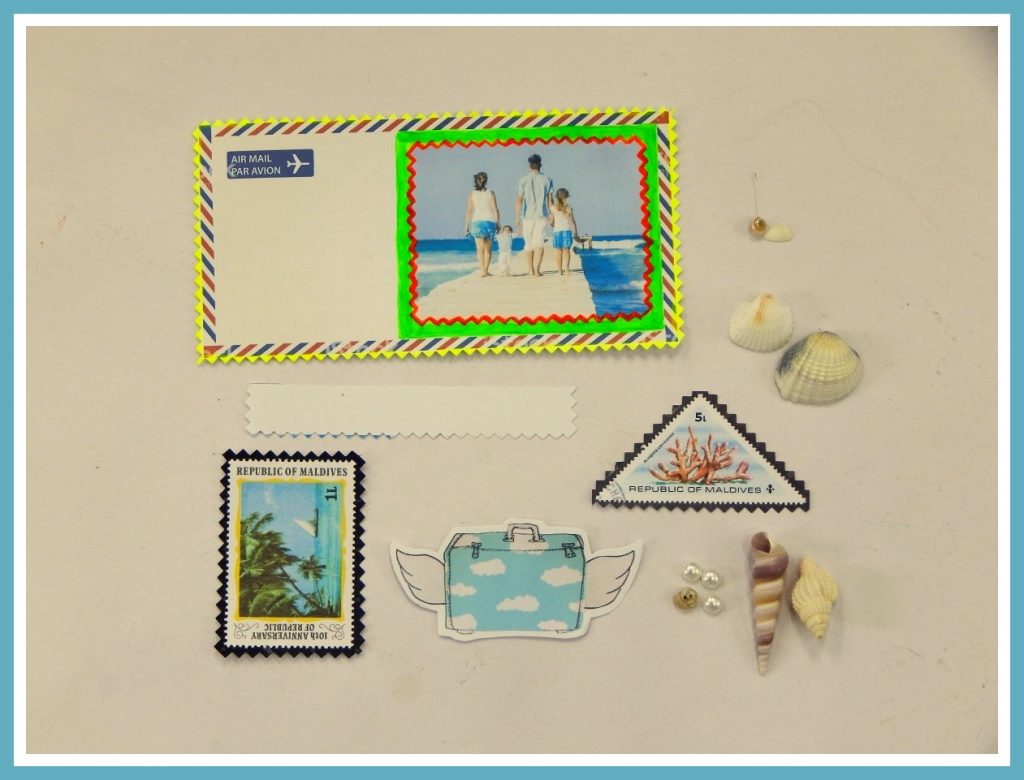 Plan the layout and put it together. Leave space for some photographs and special memoir.
Start adding the pages and fill each page till it is complete.
Viola!
What a cool looking piece of art & creativity.
Isn't it a great art and craft idea for kids too? They can make a scrapbook on almost any subject and is a great learning tool too!
Do tell me whether you found this blog interesting and do share your scrapbooking ideas too!
Au revoir!
#happycrafting