My daughter is 8 years old. Keeping young kids engaged during weekend afternoons is a tough job. So we usually get into some easy DIY crafts.
This is what she (we) did this Saturday-Sunday.
Hand Puppet from a Toilet Paper Roll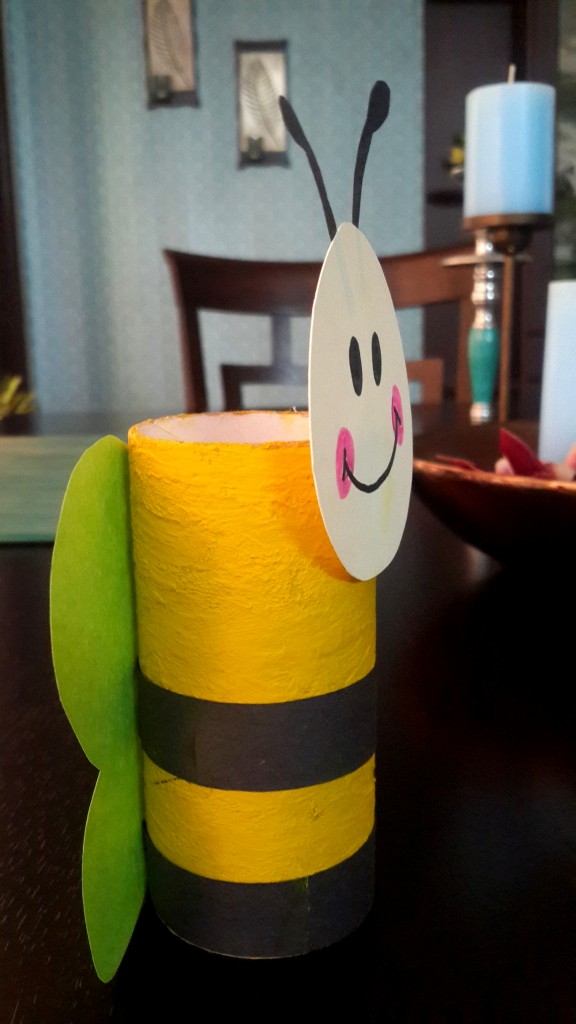 We used,
The inside round cardboard of a toilet tissue roll
Paint, brush, sketch pens
Bright colored paper
Glue & scissor
What we did,
Painted yellow-black strips on the cardboard roll
Cut 2 out lines from the colored paper – one round and another butterfly shaped
Glued together both cut outs on the cardboard roll
Made eyes and a smiley with a pen
Don't forget to add cute little antennas!
Cute Card with a Pocket
We used
Colourful paper of 2-3 colors
Zig-zag scissor
Glue
What we did,
Cut small (4 x3 inches) cards and folded them horizontally
Cut one more smaller piece of paper and glued it to the card from three sides only, creating a pocket
Made few flowers and grass and inserted in the pocket
Go on decorating as elaborate as you want
Viola!!
Now, there is a happy & smiling face, feeling proud of her creation and an even happier mamma to spot that little twinkle of accomplishment in her daughter's eye.
Win, win!
For more easy DIY ideas, click here