Organizing and keeping things in place is always a huge task – for you, me, everyone!
Here are 10 simple, easy-to-do, functionally practical ideas to keep your stuff organized.
#1. Clutch-glitch
To keep your expensive clutches visible and well stacked, use plate holder (easily available at crockery stores).
 #2. Sunglasses cover for small cables/gadgets in purse
Use cover/box of your old sunglasses to keep headphones, data cables or similar stuff in your purse.
#3. Lost Linen
Stack your ironed and nicely folded bed linen in the pillow case of the same bed sheet. Following this, you will never encounter the hassle of pillow cases going missing or mixed up.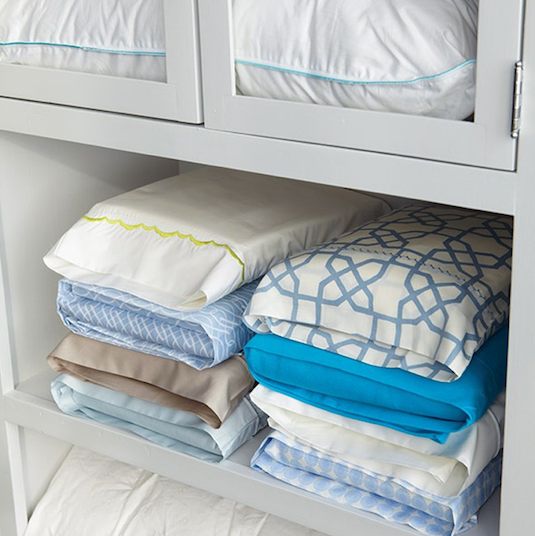 4. Toiletries on display
Place a cake or cookie stand in the corner of your sink platform in your washroom. Nicely arrange all your body sprays, after bath lotions and other nick-nacks on a visual yet functional display.
#5. Racks – Big, small, square, rectangle…

Using small adhesive hooks, hang narrow, long baskets (used as stationary, cutlery separators which are easily available in stationary/crockery stores) on the insides of cabinet shutters. You can do this in cupboards, under washbasin shutters or anywhere else.
#6. Mind those remotes
Place all your remotes (TV, set top box, AC, music system) of the room inside a cute looking box. Keep one such box in each room.
#7. Cord control
Don't throw the inner card board roll of toilet paper. Put couple of them in an old shoe box and place folded cords in it.
#8. Take charge of your mobile chargers
Cover an old shoe box with a nice paper. Make few neat holes in it. Place an extension cord board multi plug in it. Connect with electricity at one end. Enjoy clutter-free mobile charging in most aesthetic way!
#9.Cuteness overload
Place several small, low-rise baskets in your drawer to store your makeup, brushes, pins and other stuff.
#10. Scarf story

Tie your stoles and scarves on a hanger and hang it in your cupboard the usual way.
images via pinterest