I have this unbelievably simple, almost magical recipe of chocolate cake/brownie.
No egg, sugar, butter or even oven needed.
Instant dessert recipe for bachelors, men, lazy girls and even for YOU when you have that sweet craving at midnight!
Thanks Shilpika Mishra for sharing this!
USP –
Requires only 3 to 4 ingredients
Ready in 3 minutes
Tastes like heaven!
Ingredients
Chocolate cream biscuits (Oreo, hide n seek or any other) – I packet
Milk – ½ cup
Eno – 1 sachet (yes, the same antacid powder you use to relieve acidity and ingestion)
Chopped walnuts or other mixed nuts (optional), a pinch of salt & cinnamon powder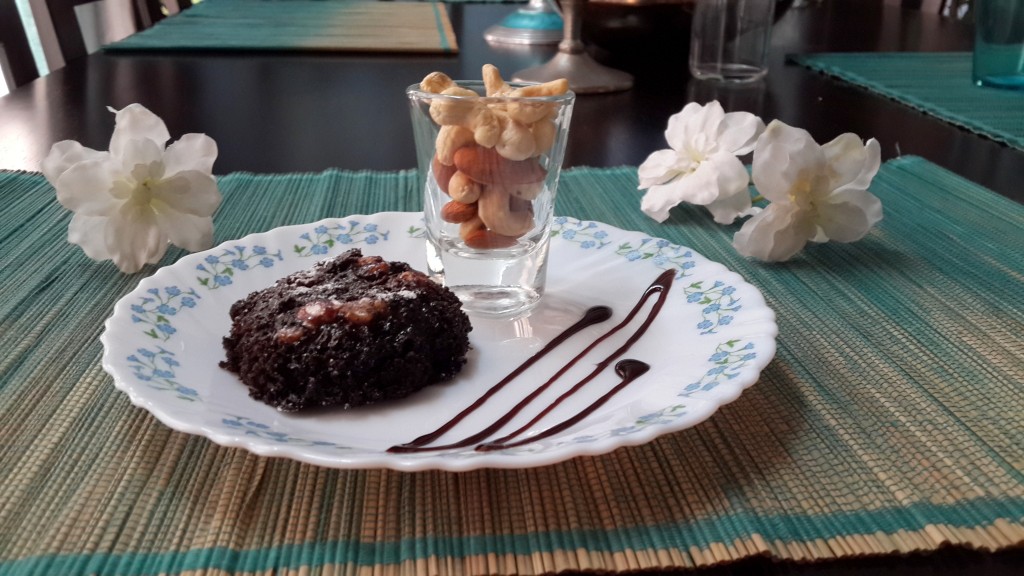 Method
Open the pack of biscuits in a bowl
Add milk to it and let biscuits soak in and dissolve completely
Mix well and make a homogenous paste
Add nuts and the sachet of Eno. Mix well.
Pour the mixture in microwave safe small bowls. Fill only half the bowl.
Microwave for 3 minutes
Let it stand in the microwave for another minute before taking out
Serving
Using a knife, take out the cake and place inverted on the serving plate.
Drizzle chocolate syrup
Serve with a scoop of vanilla ice cream
For more easy, quick and yummy recipes click here
recipe by Sania Siddiqui