A Riot of Food & Flavours……….. 
There are more than a hundred 5 star hotels in Dubai. Each one is exquisite and plush in its own way. When I got an invite from Hyatt Regency Dubai Creek Heights to try their Friday Brunch at Sufra during my recent visit to Dubai, I was more than pleased.
Before I begin recounting my culinary experience, let me give you a word of caution.
There are 6 Hyatt properties in Dubai. Be specific of telling the exact address to your driver.
Like me, if you are planning to visit Hyatt Regency Dubai Creek Heights, do mention 'Healthcare City'.
We went hopping to two different Hyatt properties before finally reaching our destination and unnecessarily spent close to 80 AED (Rs. 1500 approx.) for a distance which was merely a stone's throw from our hotel; just  because we told  'Hyatt Regency Creek' to the driver and not the complete address. In that area itself, there are three Hyatt properties.
Coming back to the 'Famous Friday Brunch' at Sufra, Hyatt Regency Dubai Creek Heights, the spread is a delectable mix of global cuisine. Although the restaurant specializes in Mediterranean dishes but their Friday Brunch is not limited to Arabic food. It is a lavish assortment of Indian, Mexican, Asian and of'course indigenous delicacies.
Sufra is sunny and spacious. Exactly the way you would like to enjoy your weekend leisurely brunch.
A very smart thing done by the management is that they have set their dessert counter right outside the entrance of the restaurant.
One, it made a stunning decor; two, it was an alluring display for children, who were hovering around the dessert area and dragging their parents to come in and eat at Sufra.
Whenever I go for a buffet meal, I am mostly interested in two things – Starters and Desserts.  And Hyatt Regency Dubai Creek Heights welcomed me with an array of enticing sweets. Just like the excited little kids around, I too felt instantly GUD!
The extravagant assortment of sweets were not merely eye candy but were equally heavenly in taste. All sorts of pastries, short cakes, doughnuts, marshmallows,  candies, chocolate fountains, mousses in various flavours and toppings, Indian sweets, ice creams and much more was at offer.
There were a whole range of Middle eastern sweets and desserts – Basbousa, Baklava, Kunafeh and several others which I don't remember by name. They were nice but not exactly appeasing to the liking of my Indian 'sweet tooth'.
So once I feasted my eyes (and camera) to the heart's content on these colourful delights, we started with the meal. Sandeep Rawat, Assistant Outlet Manager at the Restaurant took us for a round of the place. He walked us through the elaborate spread of salads, main course, sea food station, live Italian and Mexican counter, grills & kababs and rest of the sections.
Mexican food lovers can enjoy guacamole, tacos, fresh ceviche,  crunchy nachos, burritos and fajitas at the live station.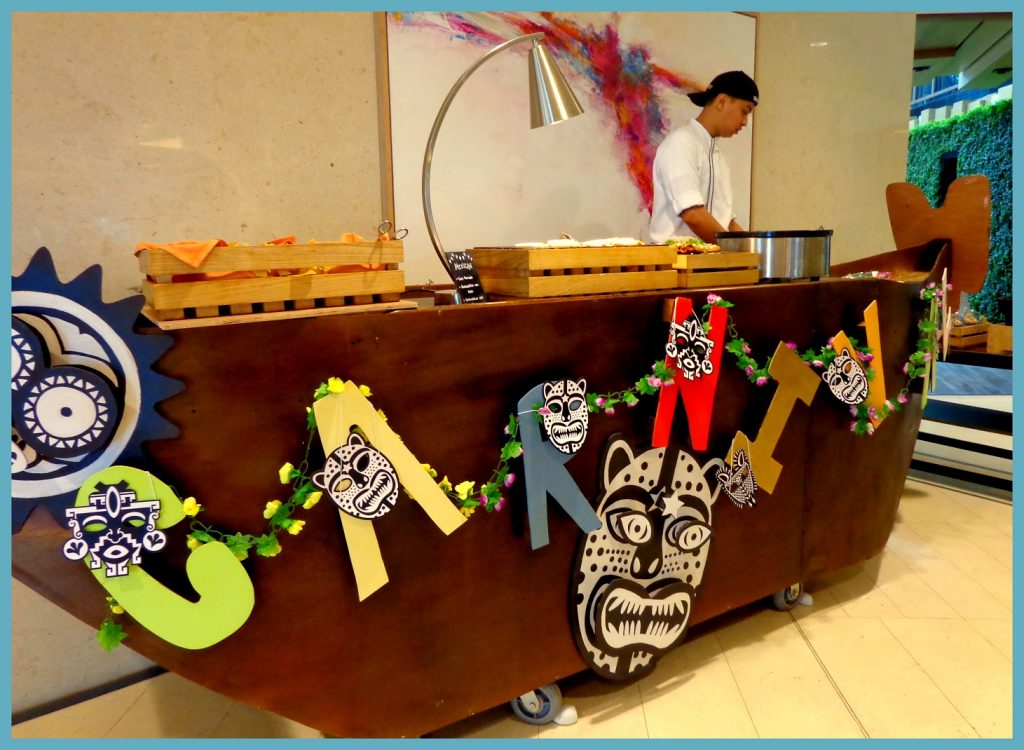 Seafood section has the freshest bounty from the sea one could ask for. But since I am not a seafood person, I had to skip it.
While I enjoyed my dainty salad and delectable roast/biryani, my daughter loved her picks from the Kiddie menu of chicken nuggets, spaghetti bolognese, smiley potato fries, mac-n-cheese and mini burgers.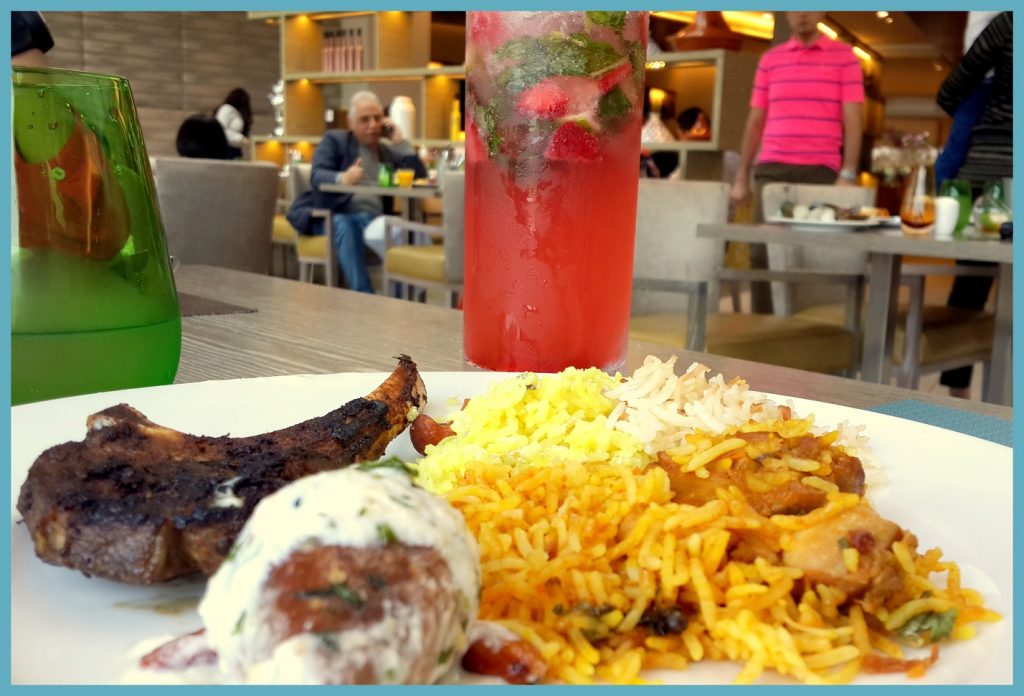 I had heard about a designated kids area nearby the restaurant to keep them busy with various activities but during my visit it was not there. My daughter missed that but one of the staff was nice enough to give her some colours  and paper.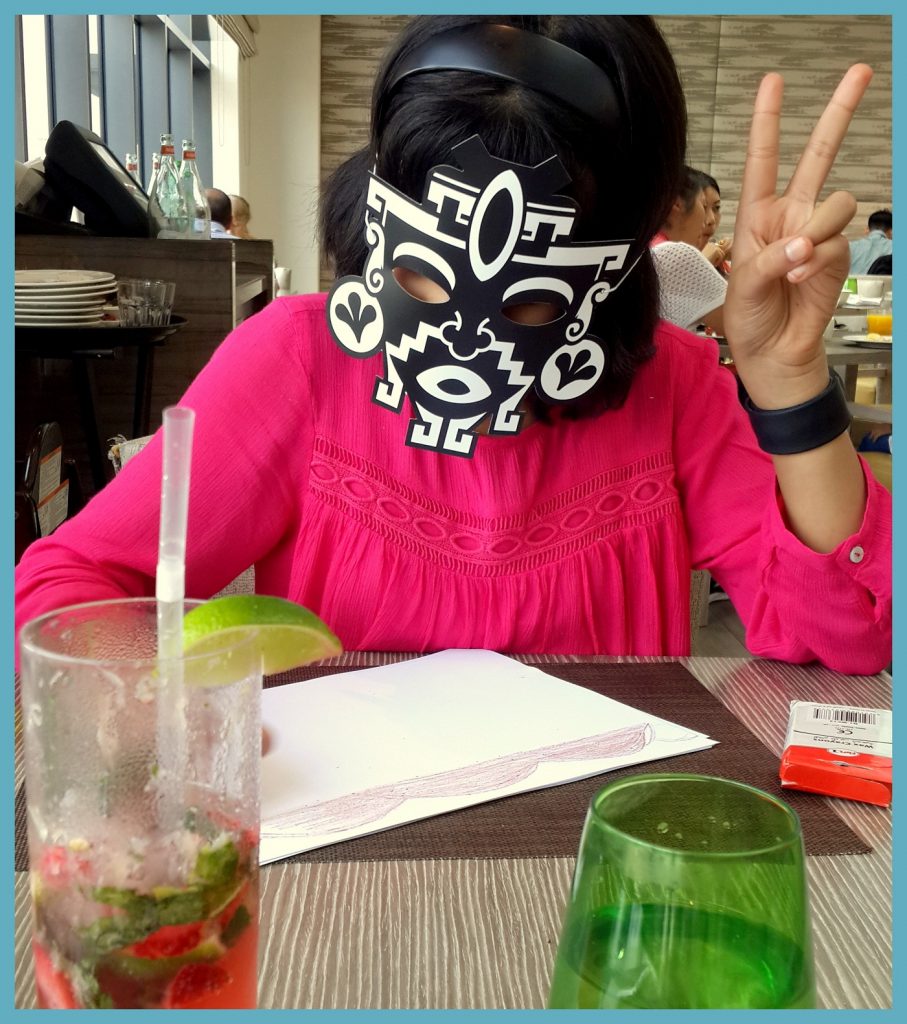 Sufra with its beautifully ambience, is a lovely restaurant to be at when you are in Dubai. The diversity of international cuisine caters to people from across the globe. Staff is courteous, pleasing and quick in service.It is definitely an ideal place to spend a leisurely weekend afternoon with family & friends.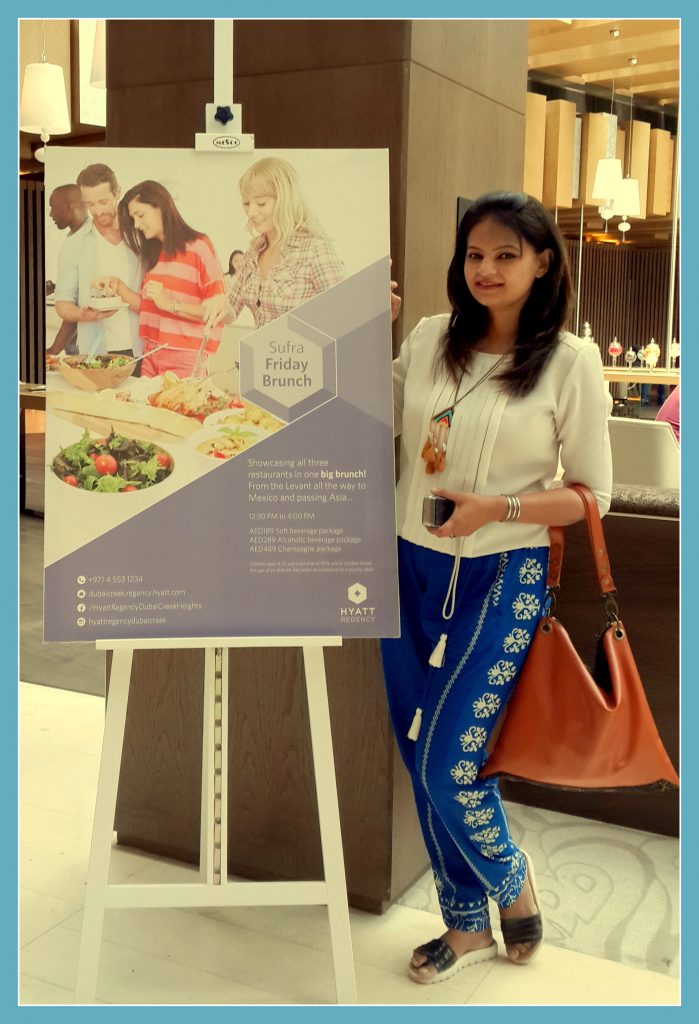 Price starts at –
AED 189 inclusive of soft beverages
AED 289 alcoholic beverage package
AED 489 champagne package
To make a reservation, you can call
+971-4 3172221 or email sufra.reservation@hyatt.com . You can also book online here.
We were hosted by Hyatt Regency Dubai Creek Heights but the review is purely unbiased.