Guest post by Hobby Ideas
Hola people!
I hope you are doing well. There is a nip in the air and everything is looking a wee bit more beautiful, like my garden. The flowers didn't disappoint me and blossomed right on the cue. So here I have a beautiful house full of colourful blooms. Nature never disappoints me; lucky me.
One of these days I was looking for some inspiration to start my new card making project and the beauty of that dragonfly buzzing in my garden stuck me. There was a great demand for some diy ideas for gifting from my online community too. Hence here I am and let's get started.
We will be making a garden themed quilling card. Now this requires a bit more diligence and dexterity. Don't be scared if it looks like a bit intimidating, it is worth the hard work.
What you need?
Bright coloured ¼ inch quilling strips (red, pink, orange, yellow, light green , white and dark green)
Quilling tools
Glue,
Quilling comb,
3 D glitter
Card paper
How to make?
We make the basic quilling shape for leaves and pinch them for elongation and subsequent leaf shape. Make 3 or 4 sizes of leaves.
Make quilling coils for the flowers. Do two sizes for two layers of flowers. Ensure that the ends of the coils have been secured by glue and are dry before we start the final placement of the coils.
Start sticking the coils vertically in a circle to form a flower. Make two layers. Use white coils to break the monotony in the center and loose yellow coils.
Make 4 petal flowers and some buds.
Start arranging the leaves around the flowers as shown in the image. The best way is to place the flowers and arrange the leaves around them.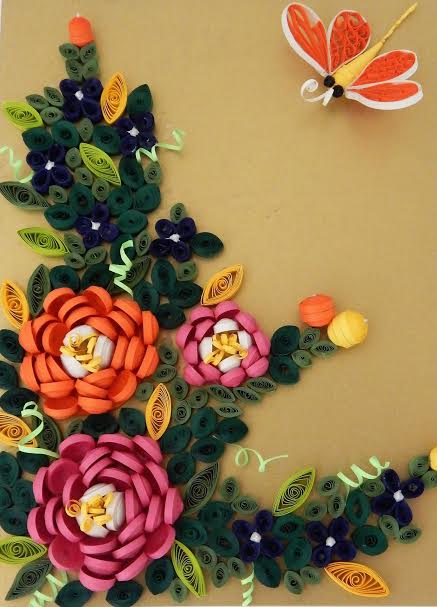 Now for the dragon fly, we make the structure of the wings first.
Make loose scrolls from a bright colour quilling strip for the bulk of the wings.
You can use quilling comb to make the wings too. The wings will look like this when done. I have made the body of the dragon fly by elongating a tight coil to a cone shape.
Embellish the card as you want to. Now you can write the message on top or inside the card. Isn't this just gorgeous?
This arrangement is also good for other handmade gifts like the cover of an album or diary, or a picture frame or a wall hanging. It is up to you how you would like to use this arrangement. So get going, make handmade greeting cards that you and your dear ones will cherish for a long time.
Ciao till the next one!