The cliché line – 'yaar time hi nahi hai' just got killed, died an unwarranted death.
I finished reading Mrs. Funnybones in 4.30 hrs flat!
Before you go – 'oh what a brag she is, what's the big deal in that?
Anybody can finish a book of 235 pages, even in a lesser time…..
….let me present a unique scenario – truly Mrs. Funnybones style – why it was unusual to do so !
9.00 am: In-laws arrive from Delhi for a long stay over.
10.35 am: Flipkart delivers the book.
11.15 am: Finished first few pages, making second round of chai–nashta, intermittently listening to 'and pitching in' for all the family shaadis mom-in-law attended in Delhi (no details missed or left untouched of bride-grooms' dresses, lain-dain, food and décor).
12.30 pm:  Made a special 'welcome lunch' of mutton stu, meethi aloo, daal – done! (rest all taken care by darling house help. God bless her!).
(Book status – page 95)
1.30 pm – Through with lunch, clearing up and serving of dessert. Bookmarked – page 125)
2.00 pm – Moderated the ongoing contest on my blog, replied to few mails and even updated status on Facebook –
I always knew 'she's my type….'
(Errrrr….don't jump on to conclusions that fast)
…my type of WRITER, I meant (someone I can read day in, day out).
Whacky, quick, fun and narrative! —  reading Mrs. Funnybones.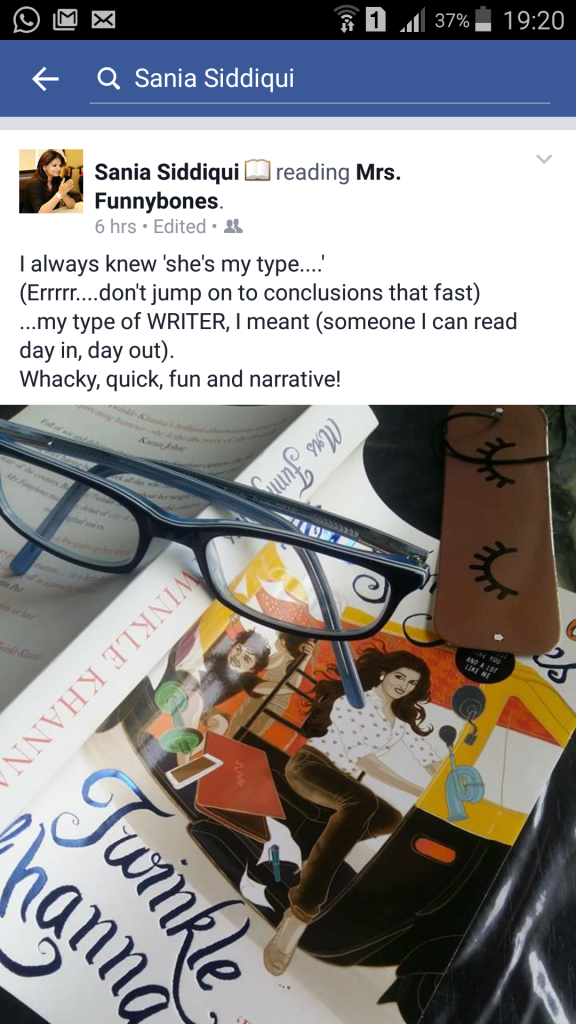 2.30 pm: Spent time on daughter's project. Page 141.
3.30 pm: Read through cover to cover – all of 235 pages!
Now tell me, don't you marvel my multitasking skills?
I am GUD hearted enough to give due credit to the writing (writer) as well.
The book, Mrs. Funnybones by Twinkle Khanna is a quirky read, full of whacky humour, day to day happenings and her dealings with the same – as a daughter-in-law of a typical panju MIL (inspite of being a huge celebrity herself!).
(At instances I laughed aloud but then quickly maneuvered that audible grunt with some gale main khich-khich when everybody around gave me a funny look.)
Her humour is like 'cutting chai', a shot full of wit, entwined with classy narration.
If you 'read' and like easy-going, fun pieces, do read this one.
Funnybones will surely tickle your smart brain!