Adlabs Imagica is an amusing amusement park and can be fittingly branded as India's Disneyland.
If you stay in Mumbai or Pune, you must have been to Adlabs Imagica, may be once, twice, thrice, four or more times (like me).
I have already written about this place at length in my previous post – Imagica's Secret is Out!
Before I write about it yet again, I want to tell you how mesmerizing Imagica looks by the evening.
Beautiful and dazzling.
With twinkling lights all around, a lot more happens when the rides shut down – rain dance, grand parade, music and the works!
Theme Park
Built on international standards Imagica Theme Park offers entertainment, adventure, excitement, action and some real fun at every nook and corner.
TRIVIA: This park boosts of country's largest roller coaster and 4d stimulation rides.
With 25 rides and attractions (indoor and outdoor together) and several eateries to choose from, Imagica Theme Park is perfect getaway to have a great time with friends and family. Kids and elders, both enjoy it alike.
From fairytales to folklores, Bollywood to Hollywood and covering countries and continents, Adlabs Imagica bring stories to life.
The park is divided into 'six zones'. Each zone has a theme.
India: I for India, Mr. India, Curse of Saliemgarh (Horror Attraction), Wrath of the Gods and others
Arabia: Alibaba aur Chalis Chorr, The Magic Carousel and more
Americana: Scream Machine, The Gold Rush Express, Nitro, D2 Dare Drop
Jambo Africa: Rajasaurus River Adventure, Mambo Chai Chama
Asiana: Deep Space, Motion Box Theatre – 4D effects, Cinema 360 – Prince of the Dark Waters
Viva Europa: Splash Ahoy, Bandits of Robin Hood, Loch Ness Explorers, Save the Pirate, Bump it Boats, Tubbby Takes Off
Water Park
Not only kids and youngsters, I saw several dadis and nanis splashing water on each other and enjoying like kids under sprinkling fountains.
That's the beauty of water parks. It brings out playfulness, irrespective of age.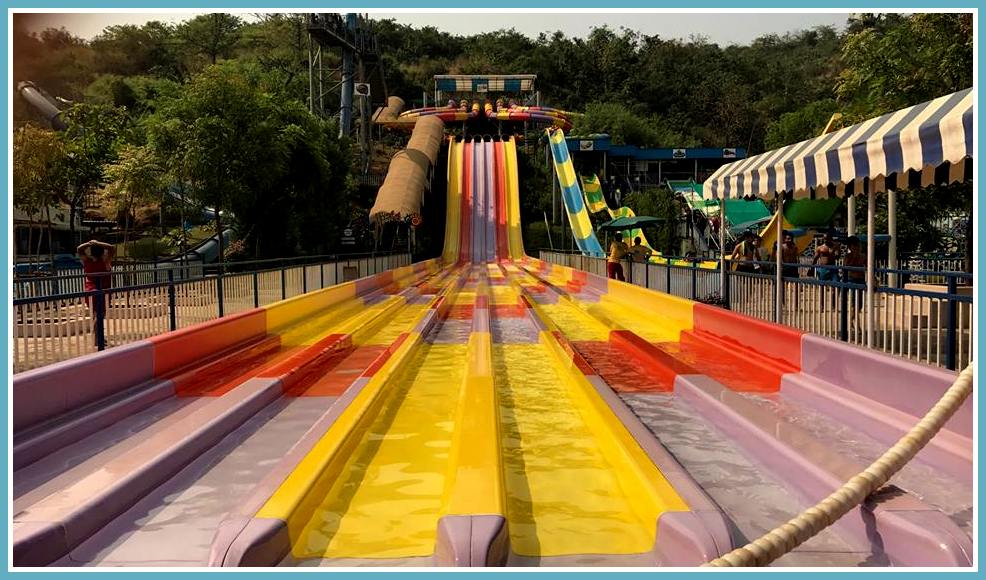 Imagica's water park or Aquamagica offers 12 rides – some high voltage, thrilling, full of splash and some pure chilled out like 'The Lazy River'. Their is a separate rain dance and wave pool area. Wave pool is a huge hit among all.
Several food joints and eating options are available inside Aquamagica.
GUD TIP: Do not plan to cover Theme Park and Water Park in one day. It gets really tiring and you won't be able to enjoy all the rides due to lack of time and energy. Novotel is right across Imagica. Make use of it!
Snow Park
The Snow Park in Adlabs Imagica is one of its kind in the country, spread across an area of 15,000 sq ft, making it India's largest snow park. It is beautiful! Anyone who has never seen real snow, this is a must visit place to get a feel of it.  The snow park has a lot of activities to offer –  get clicked in an igloo, play basketball, slide down the slope in a raft, snow mountain climbing with obstacles or engage in a snow ball fight.
The snow park has an artificial snowfall machine. Now, this gives the real feel of being under a snowfall.
Towards the end of the 45 minute session, the park becomes abuzz with upbeat Bollywood numbers and transforms into a discotheque with flashy lights and where you can shake your already shaking (or stiffened) leg!
GUD to know before visiting Imagica
You are not allowed to take food or any eatable like chips, juices and other snacks in the park. There are several options available inside ranging from lavish buffet, fine dining, wholesome thali, light snacks, ice cream joints and others.
Do take umbrellas, caps and sunscreen lotion if you can't stand sun for a long time.
There is a free locker facility available outside the theme park. In water park, you have to pay for the locker.
Weekends are heavy. So if you don't have an Express ticket (which allows you instant entry to rides without any queue), go on weekdays. Express ticket costs you Rs. 1000 extra per ticket but trust me, is every bit worth it.
Do not forget to carry your swimwear if you planning to visit water park. Or else, you have to buy it from the merchandise shops.
In the Snow Park, jacket, gloves and gum boots are provided to you at no additional cost. Do carry a pair of fresh socks to change as socks usually get wet in the Snow Park.

Theme Park Information
Park Timings
Theme Park
Open:  10:00am – 8:00pm
Ride Timings: 11am – 7:00pm
Water Park
11am –  6pm
Snow Park
10:00am – 7:00pm (45 min session after every hour)
How to Reach Imagica
Click here to know the exact route of Imagica from Mumbai & Pune.
There is also a Volvo bus service from Mumbai & Pune to Imagica (ticket priced at Rs. 599/-) which can be booked as 'Add On' while you book the ticket online.
Ticket Cost
(unlimited access to all attractions and rides)
Imagica Theme Park– Weekends Rs. 1499, Weekdays Rs. 1299
Imagica Water Park – Weekends Rs. 999, Weekdays Rs. 899
Snow Park – Rs. 499 all day (45 min. Session, every hour)
*Taxes are additional on all tickets
**Check Imagica's website for current ticket prices and offers here.
Address
30/31, Sangdewadi, Pali-Khopoli Road, Tal-Khalapur,
Off Mumbai-Pune Express Way,
Raigad, Khopoli,
Maharashtra 410206
Contact Number: 022-42130405
Disclaimer – I was on a complimentary FAM trip to Imagica Theme Park, Water Park and SnoMagica. However, all views are totally unbiased and written from my personal experience.