Adlabs Imagica is no less a Disneyland for Mumbai and Pune people.
So in the past 3 years we have 'been there, done that' several times.
Recently, when I got invited my Imagica to visit the park for a review along with my daughter, I was up for it, yet once again.

I have been hearing a lot about some newly added 'secret party'.
Before I tell you more about the new attraction, let me walk you through the magical imagica.
Spread across 300 acres, Adlabs Imagica is a theme based adventure & amusement park just off the Mumbai-Pune expressway (near Khopoli). It has an array of fun rides and attractions befitting all age groups. The theme of the park being Bollywood, folklore & fairy tale, designing of the place, layout, setup and rides are conceptualized around it.
The high-voltage, adrenaline pumping rides such as Nitro, Scream Machine and Dare 2 Drop are certainly not for faint hearted. My all time fav is I for India, a 3 D screen show illustrating some stunning sights of India with an aerial view (as if you are sitting in a helicopter).
Then there are loads and hoards of other rides, 3 D movies & other attractions – each one with its own unique appeal.
Apart from the main park, there is one dedicated water park – Imagica Water Park and a Snow Park. Mind it, both are not included in the ticket price of Imagica.
 Coming back to the new attraction, after a trip to Snow Park, various other rides and adventures, we were taken to this place which looked like a restaurant from outside.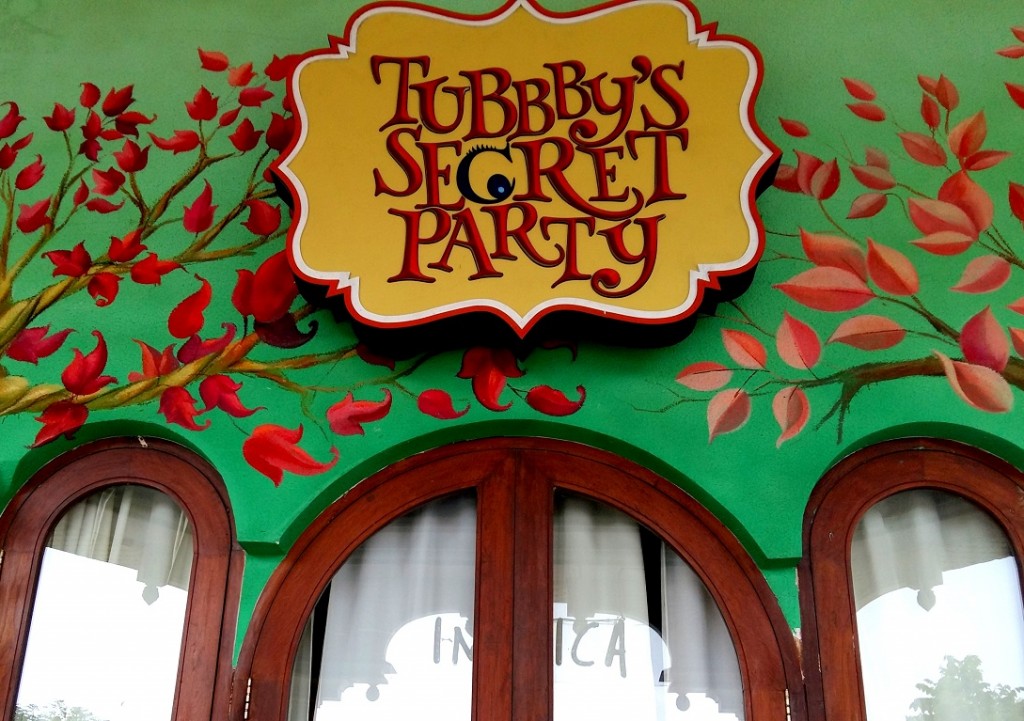 Upon entering we realised it is not just any regular restaurant!
It was like coming to a fairyland. Colourful décor, brightly painted walls, doll-like hostesses to welcome and some yummy food on the tables…..
Each table adorned quirky crockery and fun foods like cup cakes, fried potato smilies, brownies, burgers and juices. Everything a kid would loveeeeee to have.
As the party began, characters of fairy tales came ALIVE. Tubby (the main mascot of Imagica) welcomed everyone in his cute little way. Jokers, jugglers, magician, Cinderella, Snow White and a whole lot of others made the party so much fun that not only children but even elders couldn't stop from shaking a leg. The atmosphere was abuzz with laughter and crazy crazy fun.
Have a look at this fun video here….
One hour spent there passed in a blink. This Tubby's Secret Party (although I am still wondering what the secrecy is about?) is held once a day from 1 pm to 2 pm.
It is priced at Rs. 450/- per kid. The party area is located next door to The Imagica Capital.
It is definitely an ideal place for birthday celebrations.
Park Timings
Theme Park
Open:  10:00am – 8:00pm
Ride Timings: 11am – 7:00pm
Imagica Water Park
11am –  6pm
Snow Park –
10:00am – 7:00pm
45 min session after every hour
How to Reach Imagica
Click here to know the exact route of Imagica from Mumbai & Pune.
There is also a Volvo bus service from Mumbai & Pune to Imagica (ticket priced at Rs. 399/-)
Ticket Cost
Imagica Theme Park– Weekends Rs. 1499, Weekdays Rs. 1299
(unlimited access to all attractions and rides)
Imagica Water Park – Weekends Rs. 999, Weekdays Rs. 899
(unlimited access to all attractions and rides)
Snow Park – Rs. 499 all days
(45 min. session)
*Taxes are additional on all tickets
**Check Imagica's website for current ticket prices. A little birdie told me they are going to be revised sometime soon. 
 Address
30/31, Sangdewadi, Pali-Khopoli Road, Tal-Khalapur,
Off Mumbai-Pune Express Way,
Raigad, Khopoli,
Maharashtra 410206
Contact Number: 022-42130405