Truly and totally, immensely and undoubtedly – Yes, I am in love with all things Tetra Pak!
My affair with Tetra Pak food stuff has just begun and I am sure it is going to be a torrid one!
Not secretive and coy about my new found love, I am going to be all vocal and unabashed about it – spreading it as far and wide as I can.
Ok, so let me tell you how it all began.
Love at first sight? Not exactly!
I have been seeing and using food items packed in Tetra Pak ever since but always had that wee bit of doubt about their claim of not using any preservatives. It just seemed plain common sense for a 'common man' that how come any edible thing can stay good for month's altogether without preservatives being added to it?
So, when I got an invite to this online NQ Course (short for Nutrition Quotient Course) put together by Indian Dietetic Association, AIIMS and IMA and promoted by Tetra Pak, I was like….OK… let me see what it is about.
I found the course highly comprehensive and informative. On completion (tests, blowing it on social media, conducting social events about food safety and final rounds of interview as a short listed candidate) I became the Safe Food Ambassador for Tetra Pak!
I guess, it was destined. Me and Tetra Pak coming closer by the day. All Safe Food Ambassadors were invited to their largest and state-of-the-art facility in Chakan near Pune.
They say, 'seeing is believing'. Indeed true. What I saw there on the shop floor and heard from the technical people out there made me comprehend why and how food stuff packed in Tetra Pak stays good for so long.
Tetra Pak packaging material is a 6-layered thing –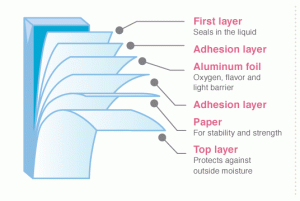 (from outside in)
Polyethylene to protect against outside moisture
Paperboard for stability & strength
Polyethylene acts as adhesion layer
Aluminium foil as a barrier for oxygen, flavour and light
Polyethylene, again as adhesion layer
Food Grade Polyethylene which seals in the liquid
So that's how it is – Not Magic, Pure Technology!
Now, whenever I see these beautiful and colourful 'bricks', my heart skips a beat and butterflies flutter in my stomach.
While I was still basking in the glory of my new found love, people started acting jealous!
They came up with all sorts of gossip about packaged foods available in cartons.
Tannu's mummy said, "This carton milk has preservatives in it."
Without batting a lid I replied "No madamji, fresh milk before being packaged in Tetra Pak, is exposed to high heat (75 degrees Celsius for 15-20) which helps in removing all micro-organisms and bacterial spores. All this is done under extremely sterile conditions. The packing technique further helps in preventing the milk to spoil. All this keeps the milk fresh for a very long period without adding any preservatives to it."
Stingy Mrs. Sikka whispered, "But these packaged foods are much more expensive". I replied with a genuine concern on my face, "Mrs. Sikka, God forbids if Mr. Sikka falls sick having that glass of juice from a roadside vendor, how much more would you spend on the treatment? Don't you think we should be giving more importance to quality over few pennies here and there? After all 'Health is Wealth Mrs. Sikka".
Tough it was, considering the callous, ignorant & ill informed mindset of people but I am glad to have convinced quite a few  about the goodness of food packaged in Tetra Pak.
My Love-Shuv with Tetra-Pak is still going strong and I am all drenched in its goodness!
…and our love story does not finish with a 'happily ever-after' note but  continue as 'happily ever ongoing'.
Article authored by Sania Siddiqui