Children love to imitate elders.
They want to dress, talk, behave and even eat like 'how and what' grownups do.
The other day, my daughter wanted to eat the spicy aloo tikka straight from the satay stick.
Obviously it was too hot for her to have (in temperature and taste both).
I promised her, I will make a similar one at home.
So, here is my kid friendly, quicker version of the same. This super simple snack recipe is GUD  as a starter for any of your party as well.
Preparation Time – 10 minutes
Ingredients
McCain Chilli Garlic Potato Bites – 1 packet
Capsicum, Onion, Tomato, cut in cubes – Half cup
Oil to fry
Wooden Satay Sticks
(If these are not available, wooden toothpicks can also do to make smaller bite size ones). 
I had these cute mocktail sticks which made the whole dish all the more fun!
Method
Fry McCain Chilli Garlic Potato Bites till golden.
Remove on a kitchen towel to remove excess oil.
Dry roast cut vegetables on a hot pan (without oil to give it that charred tasted).
Thread McCain Chilli Garlic Potato Bites and veggies in the desired order.
Serve with curd-mint dip and ketchup.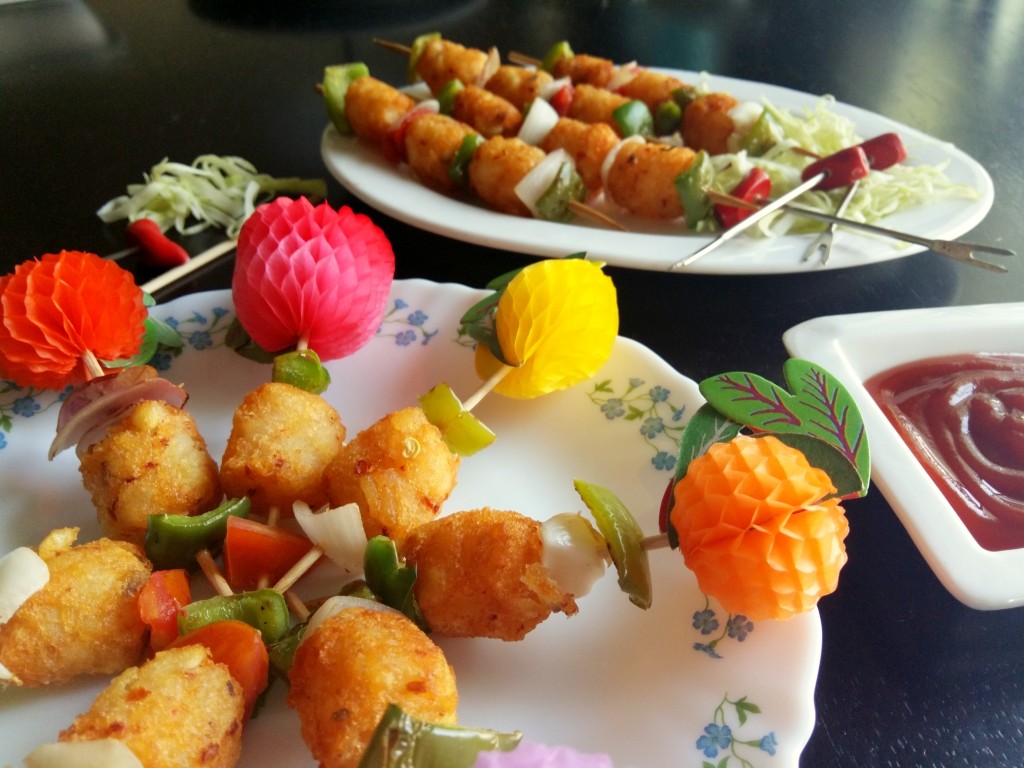 Call over a bunch of your child's friends and see the BIG smile on their faces as they enjoy their very own 'snack party'.