Disclaimer – This content does not promise 'out of the box' or unique tiffin recipes but will talk about tips & tricks and ways to efficiently make interesting lunch items without much fuss and time.
Work Smart, Not Hard or Hardly
– Said 'Me'
Yes! That's my mantra. And I apply the same when it comes to putting together my daughter's lunch and snack boxes for school.
It will be no 'Breaking News' if I tell you,
my daughter is a picky eater OR
she does not like greens OR
she loves fast food
I am 100% sure that 99% mothers hold the same grouse. But being a smart mom, I have figured out to deal with the tricky situation by dividing the chore into three simple steps –
Planning – Making a day-wise menu
Pre preparation – Doing a little bit of preparation beforehand (a night before)
Preparation – Actual cooking
While making the menu, I keep the basic components of a healthy meal intact and cleverly change the name and look of the dish.  For example, a child might not like to take roti and sabzi separately to school in its original format. But if I make a fancy roll out of that same roti-sabzi adding some fresh lettuce, shredded carrot and juliennes of capsicum with an interesting creamy spread, and name it Frawesome Franky, it will definitely be eaten and finished happily!
So usually on a Sunday, I make a 2-Week Menu and ask my daughter to creatively write it on a paper and put it on her soft board or stick it on the refrigerator. Making slight modifications here and there, I repeat the same menu for the next fortnight.
Like this –
2 Week Menu
This Week
Monday – Gold Coins
Tuesday – Peppy Pasta
Wednesday – Wow Wrap
Thursday – Tuk Tuk Rice
Friday – Power Puff Poories
 Next Week
Monday – Bread Pizza (Cheese Toast)
Tuesday – Namkeen pancake (Besan Cheela)
Wednesday – Chatpat Rice (Veg Pulao)
Thursday – Cutlets (Mix Veg Tikki)
Friday – Aloo Pockets (Aloo Paratha)
Here are some of my recipes, smart modification tips and ideas for the above dishes:
Gold Coins
Twisted name of aloo bread roll.
Pre-preparation: I boil potatoes in the evening and make a filling by mixing chopped onion, green coriander, jeera, salt, red chilli, amchoor powder and grated paneer (if available).
Preparation: In the morning, I cut a piece of bread in half. Dip it in the water and squeeze it lightly. Then place a small portion of mixture in the middle of the bread, covering it completely from all over. By pressing it in your palm, roll it like a ball. Once a perfectly smooth round ball is made, press it lightly in the centre and make a disc.
Now shallow fry these discs to golden brown from both sides. Remove on tissue paper. Pack with ketchup.
Peppy Pasta
Twisted name of mixed sauce pasta.
Pre-preparation: Boil pasta in the night with little salt and oil, I use whole wheat pasta. I also keep the veggies ready (mostly broccoli, baby corn, tomatoes, capsicum and onion) to be used in it by chopping them in the night itself.
Preparation: In little oil or butter, sauté a table spoon of garlic. Do not let it burn or turn dark. Just soften it and add finely chopped onion (almost 2 table spoon). Sauté for a min. Then add rest of the veggies. Cook for 2 minutes more. For the sauce and base, I use readymade red pasta sauce. Add 2 table spoons of that and 1 table spoon of tomato ketchup. Now is the time to add little salt, chilli flakes and oregano. To finish, add 2 table spoon of fresh cream or mayonnaise. Mix well. Adjust the texture by adding little milk if the sauce is too thick. Add boiled pasta and cook for another 2 minutes.
 Wow Wraps
Twisted name of sabzi roll.
Pre-preparation: Any cooked vegetable such as aloo gobhi, paneer bhurji, aloo capsicum etc. Kneaded dough for roti. Thinly sliced cabbage or shreds of lettuce and onion. All done a night before.
Preparation: Make normal chapatti. Spread a tablespoon of mayonnaise, some green chutney and little ketchup on roti. Place cooked sabzi lengthwise in the centre. Add shredded veggies. You can add some cheese also. Roll the roti tightly and place it on a hot tawa with a tea spoon of oil. Turn sides. Cut diagonally from the centre and pack in aluminium foil.
 Tuk Tuk Rice
Twisted name of Veg Fried Rice.
Pre-preparation: Finely chop cabbage, carrot, capsicum and boil a handful of green peas. You can use frozen ones directly. Chop some spring onion, French beans too if you have. Store all cut vegetables in a tightly packed container. If there is left over white rice then that can be used as it is or boil some for the next day.
Preparation: Heat oil in a wok, add some chopped garlic. Let it turn dark brown. Add all chopped veggies and stir fry for 2 minutes. Add 1 table spoon each of soya sauce, vinegar, and green chilli sauce (optional). Now add 2 table spoons of Manchow or Hot and Sour Soup dry powder to it. It gives a very nice flavour to the rice. Add boiled rice and mix well. Cook for another 12 minutes and pack!
Power Puff Poories
Twisted name of methi poori.
Pre-preparation: In the night, clean, cut and lightly sauté methi leaves in little oil. Add salt and red chilli. Do not overcook it. Now knead dough, mixing cooked methi, flour, salt, ajwain, green chilli, ginger garlic paste and some oil. Keep it in refrigerator.
Preparation: Make small pooris of the green dough. At times I make one big roti of the dough and using cookie cutters, take out various shapes and then fry it.
 There is more to do after cooking!
Pack lunch in interesting boxes. At times, instead of regular tiffin box, I pack fruits, salad, pasta or fried rice in a wide-mouthed glass jar, which looks very pretty to look at and also eat from.
Write a sweet short note on a post it/sticky note and attach it on their boxes. Scribbling 'Love You Baby' or just a big smiley will not take more than a minute but will surely make the lunch time special for your child.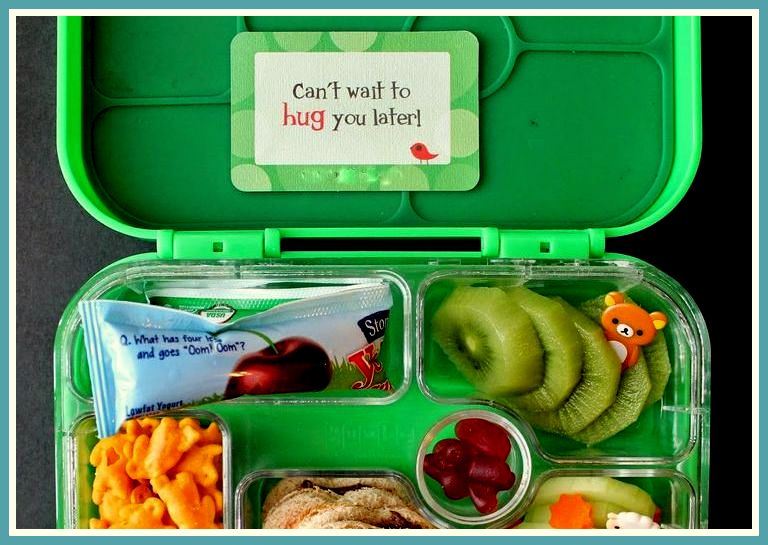 Before bidding good bye to your kids, do not forget to apply 4 dots of – 2 dots on their shirt and 2 on pant/skirt. Just 4 dots of Good knight Fabric Roll On this amazing product on clothes gives protection from nasty disease spreading mosquitos when they are outdoors. Day or night, do not let them step out without putting this on. It is completely safe to use – a revolutionary product that is 100% natural and does not stain clothes. It works wonders and provides protection from mosquitoes for up to 8 hours!
Cultivate this good habit into your daily routine and bid all your mosquito worries goodbye! Your child will enjoy a mosquito free school time and stay protected from dengue and chikungunya spreading mosquitoes that bite in the day.
Hope the above recipes, tips and tricks for tiffin food options will come handy to you and will be appreciated by your children. Do keep me posted about your 'success stories'!