Kisko pata tha achar bhi 'designer' ho jaege?
And humble 'burnis' and 'martabans' will be replaced by fancy jars in stylish packaging.
But then, change is inevitable. And when it is for good, we welcome it with open arms, mind and mouth!
Achar or pickle is a quintessential condiment of Indian cuisine. Who wouldn't agree that no fine dinning can beat the satiation of having piping hot baghari hui peeli daal aur chawal with aam ka achaar on a winter afternoon.
Or
Isn't makhan-dripping aloo/paneer paratha with some achar on the side is to die for?
100 baat ki 1 baat…for us, Indians, our staple acchar can never be replaced by fancy dips and sauces.
Today, shelves of hypermarkets are full of pickles of all kinds. But sadly, most of those factory-made ones taste the same and are laden with excess oil, salt and chemical preservatives.
Mangue
But Mangue is different. I will tell you how.
Mangue produces seasonal homemade 'Pickles & Chuteys' with natural ingredients and is free from any artificial preservatives or colouring. Most of their produce is homegrown in an orchard spanning over an area of 35 acres.
They use finest quality of assorted spices, sugar and mustard oil, which results in the divine flavors and that distinct 'homemade' touch to its achaar and chutneys.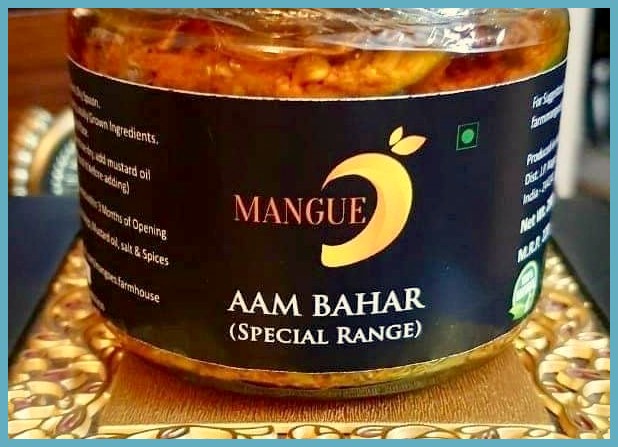 Journey from Orchard to Plate
Chalo, let me take you for the baagh ki sair. See for yourself how the fruits are cultivated to become lip smacking achaars & chutneys.
The owner of Khan Farms, Mr. Rashid Hasan Khan, a renowned personality from the nawab family of Hasanpur in Uttar Pradesh, has been extremely passionate about cultivating mangoes. During the British Raj, his great grand father laid foundations of this baagh for recreational purposes, which later became the source of livelihood for many in and around that area.
Mangue is the brainchild of well-known designer and award winning entrepreneur Sabina Rehman of Aabnoos Couture, who is the daughter-in-law of Mr. Khan.
When she realized that tons of fruit from the orchard is getting wasted even after export, she thought of putting it to good use.
When life gives you mangoes, make achaar!
Being a seasoned business woman, she seamlessly programmed the whole process of production and took charge.
Mangue's USP is that this product is not being churned out from an assembly line. Right from cutting of the fruit, grinding and mixing of spices, sterilizing the bottles, filling them up and sealing to perfection – all is done by able and experienced hands at home with precision and care.
Sabina makes sure to supervise everything personally and to perfection!
That's what makes it absolute authentic ghar ka acchar.
Sabina shares earnestly, "It is our pleasure and endeavor to bring to you the finest produce, directly from our orchards to your plates".
Flavors
Mangue offers a variety of pickles and chutneys.
Aam Bahar (This is Mangue's specialty)
Tez Tarrar Adrak
Teekhi Mirchi
Jackfruit (Kathal)
Tamatoe Chutney
Achaar-e-shiri
Khat-Mith Aam Laccha Chutney
Narangi Chutney
New flavors keep adding in the menu.
Find all flavours and pricing here
Mangue is a FSAAI registered company, which means that highest level of produce and production is in place during the manufacturing, packaging and distribution of the product.
How to Order
You can order by getting in touch on this number +91 9667555612 (preferably WhatsApp) or by sending a message on Facebook page https://www.facebook.com/manguefarm/
They ship pan India.
Payment can be done through Google Pay on +91 9667555612 or bank transfer.
The e-commerce website will be up very soon.
Gifting Option
Gone are the days when gifting was limited to sweets, chocolates, crockery, artifacts or home appliances.
Today, people love to gift 'out-of-the-box' concepts to their friends and family.
Manuge's signature Gift Hamper, an assortment of pickles and chutneys, will be a delight for your loved ones. You can handpick the items of your choice and the hamper can sent to you or to the recipient directly.
I have personally tasted and hence strongly recommend to try Mangue achaar and chutneys to take your meal a notch higher.