My Media Coverages
Times Of India
Front page coverage as a Safe Food Ambassador for Tetra Pak India on 8th May, 2015 in Times of India.
---
Radio One 94.3 FM
all things GUD! got featured in 94.3 Radio One FM in an exclusive chat session with MJ Tarun about the conception and journey of the blog – 11th November, 2016
---
Trofii Magazine
Featured as Best Home Chef in the June issue of Trofii – The Food & Nightlife Magazine – 15-06-18

---
Child Magazine
Featured as 'Top Ten Blog Queens' in the May issue of Child Magazine  – 9-5-2017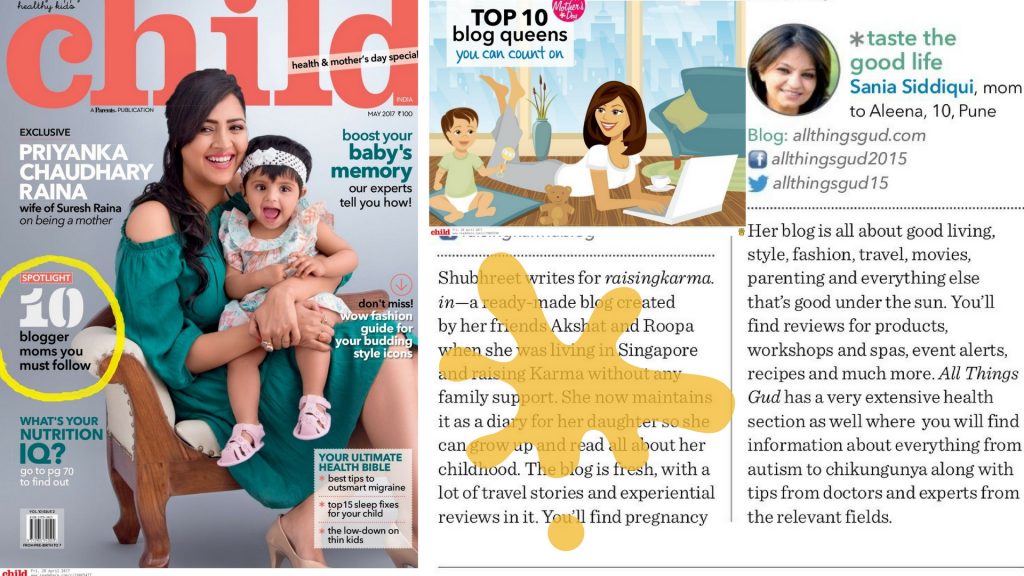 Read the online page here
---
Sakal Times
Interview in an English daily – Sakal Times on food safety measures & safe eating practices – 16-11-15
Link to epaper here
---
Times Now – English News Channel
Times Now telecasted two episodes on our journey of being a Safe Food Ambassador for Tetra Pak in the 'Right to Keep Food Safe' Campaign – 2nd Aug'2015
---
Short Ad Film by JWT, Mumbai
I was featured in a short film made by JWT, Mumbai, which went on winning a Bronze medal at Goa Fest, 2015 and got nominated at CANNES Film Festival, 2015 under 'Innovative Advertisements' category.
---
Random GUD Moments
Best Social Message Award, Times Womens Drive 2016
---
Interviews
Published by Life & More
From penning prescriptions to writing fiction
It is not every day that you win a prize in school for writing a humorous piece instead of a formal writeup on My Favourite Sport during an essay writing competition. That perhaps helped kindle the fire in Sania Siddiqui to express herself through writing. She was eight then. "I penned how badminton and lawn tennis are relatives and why I love the slimmer cousin better? Winning a prize was the most unexpected thing then," says Sania.
Read full interview here
---
Published in Lifestyle Pro Blog
Meet Sania of All Things GUD #MeetTheBloggers #FollowFriday
Hi guys, I love the world of blogging for the wonderful friends it has given me. I have done a Meet The Bloggers series in the past and am starting a new one today. I want to start off with the gorgeous and creative super mum – Sania! Sania blogs at All Things GUD. Her blog is a visual delight! You will find easy to read posts with a smattering of fantastic pics. Here are a few questions Sania answered –
---
Published in I Want That Momma
Feel Good with Sania Siddiqui of all things GUD
November 29, 2016
All things GUD is a lifestyle blog run by the very enterprising Sania Siddiqui. When you take a look at her blog, you can easily say that she is a jack of all trades. She writes on a variety of topics ranging from parenting to recipes, travel, health, DIY, reviews and so on. But what makes her blog special is that she is able to strike a chord with every Indian mother through her writing. She has won various accolades for her blog such as being adjudged as one of the top Mommy bloggers of 2016, winner of the Best Social Message Award in Times Women's Drive 2016, Safe Food Ambassador for Tetra Pack( A Times of India initiative) and so on.