We Muslims always feel deficient of festivals.
Eid and one more Eid. That's it (even there is no variety in names).
As a child I remember asking my mother,
"Why everyone else has so many festivals to celebrate all round the year and we have only – Eid?"
"It is because Eid brings enough happiness which we can cherish & treasure for rest of the year", she used to reply in the most comforting tone.
Well, my young mind never got convinced with her explanation then but rosy dreams of new dress, matching bangles, shoes and eidi were enough to overwhelm my discontent.
Years later, I still find the hullaballoo around this day most endearing.
To give you a more up, close and personal feel of Eid in a typical Muslim household, here is a snapshot from down the memory lane, which still fits so perfectly in the contemporary setup of my present life.
2 Weeks Before Eid
Ladies/girls start making rounds of markets in search of 'that one perfect eid dress' which suddenly plans to do a vanishing act from all the shops. Nothing seems to catch their fancy. They start feeling unnerved – 'jaldi nahi mila toh tailor time pe nahi dega'.
After umpteen visits to all potential market places, finally they settle for 'something' which is usually not 'what they were looking for' (may be this is not the Eid effect but the usual female psyche').
Now, when they reach the tailor with the dress, he is already loaded with enough work. Acting pricey, in the first go, he would refuse to take it for stitching, saying he is totally booked. Then they beg, plead and almost cry for mercy. Finally, he agrees (he has to). Phew…That's one down!
Rest of the week goes in putting together matching jewellery, bangles, footwear and the likes.
Men & boys have this part more sorted and less cumbersome as they modestly settle for ready made kurta pajamas or pathaani suits (unless they are a big 'bhai' fan and want exactly the same dress stitched which sallu bhai is going to wear in his upcoming 'eid release').
Evening Before Eid
There is always too much of suspense and an intriguing mystery ki kal eid hai ki nahi? Always.
All depends on Mr. Moon, who acts no less pricey than the tailor (The declaration of the festival is dependent upon sighting of moon).
I remember my nani and mother always wished on the last roza that moon must not appear that night.
They had their ulterior motives behind this.
Women in the household are most pressed of time during last days of ramzaan. There is always so much left undone and they always wished to sneak in that one extra day before the D-day.
Excitement is most tangible in kids and men of the house. People gather outside their homes, on the roofs, looking intensely towards west of the sky, switch news channels, get in touch with relatives in gulf countries – all modes are explored to find out if 'chand hua ki nahi'?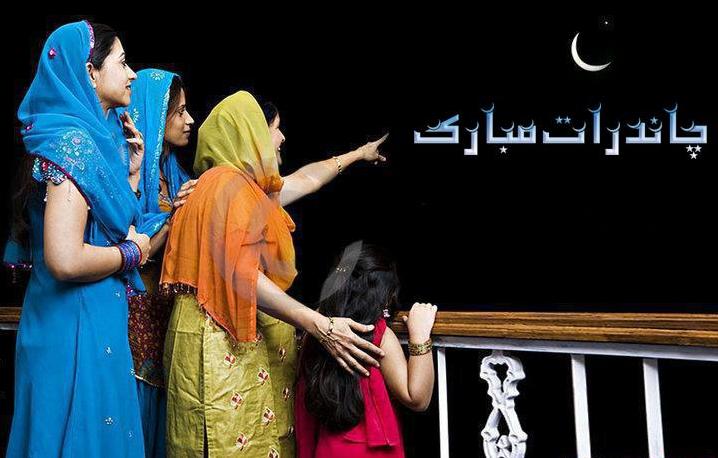 And suddenly from somewhere the breaking news comes in – chand ho gaya!
Instantaneously ladies get a panic attack. With hurried 'Chand Mubarak' greetings, they accelerate the speed of their work.
Seviyyan, the 'star dish' of the day is still to be made, dahi bare to be fried, keema for shami kabab to be boiled & minced, chole/kale chane to be soaked, dry fruits to be slivered, chopped and fried, huge vessels for cooking like deig & parat to be taken out from the store (duchhatti), khoya and milk to be brought …all this and much-much more.
While mothers, nanis & dadis are taking care of the kitchen front, girls get together and begin applying mehndi on their hands. For them mehndi is synonymous to Eid. An absolute must. Various practices are discussed to make the colour come out dark and deep – lemon+sugar mixture, smoke of cloves, application of coconut oil and what not!
Till late in the night everyone remains busy in their own arenas.
Eid Morning
Usually Eid namaz in mosques are held pretty early, so everyone is up before the sun peeps out. Men get ready to leave for masjid. Applying itar on the clothes before leaving for eid namaz is customary. Mystical fragrance from tiny, ornate bottles of itar adds that celebratory touch to the dress, which no other perfume can match up to.
Once men leave for namaz and are not expected to be back before couple of hours, women and children hurriedly finish the cooking and decking up of the house. Crockery & cutlery is taken out, bed covers and other linen are changed, rooms are made spic and span and incense (aggarbatti or loban) is lit to give the house a festive feel.
Meanwhile, the table is laid. Sheer khurma (milky sevviyan with dry fruits), qiwami sevviyan (the orange and dry variety of sevviayn made in sugar syrup and khoya), dahi baray or dahi phulki, chane ya matar ki chaat and shami kabab, biryani and qormaare few  staples for the guests who are going to visit post namaz.
(Trust me, half the charm of this festival is in these hectic and elaborate preparations itself. I absolutely love all this.)
By now, everyone is ready in their finery. Girls deck up in shimmery suits with their hands adorned in deep red mehndi and clinking bangles. Boys appear calmer as they do not have much of dressing up to do and obviously no worry about the 'mehndi' or choodi!
Finally, men come back from the mosque and are mostly accompanied by guests, who are together going to make rounds from one's home to another to wish each other (and taste other's seviyyan).
Loud roars of 'Eid Mubarak, Eid Mubarak' get mingled with kid's chorus asking for 'eidi'. Once the eidi matter settles and kids happily tuck their precious notes safely in the wallets, guests are served sevviyan and other delicacies.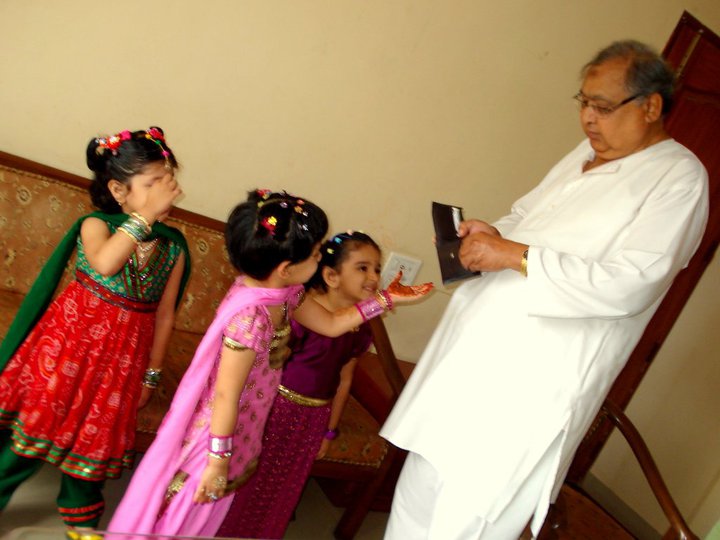 Eid ki Dawat
Relatives and close friends visit for dawat which is usually an elaborate lunch/dinner of biryani, qorma, kabab, sweets and the likes. It is organised at one particular house, where all family members/friends get together.
These Eid gatherings are so much fun. Elderly ladies (the senior citizen lot) sit together and mostly discuss their joint pains and diabetes; all bahus and girls ardently exchange numbers and addresses of new found tailors, unexplored shopping outlets and give details of their suits and recipes; young boys and their gang would either go out to play or will get busy with online games; pretty little girls would gush about their bangles or discuss whose mother allows nail polish and lip gloss and whose doesn't? One serious discussion that is!
Guests keep on trickling the whole day and are welcomed with enthusiasm and fervor throughout.
Bowls of sheer khurma, plates of kabab & biryani keep coming in from the kitchen and the celebration continues till the last guest leaves.
The whole day goes by in frenzy & excitement, meeting & greeting.
At last in the night (after all these years) when I lie down, I find my mother's words so true – Eid indeed gives us enough happiness which we can cherish for the whole next year long.
Eid Mubarak!!
Stay GUD, Stay Blessed.
 Did you like my writeup on how Muslims celebrate eid?
Write feedback in the comments section or mail me at saniashariq@gmail.com
Click here to bust ramadan myths.
image courtesy nation.com.pk, trendeve.com, picsurduustad.com, ahlinlive.com