Gripped by the 'start-up' mania, today we are fervent to explore new things in every facet of life. Work, leisure, food, fashion, lifestyle – monotony and 'being regular' is passé.
So, move over run-of-the-mill party-sharty. A unique social gathering concept is coming up in a big way, where you can paint on canvas, eat-drink, have fun around, listen to some rocking music, unwind and completely chillax!!
And that's known as a 'Paint Party'!
Sounds interesting?
Here is more to it…..
Recently I attended a Paint Party organised by COCA (acronym of Cocktails 2 Canvas).
Cocktails 2 Canvas is an innovative platform, brainchild of Charlie's Angels– Aliyah, Deepika & Zehra.
Deepika (a professional Painter), Zehra (an established Entrepreneur) and Aliyah (a Child Psychologist/Art Therapist) thought of unleashing people's creativity with a cocktail in one hand and a paintbrush in the other – and that's how Cocktail 2 Canvas came in existence!
PS – You don't have to be a 'Painter' to join this
PPS – Teetotalers can enjoy their cuppa or a mocktail instead of drinks
How it works!
Prerequisites – None except compliance to have fun & make merry!
Most of the Paint Parties include these…
2 to 3 hours' session, led by an artist-in-residence, organised at a local restaurant or any other similar set up
Painting supplies including colours, different type of brushes, canvases, easel, color palette, aprons, rags, stationary etc is provided by the organiser
Drinks/tea/coffee and usually light snacks are served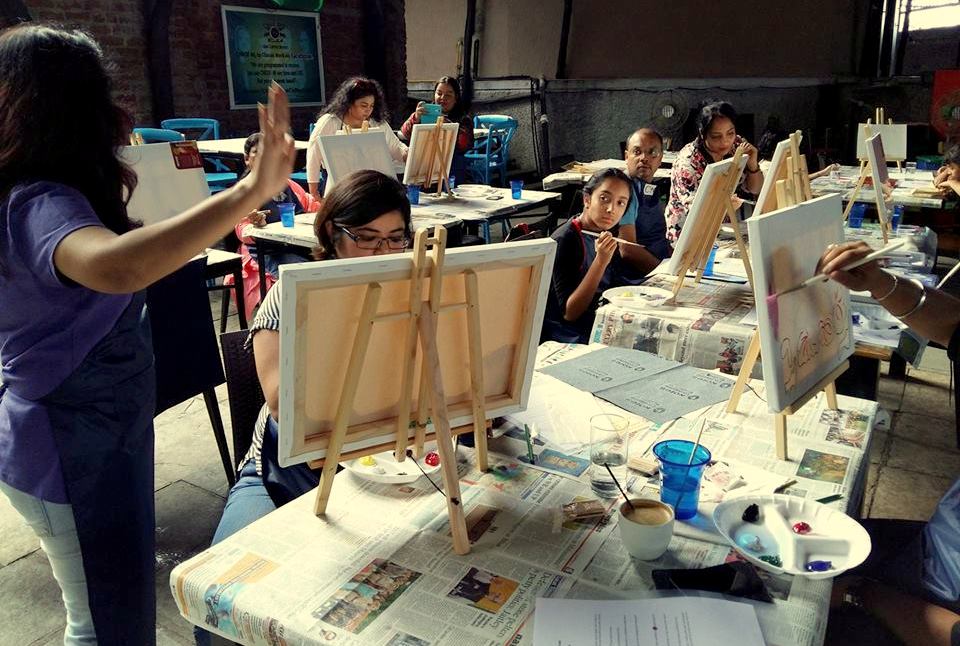 My Paint Party was at The Classic Rock Coffee Co. at Kalyani Nagar in Pune. It's a nice place, lots of open space with a heavy rock feel all around.
For whom it works?
Amateur
Just-starting painters
Born painters and even for…
That sleeping painter in YOU!

 Takeaways…
Take home the masterpiece you create
Meet several other people, make new friends, network or just have your own good time
De-stress! Colors are known and proven to have soothing & calming effect on your senses
Enjoy your drinks & food
Learn to paint from the scratch
Get high on creative pleasure!

Cost
all things GUD comes with a price, don't they?
Ticket price for these paint parties depends on the location and drinks/food served.
Trust me it is quite reasonable, considering the product quality they offer!
So, for upcoming events by COCA
do keep in touch with…
Zehra – 0-9850906649
Aliyah – 0-9823767064
Visit their website  Cocktails2Canvas 
Like the page on Facebook 
And remain updated of their upcoming workshops in your city and in the café around you!