10 AM, 25th May, 2017
PayPal, Chennai
---
Me: What are you doing?
She: I am making an App.
Cool! Apps are in trend and everyone is using/making them these days. Nothing unusual, right?
But when the above conversation is between you and a 10 year old, then it is definitely a big deal and pretty astounding.
Recently I experienced an intense 'technological rush' in my otherwise 'non-tech' self, when I was invited by PayPal to their Chennai office for covering a unique summer workshop – Girls in Technology.
Girls in Tech is a PayPal initiative which aims at building momentum among young girls in joining STEM education through fun-filled and challenging workshops. The girls, between 8 to 14 years of age learn coding and basics of programming from industry experts and senior leaders from PayPal.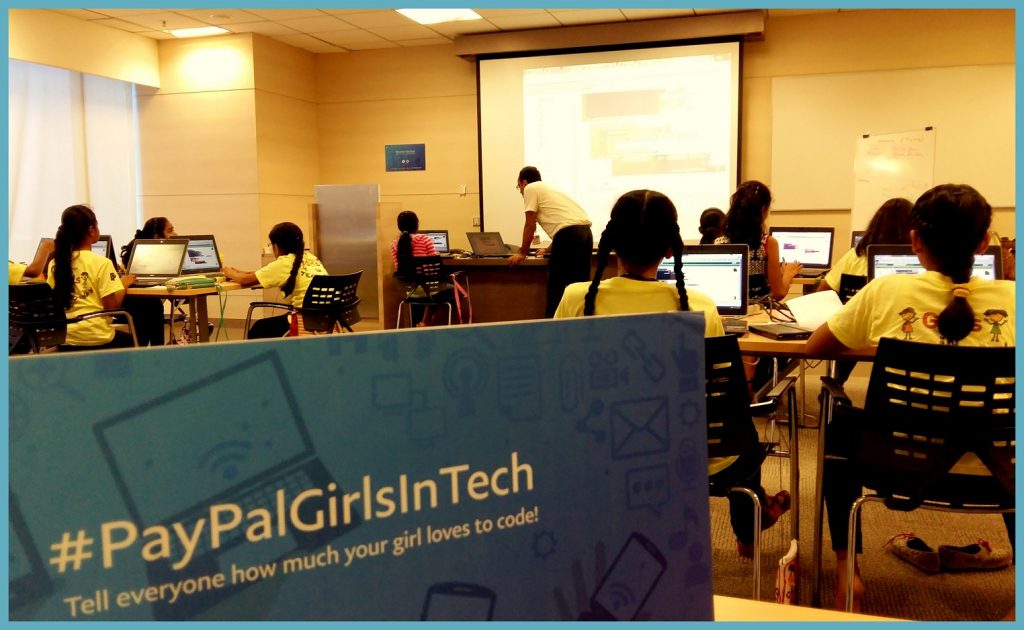 I enter to find the conference room abuzz with tinkling laughter, bubbling chatter and clicking of keyboards. Twenty three little ones were all over the place, playfully learning to – 'CODE'.
(I tried to recollect, when I was that age, what I used to do in my summer break? Play silly games and watch Tom & Jerry whole day long! Never mind. Obviously we didn't have laptops then and of'course PayPal too!)
This is the third year of this campaign and over 100 girls have participated so far. During the workshop, they get to learn programs such as Scratch, Python, App Inventor and Online Me. Not only this, they also shadow a PayPal engineer and work on solving real-world issues through coding.
Now I am sure you must be thinking that poor girls are made to study even in the vacation. But that is absolutely not the case. Girls here also undergo personality development workshops and indulge in other fun activities such as theatre, dance, cookery, photography, robotics, public speaking and emergency care during their stint.
I also got the opportunity to connect with GM Technology & Head of Engineering of PayPal, Mr. Guru Bhat over a video con call while I was there. Mr. Bhat explained to me 'how and why' this campaign is significant.
"Its been noticed that a lower percentage of girls are interested in pursuing a career in STEM as compared to boys. Industry reports also state that women hold a disproportionately low share of most STEM undergraduate degrees, earning just 20% of engineering degrees in 2014", said Mr. Guru.
He further added, "At PayPal, we strongly believe that initiatives such as Girls in Tech can change this trend by instilling a love for technology in girls from an early stage. We introduce the participants to coding in fun and artistic ways to help them understand that technology is full of surprises. After all, it is not mere coding or engineering that we need in the industry at the moment – we need technology craftsmen with the passion to strengthen the technology community in India."
Seeing to the immense success of this program at PayPal centres, he is keen to take it to schools and other organisations.
Manasa Vijayaraghavan, a 13-year-old participant told me she never knew coding could be so much fun. "This is my third year at the workshop and it has been a fabulous experience. I am passionate about getting into robotics in the future and this program has helped me get my foundation in place by teaching me the basics of coding. I never thought I would be so interested in algorithms and flow charts. Now I also plan on taking some online lessons and explore website development."
Everyday Gina looks forward to come for the workshop and have a great time with her friends.
And that super excited Tanisha Chatterji! She was unstoppable when I asked what her App is all about. She could have gone on and on, in explicit detail about her creation, if only it was not the time for lunch break.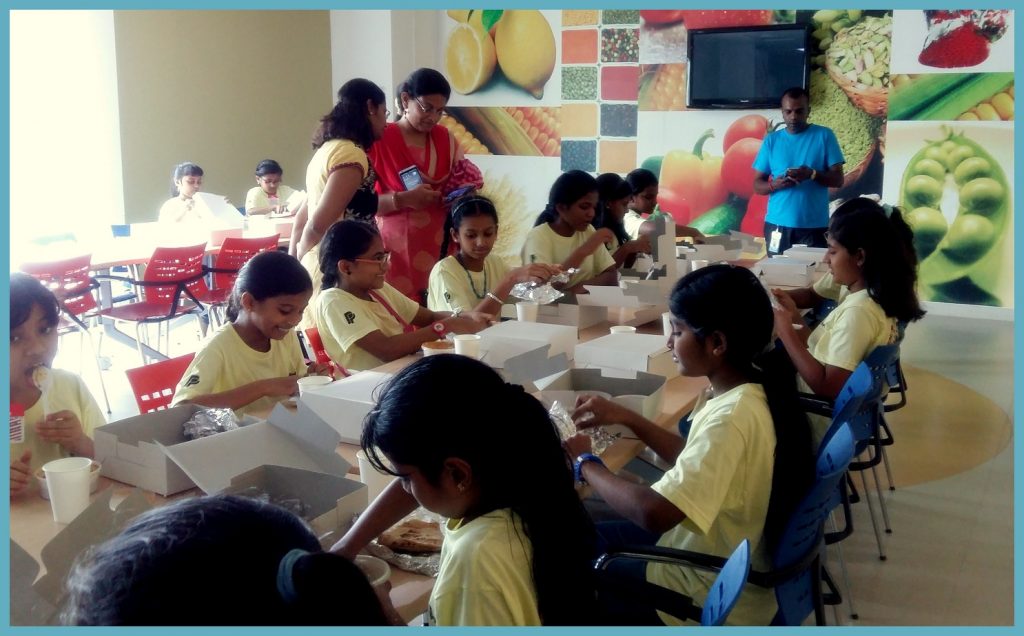 Trust me, no way it was a boring learning session for something as complex as coding and programming.
Apart from Girls in Technology, PayPal runs another similar campaign simultaneously – Kids in Tech, which is not a girl-centric event  but is open for boys and girls both. These annual activities take place in Chennai and Bangaluru centres of PayPal and are open only for the children of PayPal employees, as of now.
Have a look at this short video and see for your self what it was to be with #PayPalGirlsinTech here
Girls in Tech was held at the PayPal campus in Chennai between 15th and 31st May, 2017 and at the PayPal Tech Center in Bangalore between 22nd and 26th May, 2017.
Thank you PayPal for giving me the opportunity to witness and be a part of this phenomenal campaign!
About PayPal
Fueled by a fundamental belief that having access to financial services creates opportunity, PayPal (Nasdaq: PYPL) is committed to democratising financial services and empowering people and businesses to join and thrive in the global economy. Our open digital payments platform gives PayPal's 203 million active account holders the confidence to connect and transact in new and powerful ways! whether they are online, on a mobile device, in an app, or in person. Through a combination of technological innovation and strategic partnerships, PayPal creates better ways to manage and move money, and offers choice and flexibility when sending payments, paying or getting paid. Available in more than 200 markets around the world, the PayPal platform, including Braintree, Venmo and Xoom, enables consumers and merchants to receive money in more than 100 currencies, withdraw funds in 56 currencies and hold balances in their PayPal accounts in 25 currencies. For more information on PayPal, visit https://www.paypal.com/about.