Recently I received a complimentary subscription box from Being Juliet.
Subscription boxes are fun!
You get all sorts of GUD things in these compact boxes – makeup, jewellery, personal care, food, desserts, organic goods, every month delivered at your door step once you subscribe to them (obviously paid).
They are there to make you feel pampered.
But a subscription box for periods?
Now that's something new and incredibly out of the box (still very much in a box).
Begin Juliet is a service that takes care of your period woes; rather makes you look forward to it.
It sends you handpicked supplies that you would need for your monthly cycle – sanitary napkins (brand of your choice), tampons and panty liners.
The attention to detail doesn't end here. It even includes things which will take care of your PMS, helps in keeping your mood uplifted during those days and even send you small gifts & goodies.
Every month apart from sanitary supplies (pads, panty liners and tampons) there is an assortment of hand curated thoughtful gifts, period pain comforters, exotic tea, handmade soaps, mouth fresheners, personal hygiene products, cosmetics and several others of the like.
Subscription Process
Register online through a pretty convenient UI and select your items. You get to customize your box with a choice of pads, panty liners and tampons (up to 20 of them for a month).
Leading brands in all possible size variations are available to choose from.
While you fill up your registration, you have to enter your last menstrual period date, so that you get your box delivered 5 days before your next monthly period.
Packaging
Unlike other subscription boxes (where the packing in itself is for the keeps – pretty appealing!), this one comes in a basic cardboard one.
Not a problem! We understand cost cutting and efforts to keep the pricing affordable.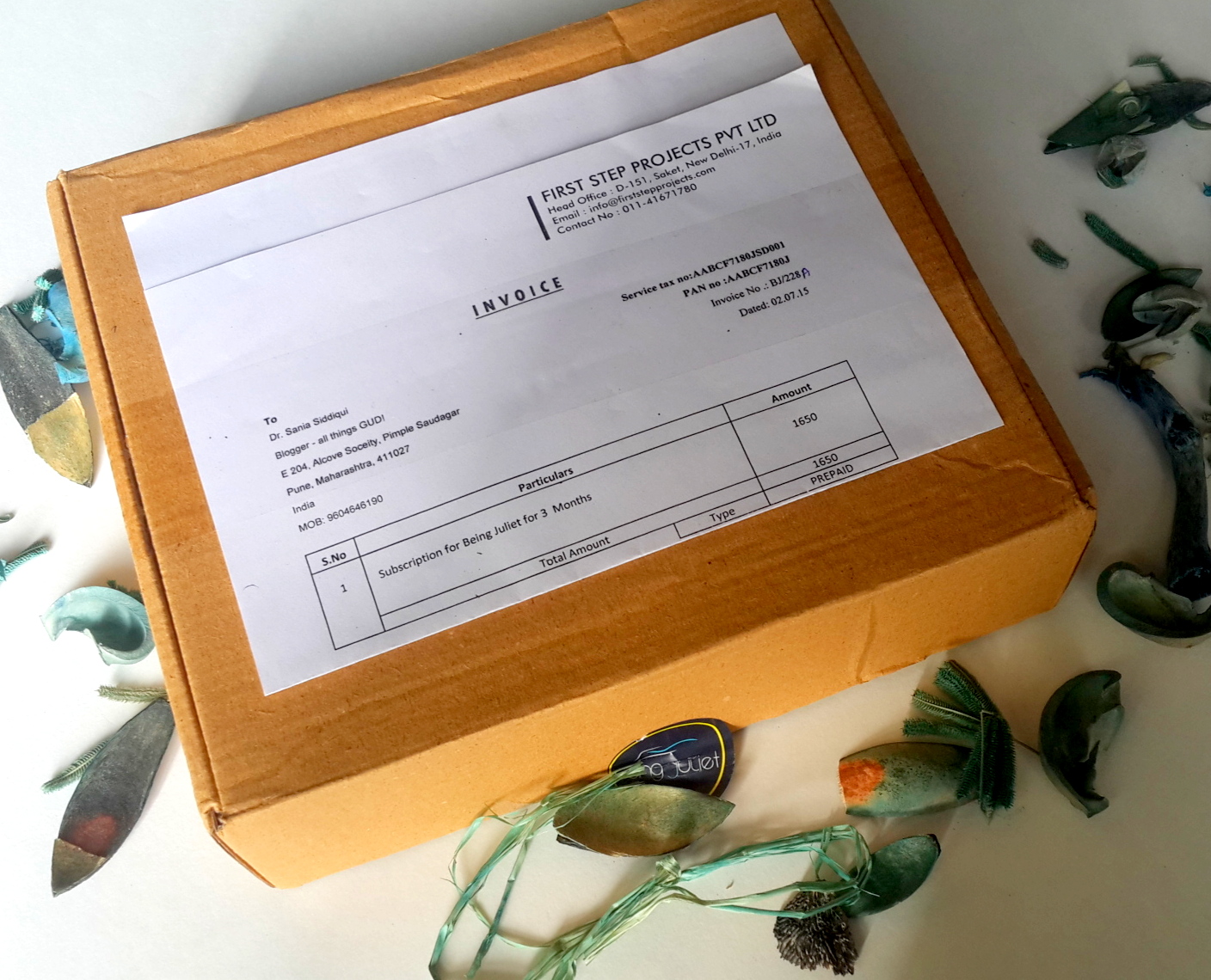 See what my 'July Box' contained –
Sanitary Supplies – Pads, tampons & panty liners of my choice.
INWI Wet wipes – A pack of intimate wet wipes for lasting freshness 'down there'. These come handy in the humid rainy season to ease itchiness and sweat in the intimate area.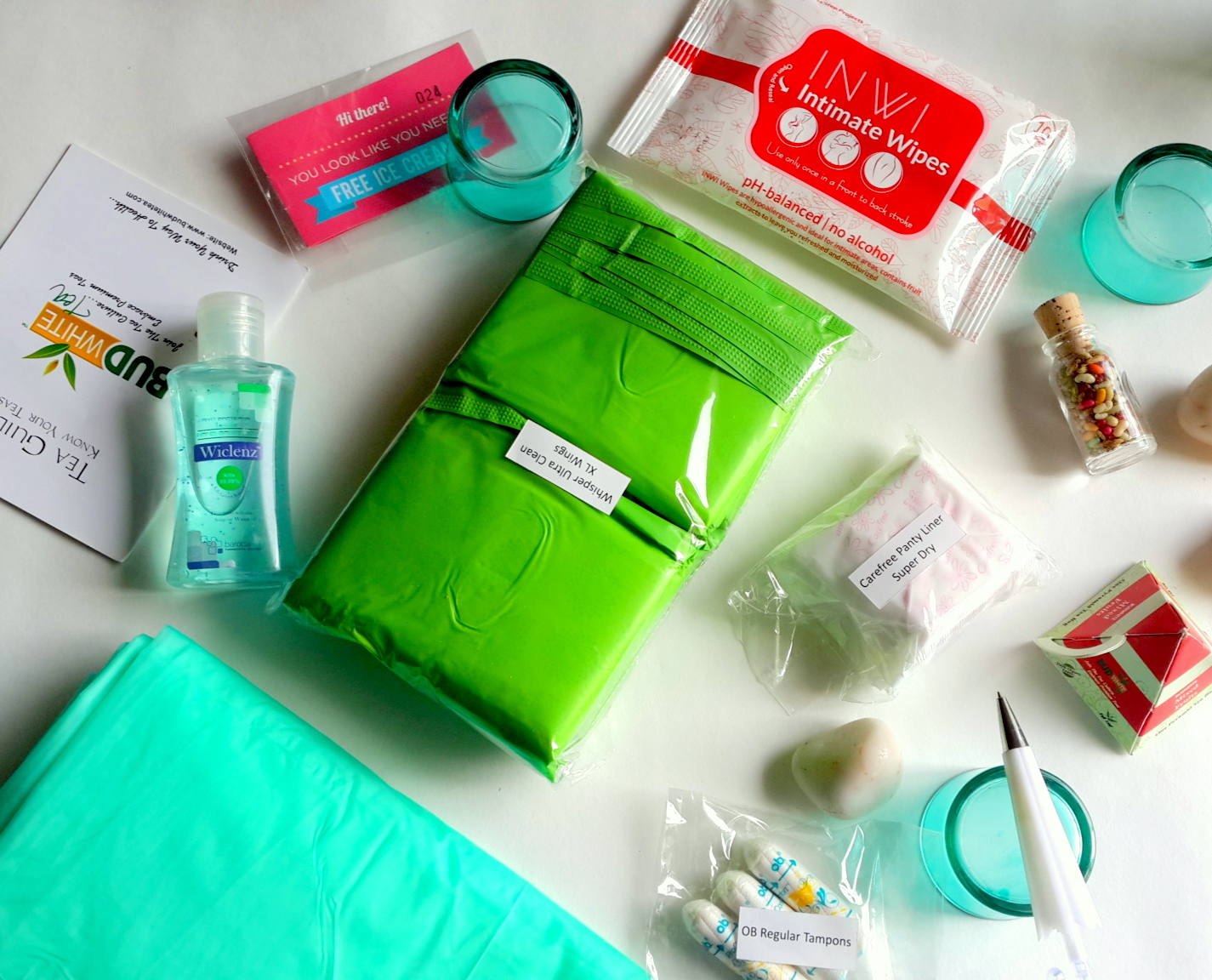 A raincoat – Yes, a raincoat! Considering it is monsoon, they sent a beautiful green raincoat too.
Meethi Saunf – A perfect mouth freshener after a meal.
Bud White Tea – This was the cutest -a tea bag of premium quality tea (said to be most expensive tea leaves in the market). Tea has antioxidants, anti viral and anti depressant qualities which boost immunity against diseases.
I am surely going to save the packaging of this tea bag.
Free Voucher of Hokey Pockey Ice cream
That's an absolute mode enhancer! This month's box had a free gift voucher of premium ice cream brand – Hokey Pokey. I just had to choose the flavour and the ice cream tub would be delivered at my home.
Hand Sanitizer –This is a must to avoid falling sick in rainy season as humidly plays a perfect host to virus and bacteria, leading to several disease.
Pencil Umbrella – To keep the monsoon theme going, they have also included a cute pensile umbrella.
Price
All things GUD in life comes with a price. This subscription box is reasonably charged and has three options to choose from –
3 Months – Rs.1650
6 Months – Rs. 3300
1 Year – Rs. 6600
My Verdict
An innovative concept, value for money products and a great way to pamper yourself!
It can also serve as a novel gift idea for your lady friends.
Go ahead, subscribe!
For any queries, get in touch with them here
Being Juliet
First Step Projects Pvt Ltd.
F-320, 1st floor, Poonam Chambers,
Lado Sarai, Saket,
New Delhi-110030
Email: info@Beingjuliet.com
Helpline No. : +91-9718866644
Like them on Facebook here
Product review by Sania Siddiqui
Have you read my article on period basics every girl should know – Let's Talk About Period!
Read here