This is a sponsored & guest post by Hobby Ideas
The Art of Paper Quilled Earrings
You must have seen some delicate, ornate and colourful earrings which are definitely not cheap plastic.
So what are they made of?
Paper. Yes, today some outstanding jewellery pieces are being made of  paper and that too by quilling.
Paper is without doubt one of the most versatile tools of art and craft.  It can be easily sculpted, crafted and curled into ornate shapes. A paper art which has taken the world by storm is quilling. A trend which is here to stay has seen a tremendous approval by hobbyists around the world.
In fact quilling is not an alien concept for us, our artisans in Odisha have been doing it since ages in form of filigree. Filigree, the popular jewellery craft of ornamental work of fine silver of gold wire formed into delicate tracery, is akin to quilling, just that quilling used paper as the base.
As old as the Egyptian civilization the modern revival of quilling started in the year 2002 when internet became the most popular medium of dispersing knowledge of the current and popular trends.
The process of quilling starts with rolling of strips of paper and pinching or curving them into various shapes and arranging them to form elegant paper filigree. A completed project may look difficult but the process itself is easy. It just requires a bit of patience and diligence.
Earlier paper quilling was done by cutting pages of books and rolling them with fingers but nowadays the basic quilling art supplies are available in all major art and craft stores. You don't need any special training to begin with the process; just a bit of creative imagination is what is needed. Here are some of creative ideas of paper quilling.
Have a look at some pretty quilling jewellery items my daughter of all nine years, made me for.
So definitely,  it can be called a thing of child's play!
Let's make these beautiful earrings by following the instructions given below and seeing the below images.
Material Required
Quilling strips of your choice but contrasting or different strips of the same shade works better
Some embellishments like small pearls and a couple of big pearls,
Earring hooks & glue
A quilling mould and a quilling needle
How to Make
Take 5-6 strips of the colour of your choice and glue them together. Use the quilling needle make two roundels with the strips. Ensure that the strips are wrapped compactly. Seal the end with the glue.
Place the coiled roundel on the quilling mould dome and mould it into the same shape.
Make rings from the strips using any round bottle and wrapping the strip around it. Again seal the ends with glue.
Take a contrasting colour quilling strips and make small round coils securing the ends. Pinch them together to make a teardrop and then a paisley. Around 20 paisleys will do for 2 earrings.
This is how the rings will look like after the above step.
So let's recount, we have two domes, paisleys and couple of rings to do the earring which will be glued together to form the base of the earring.
The space between the bigger paisleys can be interspersed with smaller ones to give the earring a more intricate look. Use your imagination to place the pearls which can be adhered to the earring using a gold coloured 3D outline.
Make two big paisleys and attach them and a big pearl each to the earring hook which is attached to the body of the earring.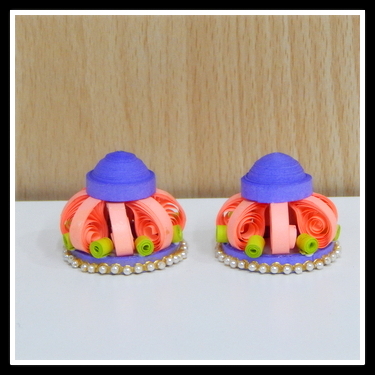 Voila we have diva-esque earrings ready for you.  Aren't these lovely and super easy to make?
Quilled earrings are a great gifting idea too. So get going. Let me know if you found this interesting.  You can get some more Paper Quilling ideas here.