When my dearest friend Rekha Mishra announced her second leg of innings to US in a week's time, I and Priyanka decided to call for celebration and have a GUD time spent over some fine dining.
We chose Westin for Lunch.
I have been there earlier couple of times but this instance, I planned to keep my blogger's eye, camera and notepad open!
'Seasonal Tastes' is Westin's 24 hour open restaurant which offers a decent enough (rather elaborate, if I be generous) spread of buffet. Like most of the 5 stars, Westin Pune is also opulent, huge and has a clutter-free ambience. The cuisines of this particular restaurant are Asian, Continental and Indian – the usual.
The first thing that struck me on entering (instantly developing a soft corner for the place) was the colour theme – turquoise blue and brown, same as my blog's layout! I felt like saying – hey.. same pinch!
Ok… so for me a buffet meal means – starters, salads and desserts. That's it.
(Sometimes I wish there should be an option of having only these three courses and obviously to be charged accordingly. Any Westin's marketing/management people listing?)
We began our gastronomic delight with a mocktail – Kiwi Cooler.
Refreshing and likable. We sipped in agreement.
Salad bars always confuse me and put me in guilt. I mean the same aloo which I dread otherwise is gleefully sitting there, that too coated with sinful mayonnaise. Well, whatever! This was not the time to indulge in calorie counting. At least not today – 3 cheers for Rekha! I filled my plate with apple & walnuts in cream salad, watermelon and feta cheese, spicy cucumber and pineapple, 2 types of dips and couple pita bread pieces.
The salad bar also had a special seafood section. Although I am not at all a fishy person but one particular 'Pickle Octopus' caught my attention. I gave it a good look but definitely did not dare to try.
I prefer to miss soups in a buffet as they just fill me up. But I tasted chicken shorba and it was GOOD!
For starters, Chef De Cuisine Mr. Prasad Metrani recommended Chicken Peshawari, Mutton Seekh and Paneer Tikka.
Our rating –
Chiecken Pesahwari – Good. Succulent, tasteful and not bland from inside.
Mutton Seekh – Sorry. We have had better! Much better than these.
Paneer Tikka – It's no breaking news that poor paneer does not have much, rather any flavour, of its own. It tastes what you coat and marinate it with. Sadly, at most of the places the coating goes wrong. Here also, paneer was soft and nice but taste was — umm just passable though it looked promising! Even the regular dahi based green chutney could not save it.
For the main course, we again relied on chef's recommendation – Paneer Lababdar, Gosht Ballimaran, Panjabi Kukkad and daal makhani.
Our rating –
Paneer lababdar – Delectable and creamy. Yum.
Gosht Ballimaran – I got charmed by the name as it reminded me of the lanes of purani dilli. It looked more like rogan josh and gravy too tasted similar but the mutton pieces were not that well done and I don't like my mutton chewy.
Panjabi Kukkad – This was a winner, hands-down. Although the gravy looked 99% similar to the mutton dish and I was pretty confident that chicken replaced the mutton in the same basic gravy but to my gourmet surprise, it was altogether a different recipe. I liked it!
Daal Makhani – Big NO! Coming from Delhi I can tell just by the whiff of it if this is a good and true daal makhni or not. And this one was not.
I felt bad.
And hurt.
And disappointed.
I am really touchy about daal makhani.
Having all this and much more, our little feminine tummies were full. And sweets were still to be savoured. So we decided to skip the rice, ignore the live pasta and pizza counter and close our eyes for the inviting Chinese spread and moved straight towards the enticing sweets.
Variety was immense. I started with my favourite – Teppanyaki – a Japanese technique where Ice cream is minced together with fresh fruits and nuts. Unfortunately, it did not match up to my last experience in Westin.
Then there was an array of cheese cakes, pastries, brownies, waffles and endless other sweets. Chef also asked me to taste special pedas they had.
The best part about desserts is that they make your plate look gorgeous and oh-so-delicious. The whole look of it just makes you HAPPY!
All being 'had and done', Priyanka was still finding something amiss and Rekha felt like having something chatpata to sum it up. So we asked for another mocktail – Virgin Mojito and Mongolian stir fry.
(I am sure the guy must be wondering if these ladies are planning to start the whole meal all over again!!)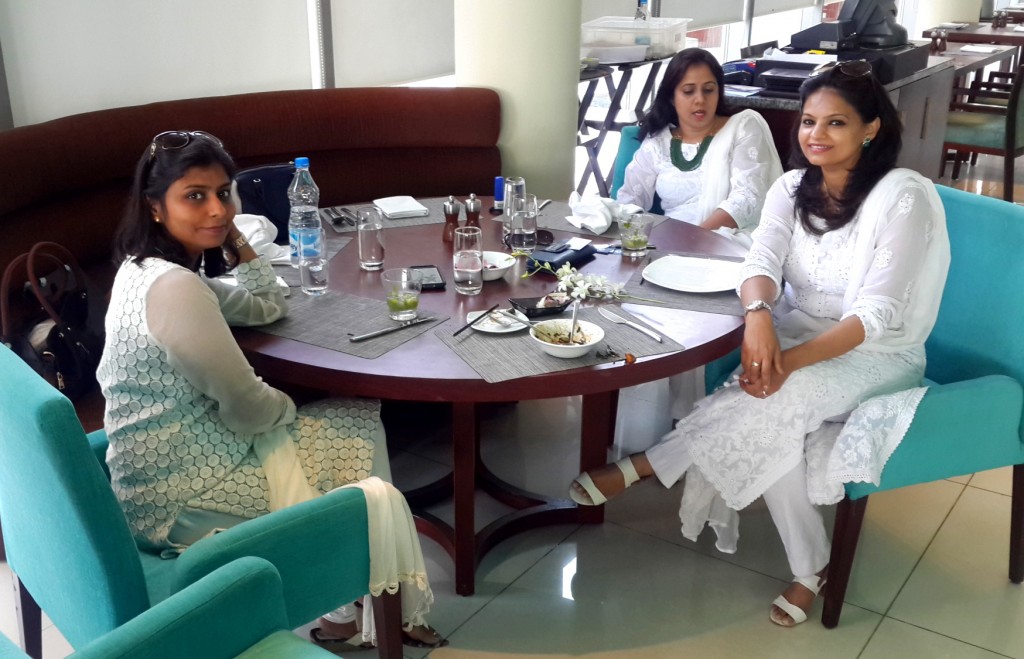 Before wrapping it up let me not miss out on mentioning the service which was courteous & quick. Even though the restaurant was mostly occupied by a huge corporate team and few other guests, efficiency was not compromised.
A GUD dining experience amidst momentous time spent with friends having silly laughs and harmless gossip – memories created to be cherished a lifetime!
Overall experience rating – 4/5
Doesn't all things GUD in life comes with a price.
So, the buffet rates at Seasonal Tastes – The Westin are
Rs. 1200 + TAX, Dinner 7 PM to 11 PM, Mon-Sun
Rs. 950 + TAX, Lunch 12 Noon to 3 PM Mon-Sat
Visit,
Seasonal Taste, The Westin
Pune, India