Recently my BFF Ranju came down to Pune.  And needless to say, we had a blast!
Days were spent watching movies, shopping, roaming around in the rain, walking endlessly in nearby misty hills, and evenings in trying out cool hangouts to chill. By the end of 4th day, we were exhausted and planned to have some quite, relaxing time. Our frayed nerves needed to soothe down and feet were screaming 'pedicure, pedicure!'
We decided to go 'Spa-ing'.
Instead of going anywhere far, we picked this newly opened place Ivanna Thee Spa in Pimple Saudagar.
Ivanna Thee Spa is located on the main Kunal Icon road in Pimple Saudagar, above Pizza Hut. It is run and managed by Khushi Lakhwani, a charming girl in early 20s. Much enterprising for her age.  It is always a delight to meet people who are passionate about their work at this early age & work hard to achieve their calling.
On reaching there, we were offered a welcome drink and given a tour of the place. The spa is neat, tastefully done, warm and welcoming. It has several treatment rooms, a cosy pedicure station and a separate salon setup.
For our therapy we chose Aroma Candle Massage, BCL Pedicure and Rejuvenating Bath Experience.
After we changed in comfy robes, the masseur started by soaking and massaging the feet in lukewarm water with rose petals in it, a flattering spa ritual to begin with. Then began an hour-long massage session, after which I was feeling & smelling rrrreally good; each cell and every muscle of the body got revitalized.
During the massage, my dear friend even dozed off to sleep for sometime, which is a testimony to how good the therapy was!
Post our massage session, another luxurious set up was waiting for us to indulge in – the Rejuvenating Bath. This was definitely the highlight for me………..
Being in a mystic ambiance with flickering aroma candles all around, a bathtub filled with lukewarm water and rose petals, an interesting drink on the side and calming music in the background – I felt no less than Cleopatra, although I was in water not milk. What a perfect way to unwind and relax in the real sense and feel like royality.
I wanted the experience and that moment to last forever.
….and I am coming back to do this again and again, Ivanaa!
Coming out refreshed to the core, together we sat for our pedicure session. Yet another delight.
I loved the two-seat setup of their pedicure station. It could be a great way to chillax with your bestie as you go on doing your chit-chat while indulging in the session together, side by side. The spa pedicure was good. Therapist spent enough time in soaking, cleaning, scrubbing and massaging. The selection of nail paints can be more elaborate with quick drying ones.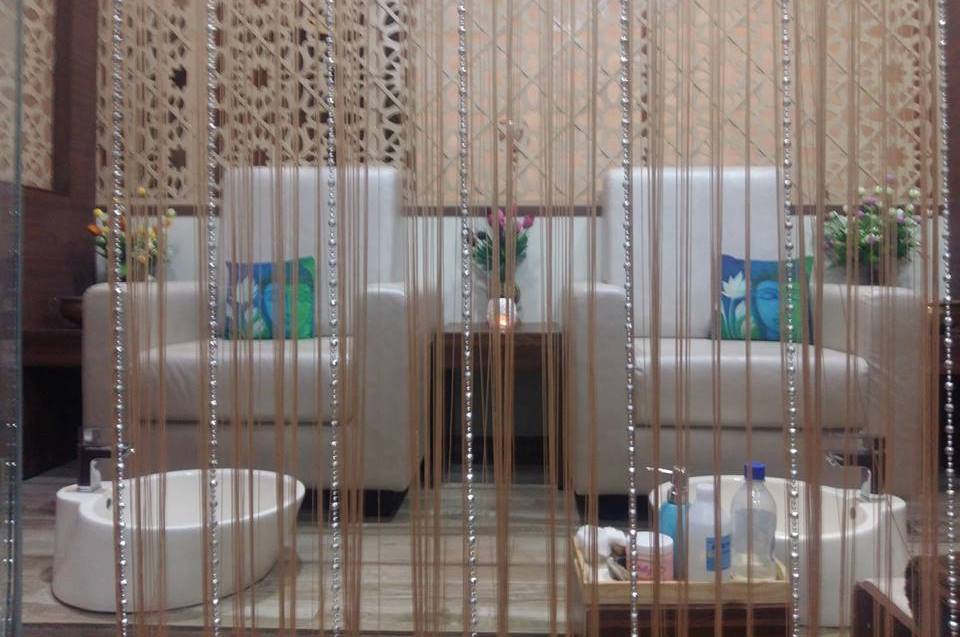 During our casual conversation earlier, I mentioned to Khushi how I never like to end up drinking the spa-staple green tea (howsoever good and anti-oxidising it is) and crave for a regular 'chai' after a spa session.
And as Ranju's and my feet were being pampered in the spa pedicure, Khushi sent us some nice kadak chai.  Now that's a wonderful example of superb 'client handling & satisfaction'. You don't need to go-by-the-book every time. Customization wins hearts.
Not only a luxurious spa, Ivanna is also a unisex salon which offers exclusive range of hair and skincare services in an aesthetically pleasing and soothing atmosphere, making sure not to disturb or interfere in any of the therapies or ongoing service.
Khushi is a trained makeup artist herself. She says," Makeup is not about external beautification or creating something new, its about bringing out the beauty that is already there within".
At Ivanna she offers a range of makeups like Day, Party, Bridal, Engagement, Theme based and makeup for all & any other occasion.
GUD Verdict
Service – 4/5
Rates – 4/5
Ambiance –3/5
Recommendation – Yes!!
Pimple Suadagar much needed a place like this. Wishing you all the success Ivanna Thee Spa!
Visit Ivanna Thee Spa here,
Rajveer Palace Phase II (Above Yes Bank),
2nd Floor, Kunal Icon Road,
Pimple Saudagar,
Pune – 411027,
+(91)-20-33012171
0-91121 92112
Visit & 'Like' their Facebook page here to keep updated of fresh offers and newly launched services.