I am a pretty lazy and laidback person when it comes to practice a fitness routine.
Not good, I know!
Always on the lookout for excuses even to skip my 45 min morning walk (the only thing I do in the name of exercise).
It's raining, too hot/cold/sunny/humid or I am plain bored.
And so, when I was invited to attend a trial session at MultiFit, I tried ducking by giving random reasons.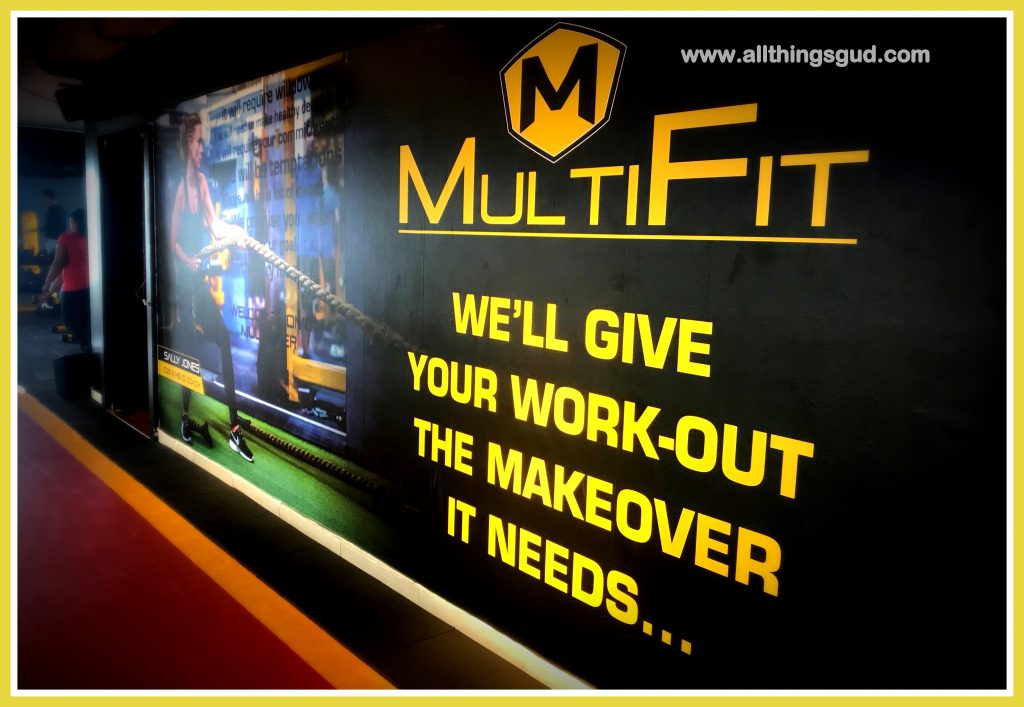 But when I heard them saying that it's not "THE" typical gym and they ain't have no traditional treadmills, it got me interested.
For quite a while I have been hearing and reading about the concept of 'functional training' in gyms and MultiFit is one of them.
(Functional training or exercises are a methodology which involves training the body for cardio and fitness using activities performed in daily life.)
Soon I showed up at the nearest MultiFit facility and yes, I was indeed impressed!
And motivated.
And enthused.
People were doing activities which typically are not categorised under 'gyming' per se. They were flipping tyres, spinning heavy ropes, smashing sand balls on the ground, hitting tyres with a huge hammer, pushing loaded carts and doing a lot of other unconventional stuff.
Oh, yes! MultiFit does make people exercise without traditional gym equipment.
The idea is to cut out monotony of regular exercising and make it interesting and non-gym like.
During my facility tour I was told that the motto of MultiFit is to extend the concept of exercising beyond dumbbells and machines and change the definition of fitness from 'Body Building' to 'Strength Building'.
Keeping to this belief, MultiFit offers a wide variety of eccentric workouts including functional training, customized circuits, boot camps and outdoor training, ensuring that your sessions are never boring or run-of-the-mill.
MultiFit offers various traditional and neo fitness models such as,
HIIT (High Intensity Interval Training)
Yoga
MMA (Mix Martial Arts)
Endurance Training,
Dance
Zumba
Calisthenics
The training methodology is a mix of both functional training and weight training used together as the best mix to help attain a client's fitness goals.
I have also heard a lot about their famous 'multi-spin' classes (looping) – a high paced session of studio cycling to strengthen heart and tone legs. Invigorating, upbeat music and flickering laser lights in an otherwise dark room make this session super fun and effective.
(Keep watching my social platforms to get a peek of this session soon, Zumba and other fun activities happening there.)
Within three years of its inception, currently there are 32 large-format MultiFit studios in 10 cities across 3 countries. Pune itself has 14 centers across the city.

GUD reasons why you should choose MultiFit,
Join it if you hate regular forms of exercising. Sounds cliché but MultiFit is different. Like really!
Trainers are well qualified, experienced and helpful.
Ambiance is clean, classy and hygienic.
There are a range of exercise options to choose from
Membership fee is pretty reasonable
Find a center near you here  and book a free trial session.
+91 8007000791
Info@multifit.co.in
MultiFit is the brainchild of power couple Sameer Kapoor and Sally Jones. Founded in 2015, it is a large format state-of-the-art calisthenics based functional fitness studio brand. Driven by its highly qualified and experienced trainers, MultiFit has emerged as a rage with fitness enthusiasts, investors and franchisee's alike. Presently it is spread across 32 large-format fitness studios in 10 cities across 3 countries. By end 2019, MultiFit is targeting 100 functional fitness studios globally.
all things GUD wishes MultiFit a roaring success!