I am not a 'spa' person. Massages are not 'my thing'.
Although I do fancy the plush ambiance, dimly lit mystic rooms, floating floral arrangements, candles, super gracious therapists and the whole setup about these spas but somehow I get awkward when the actual ritual begins.
Lying my face down, with bare minimum clothing makes me vulnerable to take-on any startling circumstance.
More than relaxation, I get tensed!
Anyways, when I got the opportunity to review the newly opened Seven Seas Spa in Pune, I tried to give myself another chance to overcome my irrational panic.
Seven Seas Spa, a renowned spa chain of India recently launched its swanky facility in Pune on SB Road (take left to the dead end going ahead on the JW Marriot/Mainland China road from the red light signal).
Spa's entrance is chic', neat and inviting. Huge glass windows give away a glimpse of the serenity inside. As I stepped in, 'whites & blues' instantly took over my senses and soothed down the stress I carried along due to unavailability of parking.
I settled down and flipped through the menu of services; unable to decide the spa treatment I should choose (I told you I am not a regular at this).
Finally something 'interesting' caught my eye – Chocolate Fondue Massage!
Yes, this looked tempting and safe.
So, Chocolate Fondue Massage it was for me – 75 minutes of pure sinful indulgence (that too without adding any calories).
As my therapy was getting ready, I was given a tour of the spa.
The whole place was done up in white & turquoise color scheme.
Beautiful murals adorned the walls. This one was the highlight.
The Spa has a couple room, single spa rooms, Thai massage room, Hammam room, mani/pedi room and indoor & outdoor sit outs.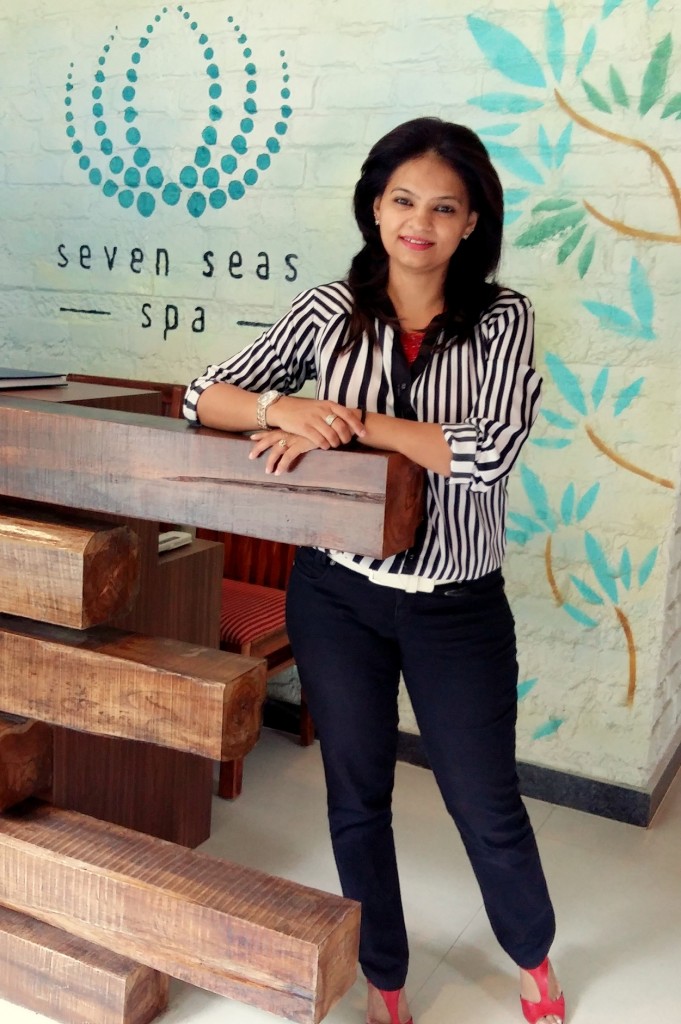 Now look at the USP of the place – Open shower attached to spa rooms!
This was super cool. It is tastefully done, well equipped with the best possible amenities, surrounded with greenery and had a thatched roof which lets the shower area fill with sunwshine or  even stars, if you are using the spa late in the evening.
I was totally smitten by this.
My therapist for the day was Shelly, a sweet little girl.
Finally I was ushered to my spa room.
My chocolate fondue was ready – a bowl full of molten chocolate sitting pretty there.
The lights were dimmed, room became aglow with flickering candles and mellow instrumental music played in the background. As the therapy began, the whole room became fragrant with mushy chocolaty smell. Gooey, lukewarm chocolate felt heavenly as it was slathered over me.
Although I knew this is unsweetened, non-edible chocolate but was too tempted to eat it, that very instance.
Guys, it is mean to give a whiff of it, tease and entice!
My feedback and sincere request to the owners, please keep a bowl of edible chocolate in the room.
This reminded me of the old poem
Exactly this was the scenario there…. so much of chocolate around and not a bite of it can we have!
(Thanks to the Spa Manager Prisilla, who shared some of her personal chocolate tucked away in her purse, seeing to my craving.)
So, the whole chocolate fondue massage completed in its sweet little time and finished off with a chocolaty ME!
And am glad, it was less jittery an experience this time.
Finally it was the moment of glory to pamper and spoil me GUD in the exotic shower.
Truly divine an experience that was!
Once done, I was served green tea, customary to such spa therapies.
I am not at all fan of green tea, howsoever healthy it may be, so I requested for a normal tea or coffee. But unfortunately that was not available.
Owners, another feedback!
After an idyllic experience, somebody may want to soak in little further and relax with their own preference of beverage. Keeping handy some tea, coffee & lemonade along with the usual green tea would be GUD service excellence.
Isn't it about customer satisfaction after all?
My Verdict
Ambiance – 4/5
Service – 4/5
Rates – 3.5/5
Feel GUD factor – Priceless!
Address
Plot No 64 Shivaji Housing Society
Shivaji Housing Society-Gokhalenagar
Pune
Contact No.
Visit their website
Like them on Facebook
This is not a paid review. Although I was given a complimentary service at the spa but the feedback is absolutely genuine & unbiased.
Go, checkout yourself!