I love hill stations. Have been to several of them. Mountains, curvy roads, tall trees, the smell of pine, mist and breath of fresh air remains same in most of the places situated at height. But Sikkim – Sikkim is different!
May be I found so because this was the first north-eastern hill I visited apart from our regular Shimlas and Mussorries and Manalis.
Travel
First things first. How to reach Sikkim? Bagdogra in West Bengal is the closest airport to reach Gangtok, the capital city of Sikkim. Distance wise Bagdogra to Gangtok is just 125 kilometers away.  But when we got into the sharp and steep curves of the road, it took us almost 4 and a half hour to touch the base.
Travelers
Ranju (my sister-in-crime, the sibling I CHOSE for myself), Rahul (Ranju's hubby and another like-minded Scorpio), Ridhi (their pataka 10 year old), Aleena (my 8 year old delicate darling), Shariq (meire Mr.), me and our 13 pieces of big and small luggage (although, we promised each other we will travel light!).
Stay
Army guest house. Ranju's-cousin sister's-husband (too long a connection?) was posted as the Commanding Officer in a regiment there, which means he was the Big Boss and we were the VVIP guests.
Being a true blood civilian this was my first ever close encounter with army life. As an outsider, we were extremely alert of all the dos & don'ts, minding our mannerism & etiquettes well, all the time. Gradually, we mastered the art of dinning in the Mess, got used to officers coming for breakfast & dinner in absolute formals, replying to every 'jai hind' with ease and the likes.
Weather
We were given a download that weather is pretty perfect at that time. Mostly sunny and pleasant during the day and just one light jacket would be enough to tackle the morning and evening nip. Like an obedient child, in our 13 pieces of luggage, we happily packed mostly summer stuff.
Come next day of reaching there and it began pouring like anything. Result – cold, windy, chilli weather.
Lessons Learnt – Never trust mountain's weather forecast (especially the online one). Always keep woollens more than makeup.
Places We Visited
(There are several more than the ones we saw)
M G Road
One M G Road is a staple in all small and big cities. It's a regular 'Mall Road', just like all other hill stations BUT much cleaner, more organised and beautifully adorned with hanging floral bloom in its full glory. We did all our souvenir shopping, junk eating and strolling here for most of the days of our stay.
Roomtek Monastery
Since Sikkim is a mix of Nepali, Bhutani and Lepcha cultures, monasteries are major attractions here. Almost at 1 hr drive from Gangtok city, this beautiful and most colourful place sits nestled in one of the close-by hills. There we met an extremely charming (dressed in a coat and tie) young man who was actually an MBA student, working part time as a guide.
Ganesh Tok Temple
This temple with an amazing scenic view is 7 km from the town and provides sprawling view of Gangtok. I noticed that several army jawans were busy cleaning the premise of the temple. A temple maintained by army – this was new!!
Open Zoological Park
Not like the usual jungle safari but this zoo had huge open spaces for animals in a wide spread area instead of closed cages. We spotted blue sheep (sorry, but it was not at all blue as mentioned outside the enclosure, it was just plain grey), red pandas, yak, mountain tiger, white snow leopard and many others. We were told mountain bear was in hibernation at that time. See you another time Mr. Bear!
Flower Gallery
Thousands of most exotic orchids under one green house – pure bliss and a vibrant visual treat. Chocolate brown, lime green, steel grey, almost black, – name the colour and you will see it there. This place was very unique and an eye-opener for people like us who believed that orchids are only purple, blue and white.
Natu La Pass
One Awesome Experience! This Indo-China boarder is 14,200 ft high up. Covered with thick blanket of pristine white snow, there were hardly any people around as it is an extremely sensitive and highly scrutinized place. Tourists need to get a pass made a day before coming here from the tourist centre in Gangtok.
Reaching to that place is a 'big deal' in itself and army makes sure to make it ceremonial for you. They click a picture of yours at a particular background, get it printed in a nice certificate and present it to you then and there in appreciation of visiting this point.
You have to climb up a little where ACTUAL India-China border is. Nothing much but a simple barbed-wire separates two big countries. Chinese soldiers are seen marching on the other side. Fun part – they are gracious enough to come and shake hands with you.
At that height, breathing becomes little difficult, cold bites you, chilly wind blows you away but you still want to stay there forever – mesmerized, in awe, spell bound!
Hats off to our soldiers who stay there day and night, year on year to protect US.
Respect!
Tsomgo Lake
Causally known as Chhangu Lake by the locals, this is another nature's work-of-art. Around 34 km from Gangtok and 12,400 feet high, it's an absolute breathtaking sight. Surrounded with snow peaked mountains, this oval, 1 km long lake freezes during peak cold weather.  Tourists can take yak rides around it, play with snow or can just sit back and get drenched in the sheer beauty of the place.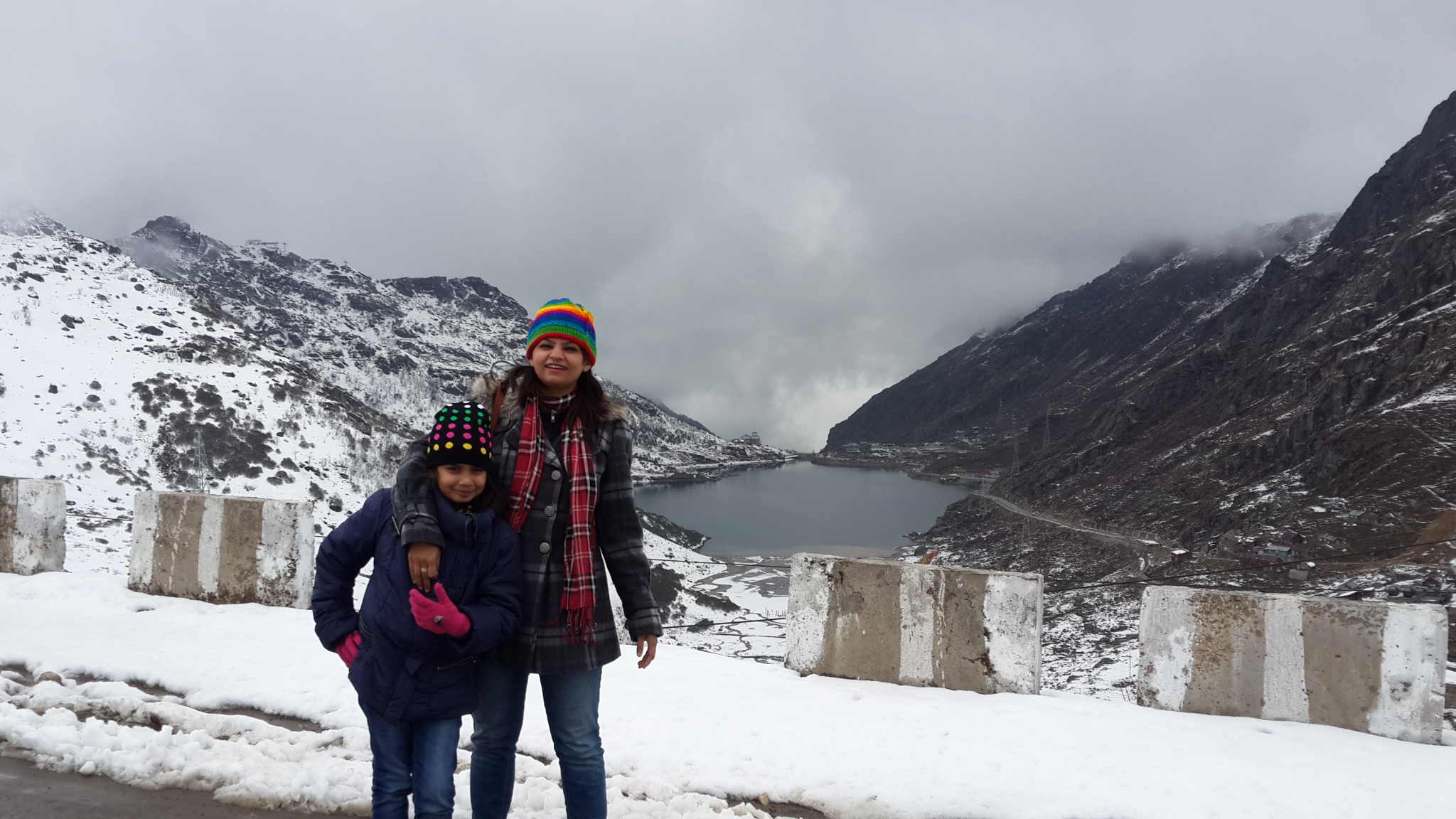 Another frozen lake above Tsomgo Lake.
Unusual and Fun Things We Did/Missed!
Getting clicked in the local dress (Bakku) – Did
Jam-Paani – A concoction of jam mixed in warm water to provide instant energy and warmth – Did
Paragliding – Missed
Getting clicked with a bunch of cute, local red-cheeked kids – Missed
Bitten by leeches – Missed (gladly!)
Tea flavouring/tasting – Did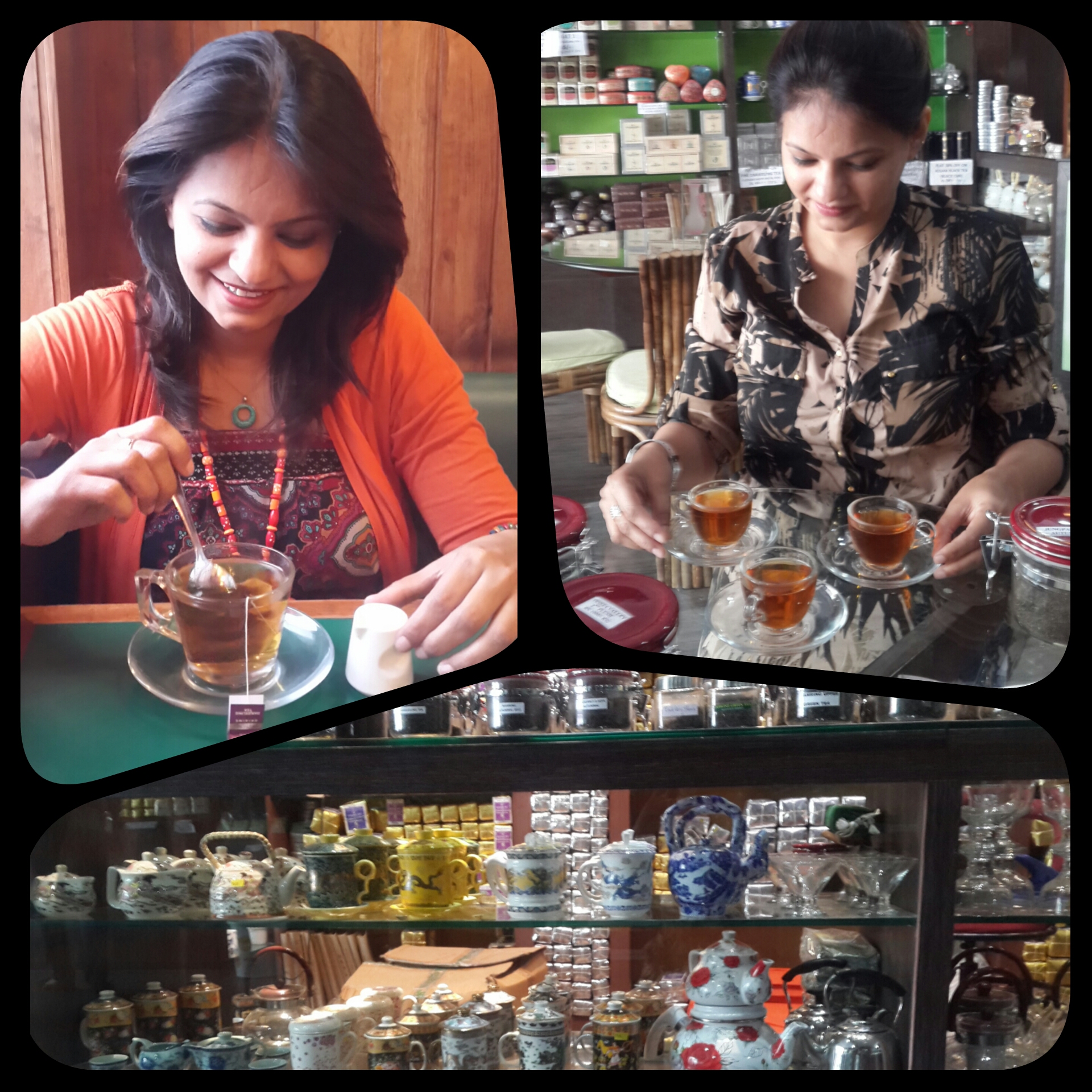 An adorable local lady, who bluntly reused to give another shot beyond this!
Life is unpredictable and that gives me a hope of visiting this place AGAIN!
Travel Guide – Sania Siddiqui