I am a teetotaller.
A teetotaller is a person who drinks tea, coffee, nariyal pani, chaas, lassi or any other drink BUT alcohol. The interesting fact here is, you will still be called a teetotaller even if you don't drink tea in particular and are a hardcore coffee lover. (English is a funny language I have told you many a times!)
So basically, I am a teaohlic. I go to bed in the night, thinking about the morning tea. I take offence if someone asks me "chai piyogi", instead of making/ordering it by default.  'Hot' tea excites me more than Hrithik Roshan's 'Hot' abs.
Like an ardent and blind devotee, I take my tea earnestly and am also meticulous about how it should look, taste and smell. Think wine. In the same way, I look, smell, gently and carefully swirl and then have my tea.
Before moving ahead on my tea trail, let me share my tea preferences with you.
The key ingredients of my tea are – water, milk, tea leaves and sugar. That's it. No adrak, laung, kali mirch, badi elachi, choti elaichi, tulsi, garam masala, chai masala or any other condiment in my tea please!
"Chai mian toh sirf 'chai patti' ka flavour hona chahiye;
Ye sab masale toh biryani main bhi dale jate hai bhai! " 
(Once I visited a Gujurati friend of mine. Knowing my love for chai, excitedly she asked, "bata kaun sa maslaa dalon…I have three – mine, my mother in law's and my mom's! Aghast, I told her not to put any. Her jaw dropped and she couldn't believe there are people in world who drink tea without any chai masala.)
In my realm and liking, 'green tea' is NOT considered a form of tea at all. With due respect to it's over rated and much hyped antioxidant properties and immense fan following, I find it insipid and of no good use or taste. Like really!!
Tea should only be served in fine bone china (ah, that pristine  porcelain) or Borosil tea cups (thin, delicate, see through glassware), preferably the ones with saucers.
Drinking tea should be beyond the confines of time, routine or need. Anytime is good time to have tea.
Now since you have got a hang of my bonding with tea, let me give away the recipe of making a perfect cup of tea –
Difficulty Level: Easy (but needs precision)                            Servings: 1
Preparation Time: 1:30 Minutes                                                   Ready In: 5:30 Minutes
Ingredients –
Water – ¾ cup
Milk – ¾ cup
Sugar – 1 tea spoon or as per taste
Tea leaves – 1 teaspoon
Method –
Take water and milk in a saucepan and put it over the gas stove. Don't forget to light the flame.
Add sugar and tea leaves.
Keep the flame on high.
Be watchful and stand there till it comes to a boil.
Now, lower the flame and let it simmer for good 2 and a half minutes.
Meanwhile you can check your WhatsApp or catch up with the house help for recent happenings in the building.
Have a look at the simmering concoction. Check the colour. You will notice, it has started to turn a rich camel brown and a thin, dark coloured layer has started to form on the surface of tea.
Now is the time to take quick action.
Immediately pour it in the selected cups.
Make sure to wipe off any sprinkled drops from the cup or saucer.
Serve hot.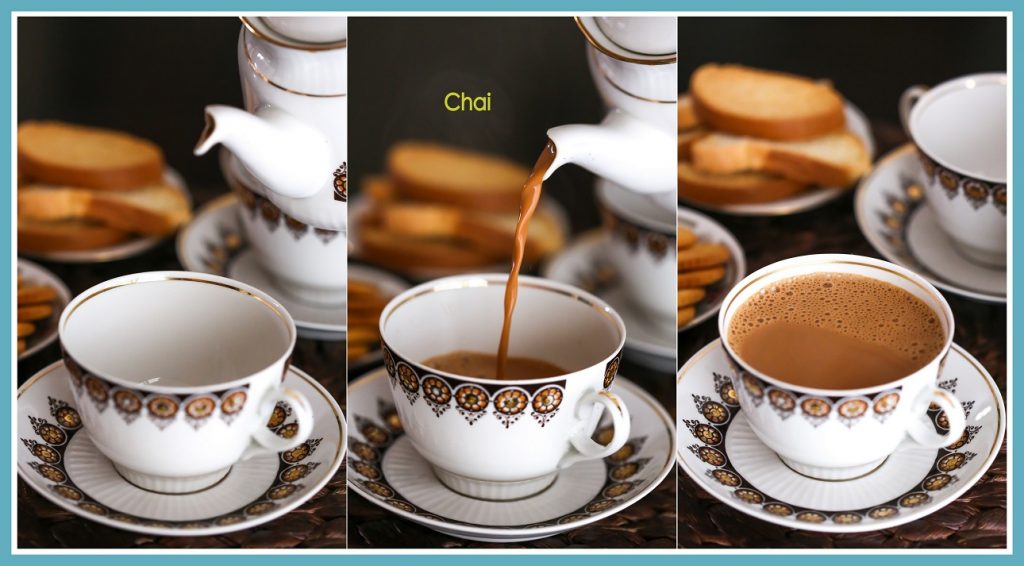 Footnotes –
Tea has to be a mixture of 85% CTC & 15% long leaves.
Don't fall for the fancy flavour of Darjeeling tea. One needs to have the 'taste' and 'sense' to appreciate this 'no milk, only brewed leaves' tea.
Do not drink your tea in those heavy, thick and huge pottery or ceramic coffee mugs you usually get as gifts. Continue using them as pen-pencil holder.
Machine tea, bag wali dip-dip tea, lemon tea, the latest entrant bubble tea or milk added separately to the tea is a strict no-no.
Tea Trivia

Tea originated in China. (Now, considering the present stiff political scenario with the neighbouring nation, what if we are asked to abandon tea to show solidarity towards the homeland? Remember the command on demonetisation?)
Talking of the commerce (commercial) aspect, being tea lover saves big bucks as well. Forget alcohol, which obviously is an expensive dependency, even coffee pinches the pocket dearly. All thanks to the high-end cafe chains which sells humongous mugs of this beverage at an equally gigantic price.
Thank God, I don't have this expensive showk!
So people, if you are a tea lover like me, made in this specific way, it's ok to be a teaohlic. No rehab needed.
Keep the chai-party going!