The Green Acres Academy 
Already an acclaimed school in Mumbai with two campuses (Chembur and Mulund), The Green Acres Academy recently started its new facility in Wagholi, Pune.
Founders
The Founders – Rohan Parikh, an alumni of Johns Hopkins University, Prof. Aditya Lohana, renowned academician and Siamack Zahedi, alumni of Columbia University, made sure that The Green Acres Academy is a balanced mix of best of Indian and international education.
Pune Campus
The Wagholi campus in Pune is HUGE, spread across 1,60,000 square feet. School offers massive playgrounds, which is a rarity in today's time. The award winning architecture of building is designed in such a way that each classroom is filled with enough natural light throughout the day.
I loved the furniture, especially the seating.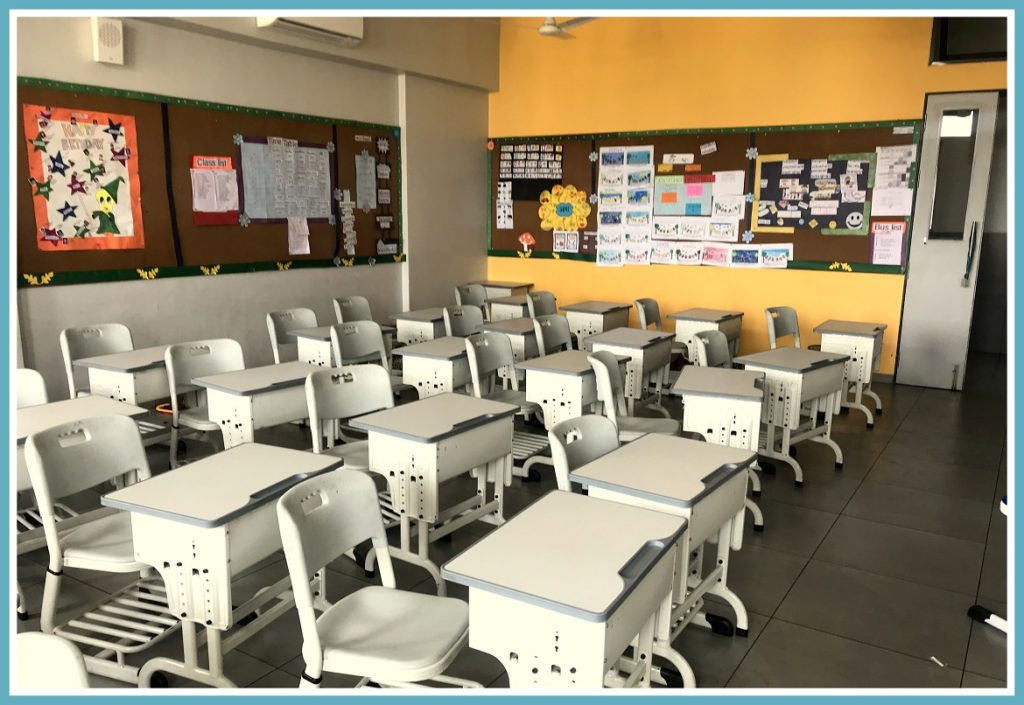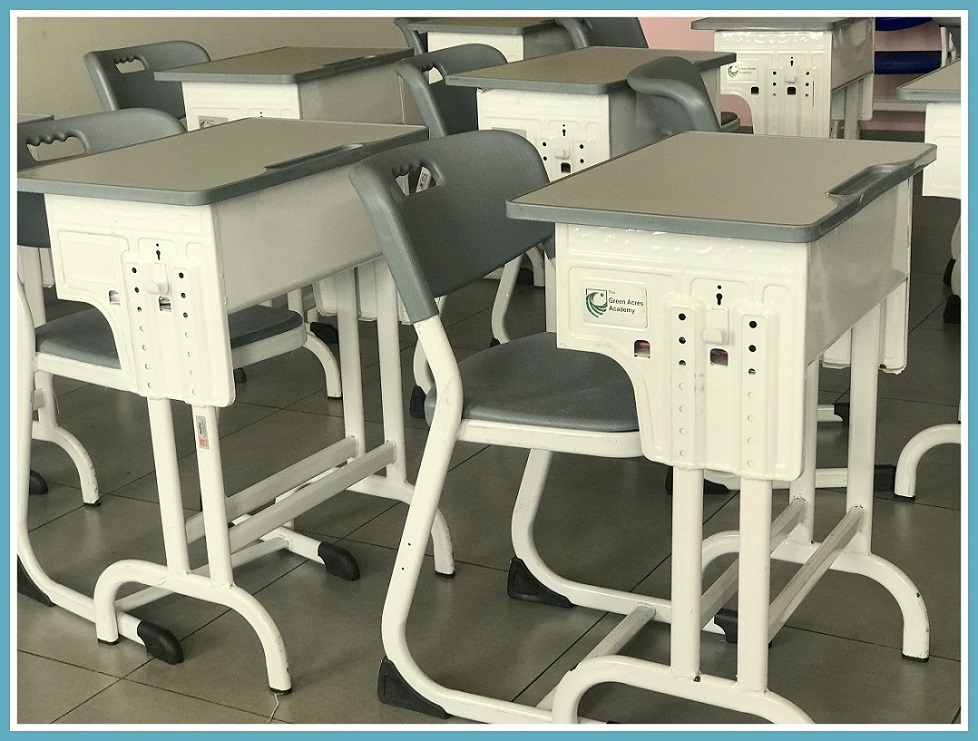 The ergonomically designed table chair has hydraulic table top which opens and closes with very little effort.
For pre-primary, the classroom sitting is divided in two areas – table and chairs and floor seating for activities and playing. Very functional.
Curriculum 
Currently, the school follows CBSE curriculum. They do plan to add the ICSE syllabus, at a later stage.
The Wagholi campus of The Green Acres Academy is functional and is accepting admissions from Nursery to grade 4 for this year. The school will continue to add new and higher grades every year.
Teaching Methodology
Pre-primary – At this level, the school focuses on 'Play + Learn + Grow' method of learning. It results in students developing confidence & discipline, becoming more independent and also fosters their individuality.
Pre-primary programs are taught through several diverse mediums including interactive smart boards, music, dance, play enactments, trips and other fun activities.
Have a look at this truly enthralling video clip which defines the teaching methodology of school so well.
Primary – At the Primary level, The Green Acres Academy breaks the tradition of rote learning and focus on imparting contemporary holistic education, through their 8:4:8 method.
The school curriculum includes exposure to areas like sports & wellness, music & dance, drama and speech as well as reading & creative writing. In the classrooms they learn to think, and participate in activities to learn academic subjects where in teachers adopt the 5A cycle of teaching i.e. "Aim, Action, Analysis, Application and Assessment".
Keeping up with the technology and making children well versed with it from the beginning itself, students are provided with individual systems from grade 1 itself.
Extracurricular 
Students are provided with a well-rounded and holistic education and personality development. All students have to participate in 1-hour of physical activity each day. The school has dedicated rooms for dance, music and other extracurricular activities such as indoor play area, gymnastics, yoga and self-defense.
Safety & Security
The Green Acres Academy gives utmost importance to safety and security of the child. The entire campus, including buses, is under CCTV surveillance.
The school has only two entrance points. One for visitors, parents and staff. Other is exclusively for students.
I noticed that windows had no grills but they do not open for more than 30 degrees.
All the bathrooms are equipped with sound sensors, which gets activated if there is any high pitched sound or scream.
Teacher Training Programs
Every staff member at The Green Acres Academy is highly trained. Their knowledge and competence is continuously upgraded with a mandatory training every month. Weekly staff meetings and regular assessments help them correct any deficits. Regular workshops are conducted to ensure teachers and support staff stay updated with innovative learning methods and tools.
I hope this article helps parents know the school better and make an informed choice when it comes to pick an ideal school for their child.
For more info, visit
The Green Acres Academy
BAIF Road,
Behind Savannah CHS,
Wagholi,
Pune – 412207
Admissions
Tel – 020-6132 2222
admissions@wagholi.tgaa.in
General Inquiries & Feedback
Tel – 020-6132 2222
wagholi@tgaa.in