5th-6th March, 2016
Time Women's Drive – Pune to Goa
…..Beginning Se Winning Tak
This was my third year of participation in an all Women's Car Rally.
In previous years when this motor sport event partnered with Lavasa, it was called 'Lavasa Women's Drive'. God knows why and what made them do 'katti' with each other and they parted ways after 6 successful years of association.
So this time, in its 7th year, Times Of India took the onus, roped in few big brands as sponsors (Mercedes Benz, Mount Litera School, Go Cheese, Vijay Sales, Four Fountains De-Stress Spa, HPCL and Zuri White Sands to name a few) and got the wheels (and sheerings) rolling of 435 skilfully decorated cars driven by some totally –
Kickass Badaas Women!
 These are some interesting stats of this drive –
Biggest ever car rally in India
2-day drive, crossing 3 states
Around 1350 women from Pune, Mumbai and Bangalore drove to GOA
1 message to spread – Cancer Awareness!
……and if you are thinking the most 'fast and furious' were the winners, you getting it all wrong! It was a 'rally' not a 'race', which means reaching first was not the intent but reaching on a stipulated time as per TSD (Time-Speed-Distance) format got the winners their shiny trophies.
(Please Google further to understand TSD rally format. It is a different game plan altogether!)
 So, it all began some 2 months back, when interested female participants got together as teams, registered themselves on the Times Women's Drive's website and asked (literally begged, pleaded & tortured) their friends on social media to vote for them. This voting system was the key to their participation in the rally. Once they made it to the list of shortlisted participants for the main event from their respective city (195 cars from Mumbai, 145 from Pune and 95 from Bangalore), then began the mind boggling preps and repeated rounds to markets.
Yes, there was a lot of shopping to be done to decorate the car, don a 'hatke' dress during the drive and of'course to find one special outfit for the award ceremony and party night to be held at Zuri White Land, Goa.
Frequent meetings amongst teammates were scheduled to discuss winning strategies, themes, dress and to understand the tricky TSD calculation (trust me it is a whole lot of math) – there was so much to be ideated and executed!
Have a look at one of our pre-drive fun photo shoot here  which was done my Manish Mishra, a very good friend who is excellent with his camera!
Car No. 240

Me & my team (Sania, Shilpika & Priyanka) were car no 240. That's how you represent yourself throughout the rally.  
Team Name – Team WOW – Womaniya On Wanderlust
Aaj ki naari is no more bechari!
She is educated, independent, know her rights, earn the moolah and live life on her own terms.
We are an eclectic mix of traditional values and a thinking mind; plan our own trips & globe trot.
Hence the name, Team WOW – Womaniya On Wanderlust.
Car Decor Theme –                                                                #CancerIsPreventable
                                                                                         SPREAD the Word To Stop the SPREAD
Use social media to spread awareness on cancer – it is easy, quick and effective!
….and we are glad to share that this particular message of our's won us the Award for Best Social Message in Times Women'S Drive.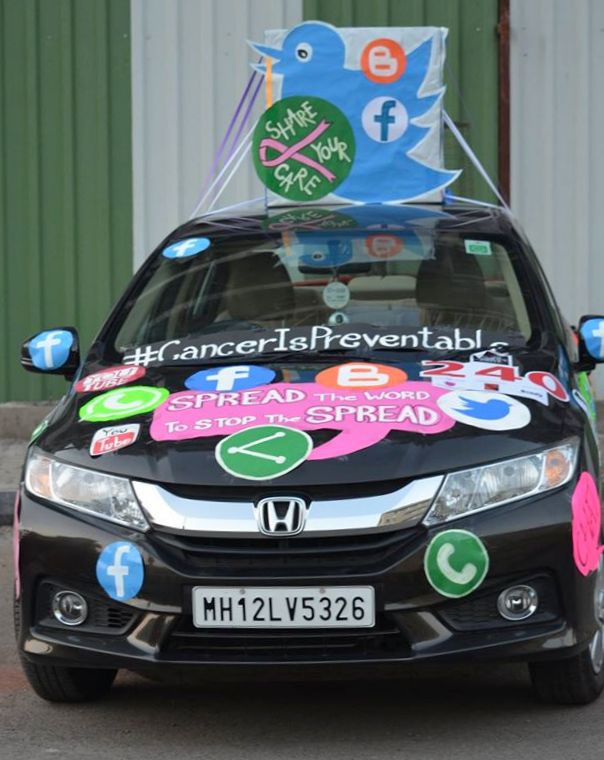 Dress Theme – In sync with team name, mix of contemporary and traditional.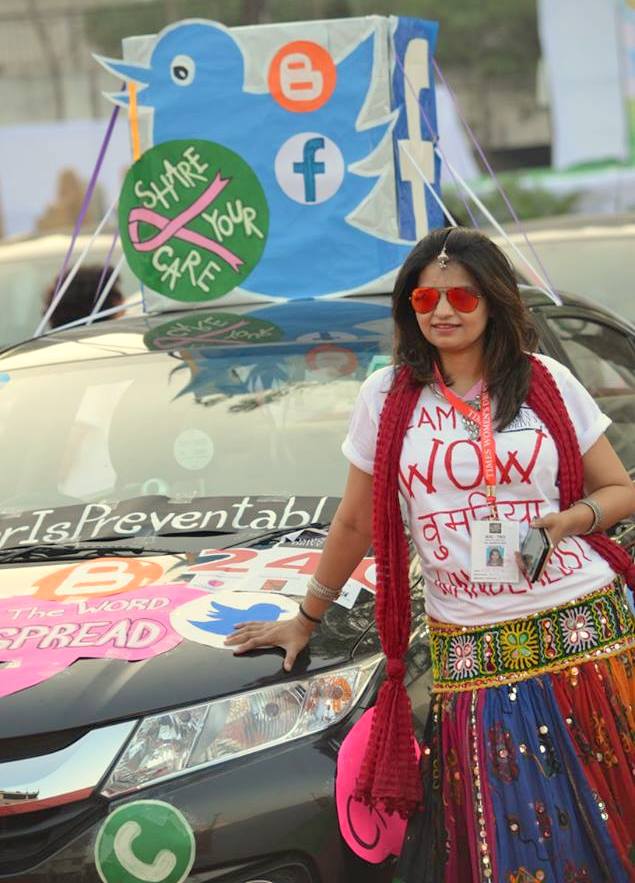 Some Wacky Cars….
..and Crazy Divas!
(Although there were tons of outstanding pictures which I wanted to upload here but shortage of space is not allowing me to do so!) 
5th March – Day 1 of Drive
We reported the flag off venue at 7.00 in the morning, all decked up and rearing to go.
Flag off is a special moment. Amidst a lot of hullabaloo you are being clicked left, right and center. Several counters & kiosks were set up for collection of goodies, gift hampers, breakfast packages, water bottles and to complete other last minute official formalities.
One car is flagged off every minute. Just before the official go ahead, we were given the road book and tulip chart using which we had to navigate and reach the destination bang on time – not a minute early, not a minute late. Doing either of it would account for penalty points.  So the deal was that the team with least number of penalties WINS!
8:08 AM – …..3, 2, 1. And there we go!
Confusion, chaos, calculation – everything at once! Missed a turn, messed up the calculation and over sped a little. But then, gradually after the initial bout of commotion, we picked the loose threads and everything was under control.
Surely this was not the 'typical long fun drive' with music on full blast and three females having a time of their life with unending gossip (I call it harmless, therapeutic at times) and casual chit-chat. We were totally focused on the job – calculating, navigating, driving!
Almost 8 hrs later, past several TCs (Time Check Point), one stop for lunch, mastering the art of maneuvering our way as per the funny little icons of Tulip, being exact opposite to Michael Schumacher (our maximum suggested speed limit even on the highway was 70 kmph. Beat that!!) and doing a whole lot of math, we finished 'Leg 1' of the drive in Kolhapur and called it a day at Hotel Panchsheel.
6th March – Day 2 of Drive
In the morning we started our wanderlust again from Kolhapur to Goa, dressed 'alike' (so much fun that was) with phones, power banks and enthusiasm showing – '100% charged'!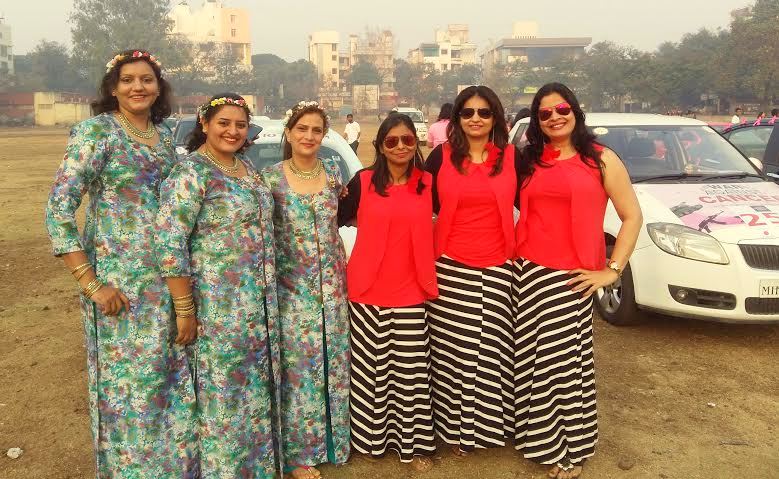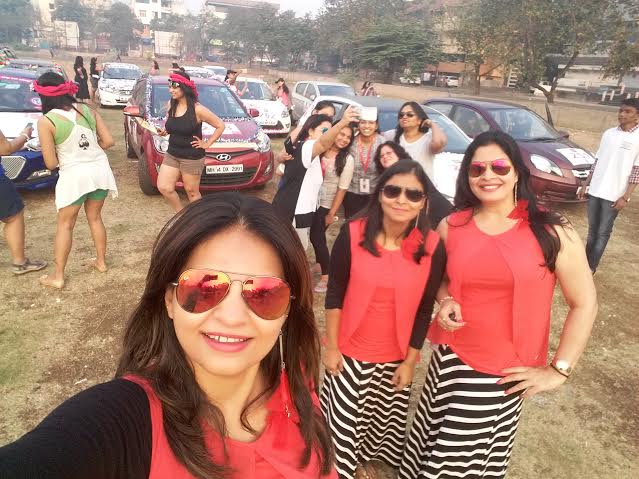 As per rally format, the route is unknown and not the very obvious one. We were not given the National Highway, rather were driven through the 'roads less traveled'. Literally. Uneven terrains, narrow alleys, elevation and downhill of ghat, sometimes in the middle of ghana jungle, crossing by several small, sleepy villages…..
People on the roads were awestruck (I spotted quite a few dropped jaws) seeing so many painted, pasted and decorated cars driven by 'females', heading to 'they have no idea' where to!
They waved, took pictures, few tried to help in their own little way by signalling to the direction where rest of our caravan was going and some just stood bewildered.
Around 5ish we reached the destination and touched the finish line in Goa.
Happy, contented, relieved.
Still butterflies in the stomach have not ceased to flutter. Now, we were anxious about the results!
Apart from the podium winners of the rally, there were several other categories where cars and contestants were to be judged – Best Decorated Car, Best Dressed Team, Best Social Message and Best Social Media Engagement Team.
Our fingers were crossed, heart and mind were praying to our 'respective Gods' – on repeat.
Award Night at Zuri Whitefield Resort Goa
After finishing the rally we checked in our hotel. With no time to sooth the frayed nerves, we hurriedly got dressed and left for Zuri Whitefield Resort where award ceremony and party was to be held.
There, it was spectacular!
The stage was set ashore, beautiful lighting all around, gorgeous ambiance and celebratory feel in the air.
Around 1500 beautifully dressed divas were ready to rock!
Atmosphere was abuzz with dance, music, fun, frolic, food and laughter.
         Clicking cameras, clinking glasses
          Joyous tears for some, a little streak of dismay in others
         Some going ga-ga over each other's dresses, few busy                  scrutinizing someone else's style
          Sharing incidents, recalling accidents
          – what an exhilarating evening!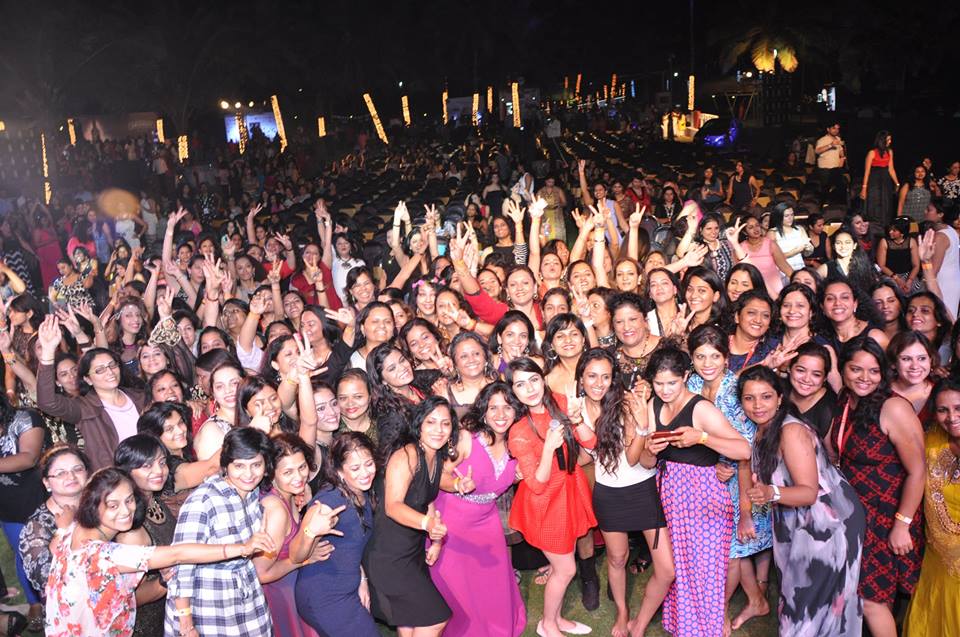 Soon awards were announced for rally winners and other categories. Indeed, the most deserving teams WON.
To be honest, we were disappointed. Even sent a quite grievience message to our 'respective Gods'.
But then tapping music and electrifying atmosphere couldn't keep us away from joining the FUN.
….and we danced like crazy.
Second round of the awards were still to be announced post dinner.  With dress all messed up, hair as if we traveled in an open gypsy for a kilometer and with half-eaten chapped lipstick, we settled down just to comply the formality.
Pulkit Samrat (You know him? He is the 'Sanam Re' guy) was on stage to give away the prizes.
And suddenly we saw the picture of our car on the big side screen.
OMG!!! Did we just win an award?
The award for the Best Social Message Pune to Goa goes to…..blah blah blah…..
As if we went deaf out of excitement. Somehow we gathered our disoriented self and lunged towards the stage.
This was the 'moment'.
The moment, every participant dreams of from the day of registration.
Trophy in hands felt nothing less than holding a Grammy or a Filmfare minus the winning speech.
I am falling shorts of space, words and time for the blog post but the unforgettable moments of the drive have become cherishable memories for the lifetime!
So here we wait again for 2017 to experience the same rush of excitement, be a part of another memorable journey and spread cancer awareness all along.
More power to us!
Womaniya….
#TimesWomensDrive
Show Some Love, Like us on Facebook, Thank Me Forever!