Using things other than the way they are meant for is so much FUN!
Think out-of-the-box, rake your creativity and come up with ideas to utilize ordinary things in other functional ways than usual.
Trust me, these DIYs are going to fetch rave reviews from your guests.
While researching for the post, I found this extremely handy site for home decor, tips & tricks and useful hacks.
For now, go – checkout my handpicked digs!
CAKE STAND
Cakes look absolutely gorgeous sitting pretty on a cake stand. Completely agree.
But then, there are things which look equally stunning displayed on it.
Like,
Candle & Flower Decoration
Just gather candles of different height and dry few twigs or flowers. Set them together in a cake stand and place it on your table or to perk up any dull corner.
Image courtesy: wohnidee.wunderweib.de
Perfume Bar
Exude elegance and luxe' lifestyle by putting your choicest of picks in fragrance on a cake stand. Place it in your washroom or around your dressing area.
Image courtesy: cosmopolitan.com
Toiletry Stand
Stack tubes, shampoos, wash gels and other toiletries in style on a tiered cake stand.
Sure it does gonna look classy (and everything will be at your eye level).
Image courtesy: offbeathome.com
NAIL POLISH
Clear or colored, it can be of GUD use apart from painting your taloons.
Nail polish can be used to,
Colour Your Soul (oh I mean sole)
To add a pop of color to the sole of your shoe, paint it with bright nail paint.
Image courtesy: cosmopolitan.com
Protection & Prevention
To prevent your new fashion jewellery from tarnishing, cover it with a thin layer of clear nail polish.
Image courtesy: cosmopolitan.com
CUPS & GLASSES
A Cuppa Full of Tid Bits
Use the leftover tea cups and saucers from old sets to store knick knacks and jewellery.
You can either place it on the counter of your dresser or place them inside a drawer.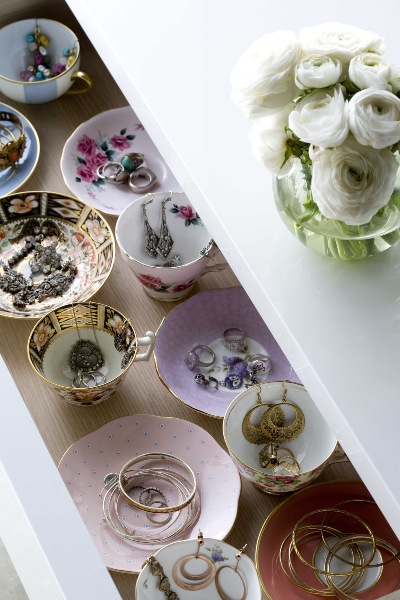 Image courtesy: Amanda Mahoney
Class in a Glass
Take couple of small candles, few pebbles, some flowers and nice clear stem glasses.
For a quick table decoration place flowers and pebbles on a table (or a wooden patter), cover them with glasses upside down and place candles atop.
Viola!!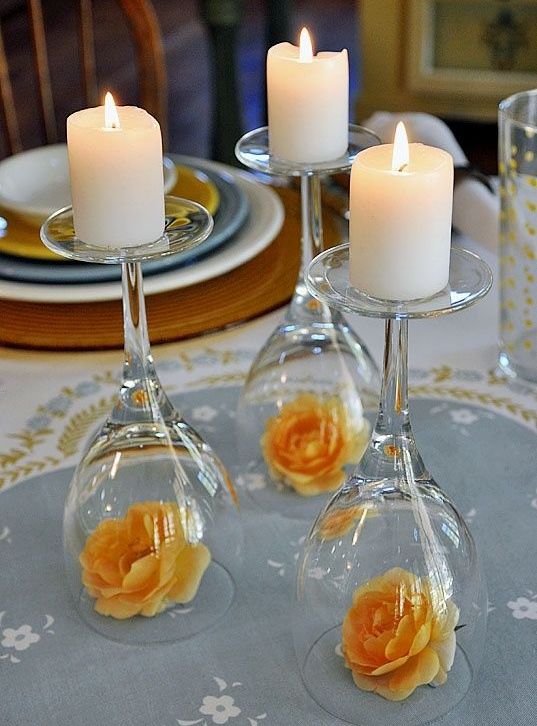 Image courtesy: indulgy.com
 HANGERS
Magazine Holder
Use it to hold magazines near your bed or in your washroom. This can be very handy if you are pressed of space on tables. And of'course will look quirky as well.
Choosing a nice decorative hanger (even simple wooden ones would do) will be nice. Avoid plain wire or aluminum ones.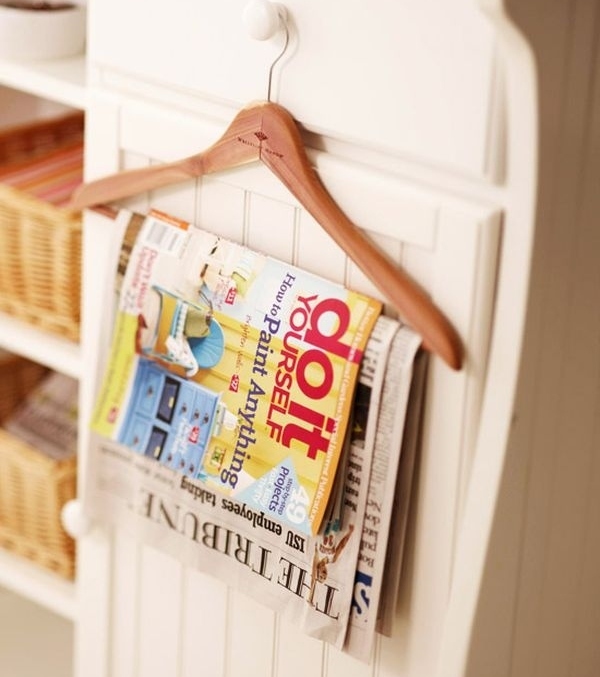 Image courtesy: bhg.com
Store Sunglasses
Hang your sunglasses in a hanger and place it inside your closet or anywhere your dresser.
Image courtesy: bubbly in brooklyn
Have you read my most viewed post 10 Declutter Ideas to Die For!
Banner image courtesy: blog.mcgrath2.com
Following someone with GUD intentions is not culpable…..