I have been to several production and manufacturing units.
Assembly lines always fascinate me. Synchronisation, meticulous planning, huge shop floors and the overall humungous set up is enough to make anyone get enthralled.
Recently a team of bloggers was invited to the Volkswagen plant in Chakan near Pune.
The agenda of the plant tour was to spread awareness about the safety features Volkswagen offers and to facilitate people in making an informed choice as a parent, keeping in consideration children's safety while travelling in a car.
As I mentioned, it was not my first experience of visiting a car manufacturing facility. Being married to a mechanical engineer for good 14 years (who works with world's another leading auto brand), most of the technical terminology, security rules, safety measures, shift schedules and the work-process flow seemed like 'homely' talk to me.
Production plants are built in a huge area. And so was this one. Almost 2.5 square kilometers.
On reaching the first gate itself, our phones & cameras were taken away. Now, this is the worst thing that can happen to a blogger. What a blog post is going to be without pictures? But then… rules are rules!
Urgghhh….
Little low on spirit we went inside where Mr. Chaitanya Halbe was waiting for us. He was from the Communication Department and our guide for the plant tour.
(I must mention here that Chaitanya is a living 'talking machine'. He spoke continually for good one hour, citing uncountable numbers & stats and almost made it to the records by making the ladies in the group to keep mum for such a long period!
I even tried to discretely see and figure out if it is a pre-recorded session and he is only miming? Well, actually he was not!)
Before starting the session, over the coffee, he briefed us with a set of dos & don'ts and gave headsets which would make us hear him clearly inspite of the noise inside the production area.
A quick snapshot of stats & numbers about Volkswagen Chakan plant before we head further…..
So basically each auto manufacturing plant is broadly divided in few key areas (known as shops) – Assembly Shop, Press Shop, Paint Shop and Body Shop.
Chaitanya informed us we won't be able to pay a visit to the Paint Shop as it is an exceptionally sensitive area to go in. Painting car parts is a scrupulous process and any unwanted external agent or even little dust/lint can ruin the finesses of the painted parts.
Agree. Makes sense.
We entered the Body Shop. Giant machines were busy transforming pieces of metal into masterpieces of technology. We saw several 'robots' working in precision on the line. Not the types we have seen in Sci-Fi movies. They were robotic machines.
Skipping the Paint Shop we moved to the assembly area.  Various parts & panels of the car were being welded together, mostly maneuvered by robots to ensure consistent and paramount quality.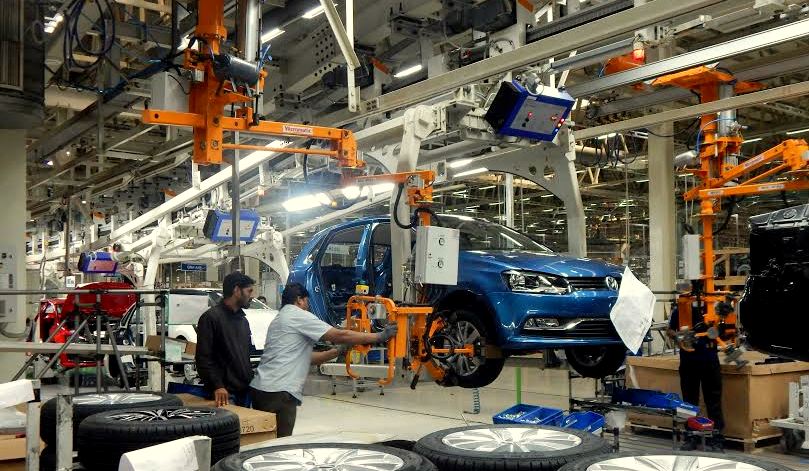 Moving ahead, we were told that cars from here goes to the Chassis line where engine and suspension parts are fitted. There we witnessed a unique procedure being held which is known as 'Chassis Marriage', where the vehicle body is brought into a particular position and the chassis, engine and some 20 plus components gets fixed at this juncture. Beauty of the mechanism is that it hardly takes two minutes to complete the process, which otherwise looks & sound like a colossal task.
Later, we reached a place where exclusive set up was done to show and demonstrate the safety features each Volkswagen is equipped with. Mr. Prashant Bankar from the Quality Team explained at length how all Volkswagen cars sport the finest safety measures.
Few out-of-the-league Volkswagen safety features are,
Smart pinch-protection technology that automatically stops electric windows & sunroof when it detects a finger or other obstructions in its way.
Child lock to be operated only with the car key to prevent children from accidentally or mischievously 'unlocking' the car doors from inside.
Easy front airbag deactivation if there is a rear-facing child seat in front.
Talking of safety, Volkswagen also recommends the below,
Children under 12 years of age should travel in a child safety seat, ideally on the back seat.
The diagonal part of the belt of a safety seat must run roughly over the centre of the shoulder (never across the neck).
The lap part of the belt must fit across the child's hips, and not over the abdomen.
Frontal crashes are more common than rear end crashes. Therefore babies and younger children should be seated rear facing as long as possible in order to avoid neck, shoulder and spine injuries.
If you put your child on the passenger seat facing the rear, please open the glove compartment and switch off the passenger airbag using your car key.
Babies and children can be easily entertained in their child safety seat using toys, games and rear seat entertainment systems. It is also very helpful if a family member sits in the back and accompanies the children.
As our tour got completed (which took more than an hour), we gathered around in awe and couldn't stop talking about – the German Engineering at its Best!
P.S. –
For a lot of people to know, the brand is pronounced as

FOK

SWAGEN not VOLKSWAGEN. I am no linguist and I know 'English is a funny language' but why Germans need to pronounce it 'Fokswagen' when they spelt it Volkswagen?
             Please enlighten me at saniashariq@gmail.com if you know WHY….but there are no prizes for doing so!
This is a sponsored product feature not a sales pitch.  
Bear with the bad quality, pixelated images.