Paneer Garlic Tikka Salad
By Trisha Roy
Ingredients
250gms Modern Paneer
1 Cup Hung Curd
10-12 Garlic Cloves
1 Red Bell Pepper
1 Capsicum
1 Medium Size Onion
1 Medium Size Carrot
5-6 Black Olives (Sliced)
4-5 Iceberg Leaves
1Tsp Chinese Seasoning
1 Tsp Red Chilli Powder
2 Tsp Tikka Masala
Salt To Taste
For marinating paneer
Crush cloves and cook in olive oil till they are golden brown. Mix the cooked garlic to hung curd and keep aside. Take 250gms of Modern Paneer and cut them into cubes. Add the mixture to paneer and mix well with salt, chilli powder and tikka masala.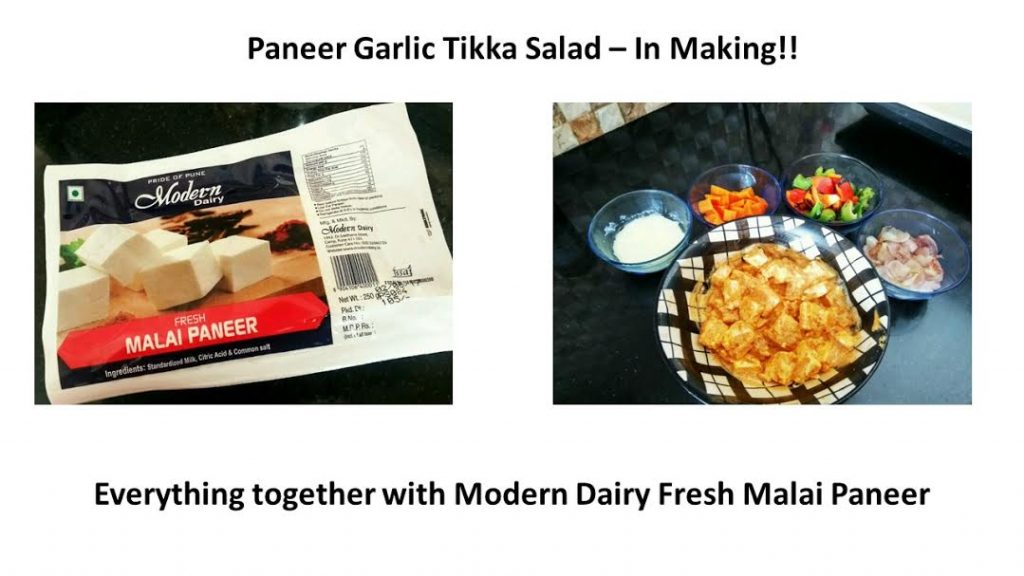 Pre-preparation
Cut capsicum, bell peppers, onion into cube square like pieces.
Cut carrot into cubes and parboil in salt water
Preparation
To begin with, tandoor roast capsicum and bell peppers on flame until half cooked. Don't let it burn or get too black
Tandoor roast the marinated modern paneer and keep aside to cool
Once done, take a big bowl and mix capsicum, bell peppers, onions, carrot, paneer together. Now add black olives, 1tsp olive oil and some Chinese seasoning powder. Cut ice berg leaves into bite size and add to the salad mix. Toss the salad gently with your fingers. Once done place it in fridge. Serve when cold.
A tummy full healthy recipe f paneer salad would surely me a great appetizer. Try topping garlic bread with the salad for a different experience.
Happy Eating!!